Do you just LOVE hand lettering???? MEEEEE TOOOOOO!!! It's so much fun. I love to draw by hand but also in Illustrator. Many people also love to hand letter and draw in Procreate.
Whatever you use, check out these free alphabet hand lettering practice printables for small brush pens!
Free Alphabet Hand Lettering Practice Printables For Small Brush Pens
Hand lettering has become a super fun hobby of mine, and I really enjoyed creating these printable hand lettering sheets to help others practice that hobby as well.
Even though hand lettering can be tons of fun, there are other benefits to it as well! You can use hand lettering as a way to wind down and relax, make fun art projects, and even teach it to others.
These hand lettering sheets are perfect for small brush pens, which can be used for letters, notes, and other smaller scaled projects. They are also great for fun doodle projects! Whether you are an artist or not, everyone loves to doodle right?!?!
You will be getting a practice sheet for every letter of the alphabet, including lowercase and uppercase!
Once you master this alphabet set, you'll be well on your way in your hand lettering. Be sure to check out TONS more of practice hand lettering sheets here. 💖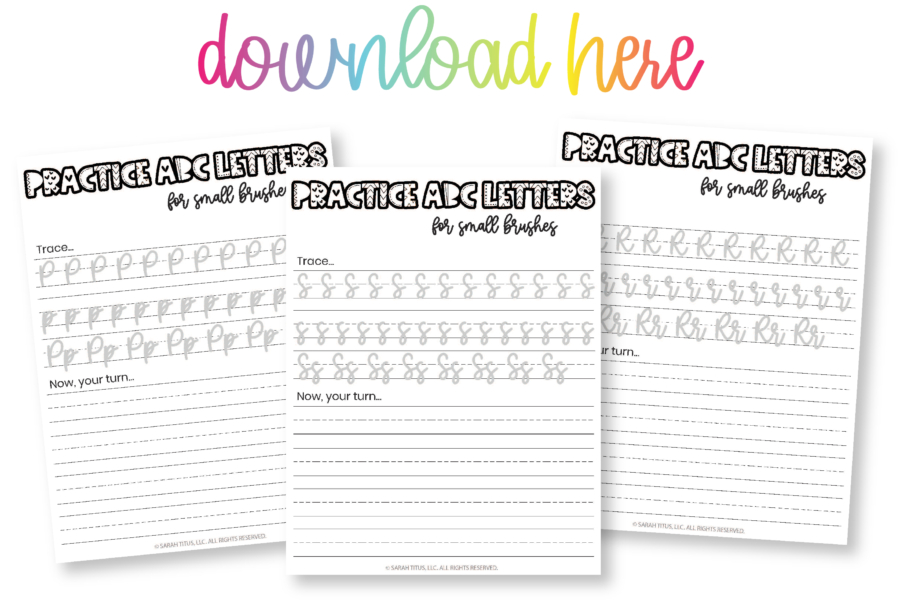 Download the free alphabet hand lettering practice printables for small brush pens here.
Other Ways To Use These Printables
Maybe you are looking to start a new hobby, or just need some inspiration when it comes to using these. Here are some ideas for you!
Create Wall Art For Your Home
Once you learn this fun hobby you won't want to stop! Go ahead and create some beautiful customized home decor for your home. You can make motivational quotes, Scripture verses, and even add some doodles and design if you are more artistically inclined.
I've got a lot of different quotes and ideas you can take a look at for some inspiration!
Use To Make Kids Crafts
The small brush stroke letters just screams kids' crafts! Make some fun projects with your kids like fun sayings, alphabet learning sheets, cute wall art for their rooms. This could even become a fun hobby you can do together as they get older. 😊
Not only can you make cute kid crafts by learning hand lettering, but it may be good practice for them to learn the alphabet!
Make Homemade Cards
Since these letters are smaller, you can think of smaller scale projects such as making your own cards! Handmade cards are so thoughtful to give and now you'll have an easy template to use for reference. No more store-bought cards or worrying about trying to get them to look pretty!
These practice letters will ensure beautiful cards every time, whether it's for Christmas, birthdays, showers, loss of loved ones, or even just because.
I hope you enjoy these super cute alphabet hand lettering practice sheets! 😊