As 2020 comes to an end, you know what that means!!! It's time to bring out the 2021 calendars!
Check out these super cutest printable pink star calendars for 2021. 🙂
Cutest Printable Pink Star Calendar – 2021
Can you believe it is already almost 2021??
I'm sure most of you are ready for a new year after the wild year we have had in 2020. And to brighten up your day, I created some beautiful pink star calendar printables for the new year! The design is one of my favorites – so pretty and elegant. It's the perfect complement to your home or desk!
I love having a full months calendar out – whether it's for my blog or the business side of things or for home life! When you have a calendar out, everyone in your family can see what's going on that week/month and be on the same page, which is SO important when everyone has their own different, busy schedules.
How To Use This Calendar:
There are so many fun ways to use these calendars!
Place them on your fridge, office desk (so pretty for a home office 😉 ), kids' rooms, anywhere you need to.
They are FREE so you can print a copy for each person in your family per month so everyone can fill out their own calendars. Then bring them all together to compare.
You can also laminate them and write with a dry erase marker in case you want to erase something or change the time because we all know, plans can change quickly!
It's all up to you how you want to personalize it!
Get ahead of the game and start your 2021 year off organized with these super cute pink star calendar printables. 🙂
All 2021 months, including:
January
February
March
April
May
June
July
August
September
October
November
December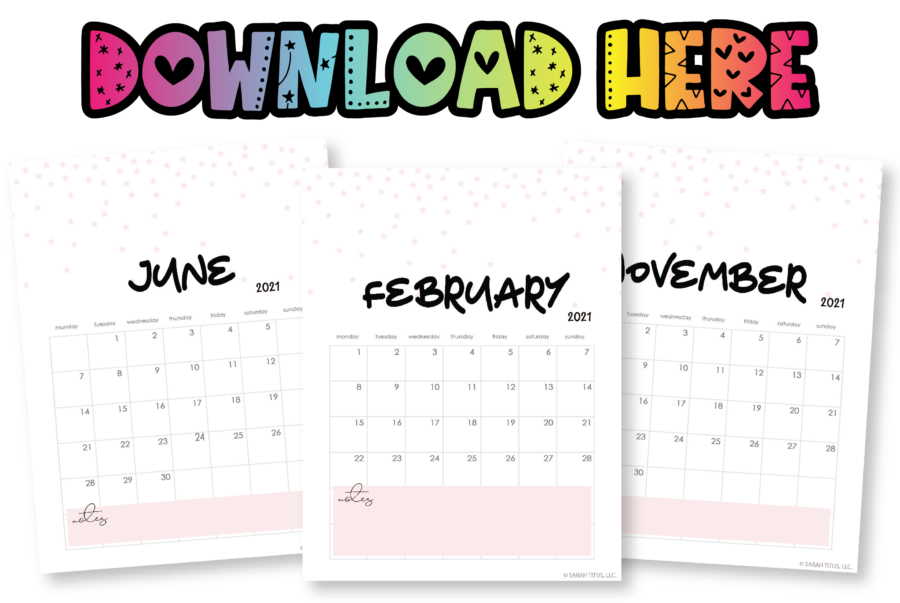 Download the printable pink star calendar (2021) here.