These Apple Spice Cookies are sure to please any sweet tooth you might have and are perfect for fall. I love using my oven in the fall. I get to cook, which I love, and it heats up my home for hours (saves money = added bonus!)
Here's what you'll need to make these fantastic Apple Spice Cookies in your home.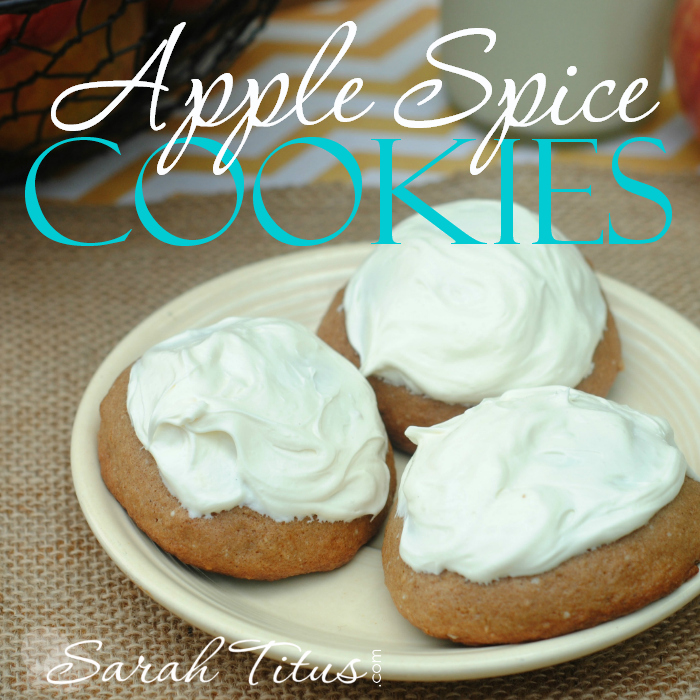 Apple Spice Cookies Recipe
Ingredients
1 box of spice cake mix, any brand
2 eggs
½ C. natural applesauce
Directions
#1. Preheat your oven to 350 degrees and spray your baking sheets with a non-stick spray.
#2. Combine the cake mix, 2 eggs and applesauce and mix well. Depending on how thick your dough is you may want to add an additional tablespoon of applesauce one at a time.
#3.Drop by rounded tablespoon onto your baking sheets about 2-3" a part.
#4. Bake 9-11 minutes.
Cream Cheese Frosting Ingredients
1 8 oz. brick of cream cheese, softened
1 C. whipped topping (such as Cool Whip)
1 tsp. vanilla extract
½ C. sugar
Frosting Directions
In a medium size bowl, blend the soft cream cheese, whipped topping and sugar with a hand mixer. Frosting will be light and airy. Once your muffins have cooled, frost them generously with the cream cheese frosting.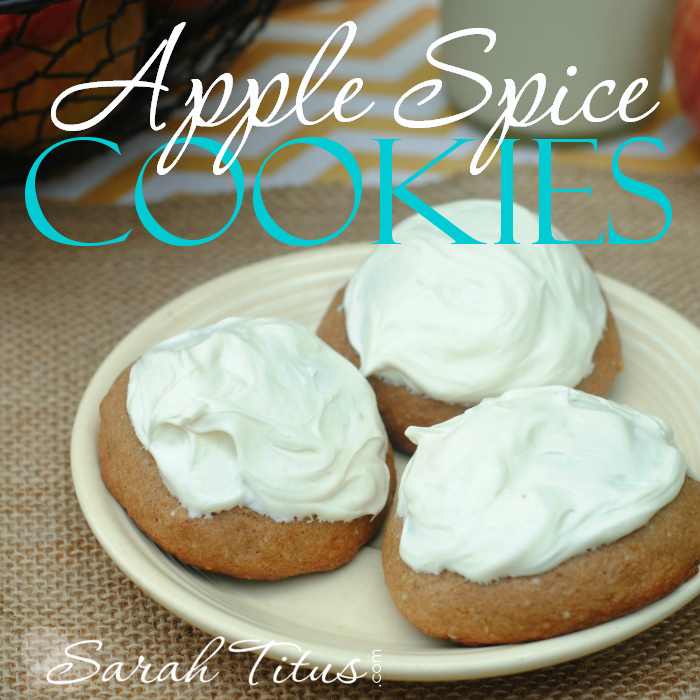 Apple Spice Cookies
Ingredients
Apple Spice Cookies Ingredients
1 box of spice cake mix, any brand
2 eggs
½ C. natural applesauce
Frosting
1 8 oz. brick of cream cheese, softened
1 C. whipped topping (such as Cool Whip)
1 tsp. vanilla extract
½ C. sugar
Instructions
Preheat your oven to 350 degrees and spray your baking sheets with a non-stick spray.
Combine the cake mix, 2 eggs and applesauce and mix well. Depending on how thick your dough is you may want to add an additional tablespoon of applesauce one at a time.
Drop by rounded tablespoon onto your baking sheets about 2-3" a part.
Bake 9-11 minutes.
oz. brick of cream cheese, softened
C. whipped topping (such as Cool Whip)
tsp. vanilla extract
½ C. sugar
What is your favorite recipe to bake in the fall months? Do you like to use spices like cinnamon? Perhaps you like making healthy treats with things like oatmeal or making vegan versions of your favorite desserts! Let us know in the comments below. 🙂