Oh have I got something BIG for you today! I am so excited to share this printable pack with you! <3
When I was a kid, I would go to whatever shop we would find and they would always have personalized stuff to buy. My name is pretty simple and common so it was very easy to always find my name on items. But my mom's name was impossible to ever find.
She didn't get the joy I got in finding cool stuff that was personalized.
From kids bike license plates to pencils, cards and more, it was always really cool finding the personalized stuff with my name on it.
It's not so much a thing now. There's not as much personalized stuff like that in stores, and what there is, so many people have names that are not as common as say, Sarah. So how do you get cool stuff with YOUR name on it?
Right here babeeeeee! 🙂
I went through with my audience and got as many names as they said to create for themselves, family members, kids, etc. and as many names as I could find online. Chances are, your name is there, even if it's not a common name!!!
Check out these 400+ names binder covers free printables below!
400+ Names Binder Covers Cute Free Printable
*If you don't see your or your family members name you'd like in this set, please leave a comment with the names you're looking for in the comments below and once I get enough names, I'll create more. 🙂
This printable set is absolutely fantastic! I have over 400+ names on these printables for you, making it super easy to find the right name for you to use for your kids, family members, or even yourself!
You can even print these out and give them as gifts to friends, sisters in your Bible study group, family members, your kids, your husband's co-workers, etc.
There's three gorgeous professional designs to choose from, depending on the name you use – a beautiful rainbow-inspired background, a soft and airy pastel color scheme, and a bold black and neon hearts design too!
These name binder cover ideas are perfect not just for school use, but tons of other fun things! Binders, decor, gifts…there are tons of options!
*Wanna search your name to see if it's on the list? If you're on a desktop computer or laptop, hold down control + F to pop up a search bar and type in the name you're looking for. If you're on a Mac, select command + F.
In the pastel set, you'll find:
Aisha
Alandra
Alea
Alexa
Alexia
Alina
Allorah
Alyssa
Arlin
Ashleigh
Ashlie
Atasha
Aubrey
Ayla
Bambi
Brynn
Cait
Cara
Catalina
Cecille
Chastity
Cheyenne
Chi
Chyann
Crystel
Cyndee
Dagmar
Deanna
Dena
Desiree
Dina
Ellianna
Frances
Giselle
Hayven
Helena
Isa
Jacqui
Jaiden
Jamee
Jami
Janice
Jazmyn
Jenavieve
Jolene
Kara
Katelyn
Katrina
Kayleigh
Khrystyna
Kimberley
Kimi
Kristine
Laina
Lamora
Lana
Larisa
Lea
Leanna
Leialoha
Lena
Lesly
Leticia
Lindsay
Lori
Malakai
Margo
Marta
Maureen
Maxiann
Mellissa
Mendi
Mikhaila
Misty
Moira
Morgan
Nataly
Nathalia
Neyssa
Nikayla
Payton
Rachel
Rae Ann
Rita
Sariah
Serene
Shaina
Sharla
Sheree
Sierra
Steffany
Stella
Teraza
Thena
Tonia
Viktoria
Yolanda
Yvonne
Zakiya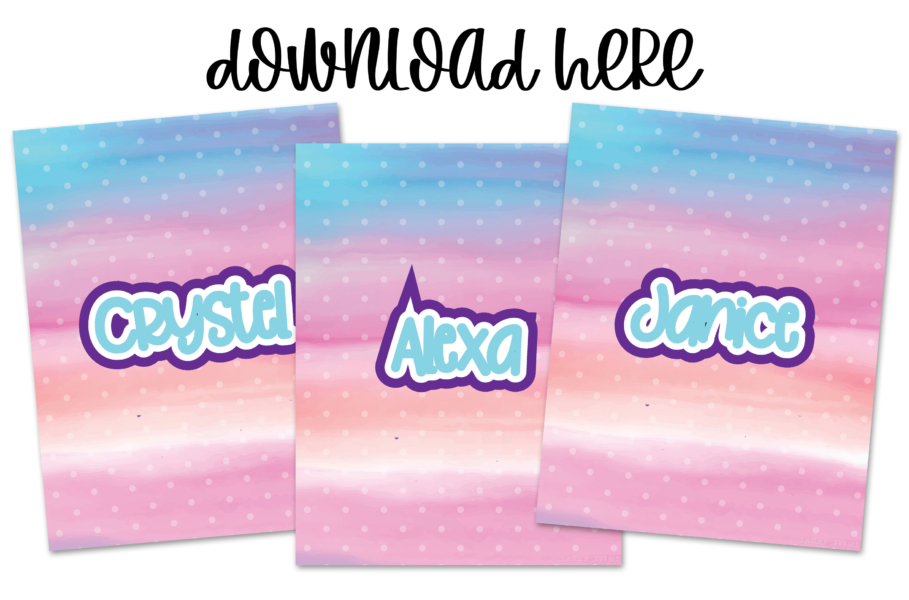 In the rainbow set, you'll find:
Adriana
Adriene
Adrienne
Aja
Alecia
Alison
Allison
Amanda
Amber
Amie
Andrea
Angie
Anita
Ann
Anne
Annette
Arabah
Arianna
Audrey
Barb
Becca
Becka
Becky
Belle
Bethany
Bonnie
Brandice
Brenda
Brooke
Candace
Candis
Carlie
Carly
Carolin
Cat
Cathy
Cheryl
Chrissie
Chrissy
Christina
Christine
Christy
Chrisy
Cindy
Claudia
Connie
Cristina
Crystal
Crystel
Danielle
Darlene
Debbie
Debby
Deborah
Deja
Delci
Denise
Eileen
Elaine
Elena
Elise
Emma
Erin
Evalena
Faith
Gail
Gina
Haley
Heidi
Holly
Hope
Jaime
Jamerrill
Jamie
Janis
Jasmine
Jaymie
Jen
Jena
Jennifer
Jesse
Jessi
Jessica
Jessie
Jill
Joanna
Jodi
Jodie
Joy
Joyce
Judy
Julia
Julianna
Julie
June
Kandace
Karen
Kari
Kate
Katerine
Katherine
Kathy
Katie
Katrina
Kelli
Kellie
Kim
Kimber
Kimberly
Kimmy
Kirsten
Kristen
Kristi
Kristie
Kristin
Kristina
Kristy
Krystal
Lacey
Lacy
Lani
Laura
Lauren
Laurie
Leah
Lesley
Leslie
Linda
Lindsey
Lisa
Liz
Lizzy
Lois
Loni
Lyndsey
Lynette
Lynn
Maddie
Maira
Makayla
Mandi
Marie
Martha
Mckenzie
Mckinzie
Melanie
Melinda
Melisa
Melissa
Michelle
Mindy
Miranda
Mischa
Monica
Monique
Nichole
Nicole
Paige
Pam
Pamela
Peris
Polly
Rachael
Rebecca
Reelika
Renee
Robin
Rose
Rosemarie
Sandi
Sandie
Sandy
Sara
Sarah
Savannah
Shana
Shania
Shannon
Shari
Sharon
Shayna
Shelley
Shelly
Sherry
Stacey
Stacy
Sue
Susan
Susie
Suzi
Suzie
Sylvia
Tabitha
Tamara
Tanya
Tiffany
Tina
Tonya
Tracie
Vicky
Victoria
Virginia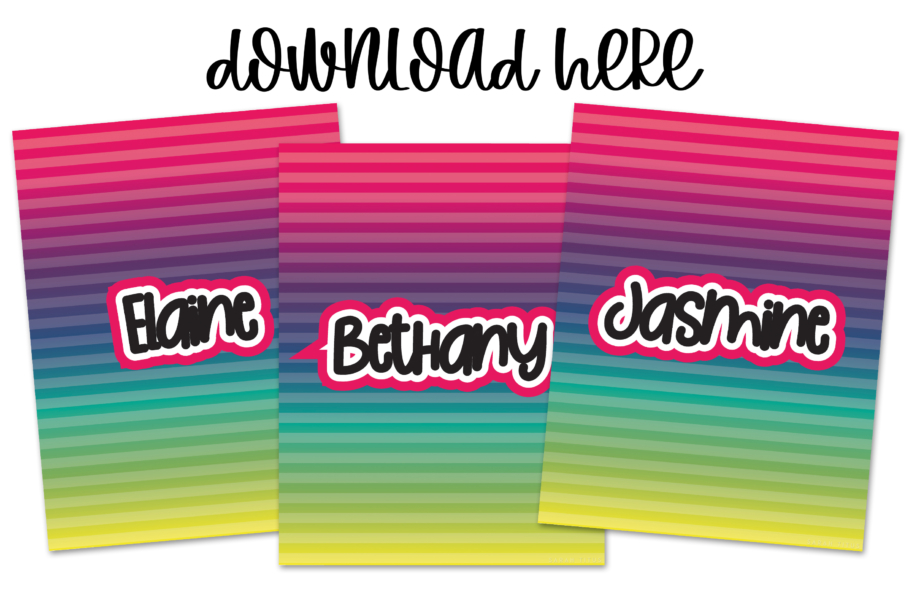 In the hearts set, you'll find the following names:
Aaliyah
Abigail
Addison
Adeline
Alexa
Alice
Allison
Amelia
Anna
Aria
Ariana
Arianna
Ashley
Aubrey
Audrey
Aurora
Autumn
Ava
Avery
Bella
Brittany
Brooklyn
Camila
Caroline
Charlotte
Chloe
Claire
Cora
Delilah
Eleanor
Elena
Eliana
Elizabeth
Ella
Ellie
Emery
Emilia
Emily
Emma
Eva
Evelyn
Everly
Gabriella
Genesis
Grace
Hailey
Hannah
Harper
Hazel
Heather
Isabella
Isla
Ivy
Josephine
Julia
Kaylee
Kennedy
Kinsley
Layla
Leah
Lillian
Lily
Lucy
Luna
Lydia
Madeline
Madelyn
Madison
Maya
Mia
Mila
Naomi
Natalie
Nora
Nova
Olivia
Paisley
Penelope
Piper
Quinn
Riley
Ruby
Sadie
Samantha
Sarah
Savannah
Scarlette
Serenity
Skylar
Sofia
Sophia
Sophie
Stella
Valentina
Victoria
Violet
Vivian
Willow
Zoe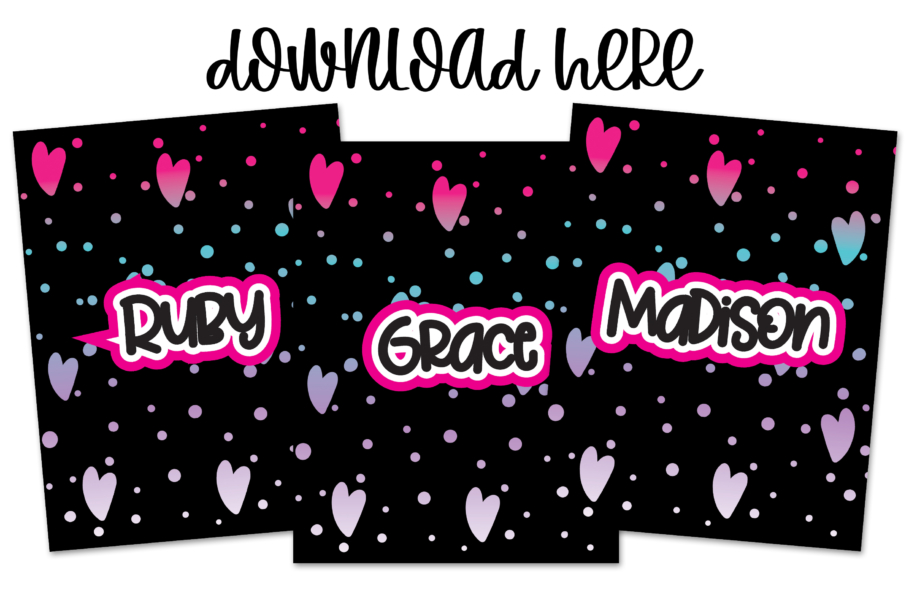 If you don't see your or your family members name you'd like in this set, please leave a comment with the names you're looking for in the comments below and once I get enough names, I'll create more. 🙂
Creative Ways To Use These Printables:
Here are some super fun ways to use these aesthetic printable binder covers …
Use As Binder Covers For School
These would be perfect to add to all of your child's school binders! Not only will it look SO cute, but if the binders ever get lost, their name will be front and center.
Add this beautiful name binder cover to as many binders as needed! To further help organize, you can buy different color binders for each school subject to easily tell them apart. 🙂
Your girls will absolutely LOVE these!
Use As Cute Home Decor
Not only can these be used for labeling school binders, but would make such an adorable decor piece!
You can find your daughter's name, frame it, and hang it up in her room as some pretty wall art. Her name on it will really add that next level of personal touch as well as defining "her" space. 🙂
Or place the printable in a shadow box and fill it with some cute little items – paper hearts to match the heart picture for example – and set it on her desk or dresser. Cute tabletop decorations make a big difference in your home decor, and this is so easy to achieve!
These would also be a super cute (and FREE) gift for her to give to her friends. 😉
Make a Fun Activity Or Memory Binder
This will be such a fun idea for you and your kids' to do together! Make a fun activity binder together and/or a memory binder.
Fun Activity Binder
For this you'll need:
1 or 2-inch binder
Dry erase markers OR colored pencils
Laminating machine (you don't have to include this step)
3-hole punch
Fun activities pack – you can use this free unicorn games printables pack!
Hole punch all the paper to get them binder ready! You can either laminate the fun unicorn games pack and reuse with dry erase markers or just leave them as is! Then after she gets through them all you can reprint the same pack OR fill with a new pack.
Place her "printable name" in the front cover and she has her very own fun activity binder. 😉
These are great to take in the car, running errands, doctor appointments, restaurants, etc.
Memory Binder
For this one, grab a binder and place your daughter's name printable in the front cover. Then make a scrapbook inspired book! Go through old pictures and add them to blank pages, as well as fun little crafts they made, hospital bracelets, what they want to be when they grow up, etc.
You will enjoy sharing stories and laughs with each other as you spend quality time making this fun memory book. 🙂
Your daughter is going to squeal with excitement over the super cute personalized binder covers!!!