I'm really excited to share these fun free printable unicorn template games with you! Not only are they super adorable, but there is so much your kids can do with them!
Fun Free Printable Unicorn Template Games
I love creating printable games for my kids! My daughter is unicorn OBSESSED! It's an easy way to give the kids something fun to do, and the games and activities can be printed out over and over again. Trust me, in a year or so, they will totally forget they already did it! 😉 haha.
Perfect as sleepover party games!
Creative Ways to Use These Printables:
Want some ideas on how your kids can use these printables? Here are some suggestions…
Bring Them to a Restaurant, Doctors Office, etc.
If you'd like to break the habit of letting your children play on a tablet while waiting for the food to come (or while they are waiting to see the doctor), you can bring these printables!
Just download and print the printables, and bring some crayons or colored pencils for them. If you'd like to keep it organized, then you can put it all in a binder (I LOVE binders). Seriously, they stinkin' organize EVERYTHING!!!! I have binders for everything: each holiday, household, cleaning, blogging, small business owner, marketing, traveling, fitness, student, and a bazillion more. 🙂
First, just use a 3-hole punch, and put these coloring sheets in a binder! Then you can store the crayons or colored pencils in a binder with a pencil pouch.
There you have it! Now you can bring this activity for the kids to do, anytime you eat out (or while waiting for an oil change as I did recently with my kids). 🙂
Anytime where you'll be waiting, it's so much better to bring your own stuff than to play with the germ-infested toys they have in the waiting room. YUCK! YUCK! YUCK!!
Give Them as Surprise Gifts
If your little ones need some cheering up, maybe they don't feel well or have a tummy ache, this would be the PERFECT surprise gift to give them.
My daughters' love language is gifts (here's the book about love languages if you haven't heard about it yet; it's designed for couples, but applies to everyone), so one of the reason I'm creating printables all the time is for her. 🙂
Just print out all of the printables, and put it somewhere they'll find!
Better yet, you could even make a scavenger hunt (if they are feeling well) and have them find their cool surprise!
These will definitely bring a smile to their face.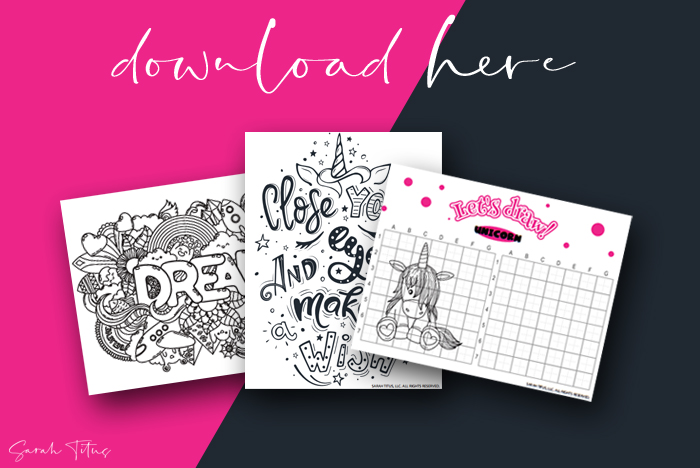 Download the fun free printable unicorn template games here.
You'll find:
Unicorn coloring pages for adults with phrases: 'Dream' and 'Close Your Eyes and Make a Wish' with a super adorable unicorn horn design.
How to draw a cute unicorn
With these printables, your children can decorate the pages, and even draw their own unicorn. I would personally even recommend getting out the glitter for this or sparkle pens! Here's some cool Elmer Rainbow Glitter Glue Pens that we have and are fun (and not messy like regular glitter). 🙂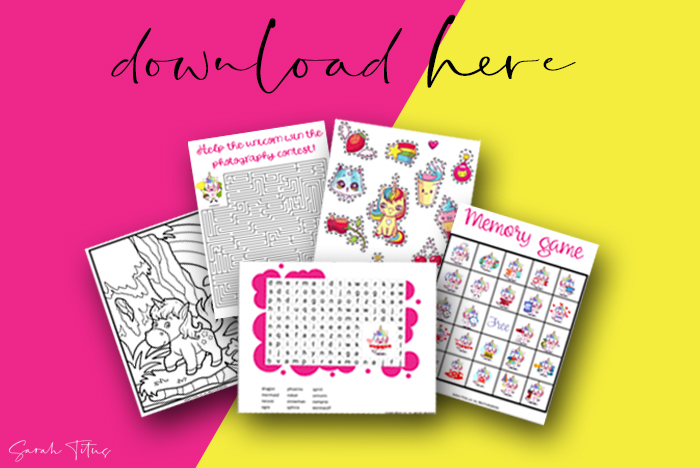 Download the free printable unicorn games here.
You'll find:
Unicorn word search
Unicorn maze
Unicorn stickers (or use them as baby unicorn games, or even tape them to popsicle sticks to play with)
Unicorn memory game (I made it versatile and put the "free" spot in there so you could also use it as a bingo game card)
Unicorn coloring sheet for kids
I love that these printables encourage your children to use their memory skills and problem solving skills! How adorable is this I-Spy game? This would be the perfect activity to bring on a long roadtrip for the kids.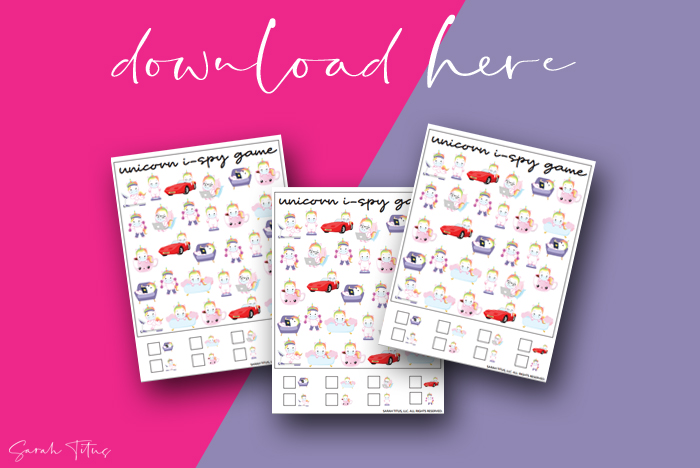 Download the free printable unicorn I-Spy game PDF here.