Today I'd like to introduce you to Missy from Graceful Little Honey Bee.
I met Missy a little while back and am always super impressed by how well she's doing on her blog.
She has a knack for taking really complicated ideas and packaging them in a way that we can completely understand.
You end up walking away feeling confident like, "I can do that!" I'm so proud to have her as a new regular contributor on the site, and I can't wait for you to read her article today…take it away Missy.
Hi, I'm Missy! As a mom of two little ones, life is busy and sometimes keeping the family fed feels like a full-time job. I try to menu plan and keep my freezer stocked with homemade meals, but on occasion I need to prep and get dinner on the table in a hurry.
I try not to rely too much on eating out or convenience foods because they're expensive and unhealthy, so I like to keep a few frugal ingredients on hand for simple family friendly meals as a back up plan for busy days. These frugal meal ideas are easy, inexpensive, and come together quick.
Frugal Cooking Ideas
Pasta w/Sauce – Cook your favorite noodles then add sauce, veggies and protein to make a complete meal. Obviously, spaghetti is a great option, but don't be afraid to branch out and try different combinations depending on what's in your pantry.
We love to make pizza pasta which has pepperoni, shredded cheese and stewed tomatoes. Pesto and chicken also makes for a tasty combination.
Taco Salad – Chop a head of lettuce and top it with your favorite Mexican toppings such as cheese, beans, tomatoes, avocado, sour cream, taco meat, etc. to make a salad that your kids will love. Layer corn chips on the bottom to add more crunch and flavor.
Beans & Rice/w Chicken – This meal is a great way to use some of that leftover rotisserie chicken. Also, you can easily customize it to your family's tastes. Click here for recipe.
Tuna Salad – Tuna is a fast and frugal way to add protein to any meal. For a quick tuna salad lunch or dinner mix 1 can tuna, 4 hard-boiled eggs peeled and chopped, 1/4 cup sweet pickle relish and 1/4 cup mayo. Serve with bread and fruit.
Pasta Salad – I love making a large batch of pasta salad and keeping it in the fridge for a quick, thrifty meal or side dish throughout the week. Mix 1 box cooked pasta with 1/4 cup sweet pickle relish, 1/4 (or more) cup mayo, 1/4 cup cheese and any other add-ins that you have on hand.
Some great options include bacon, ham, pepperoni, peas, corn, diced bell peppers, tomatoes, etc. Check out Sarah's Italian Ham Pasta Salad version here.
"Snacky" Dinner (cheese, crackers, fruit, veggies, etc.) – Maybe it's because I have two toddlers, but I ALWAYS keep cheese, crackers and fruit in the house. Pulling out all the random healthy snack foods that you have is a great way to fill your family up without much effort.
Some options are cheese, crackers, apples, grapes, strawberries, carrots, raisins, sliced cucumber, nuts, sunflower seeds, etc.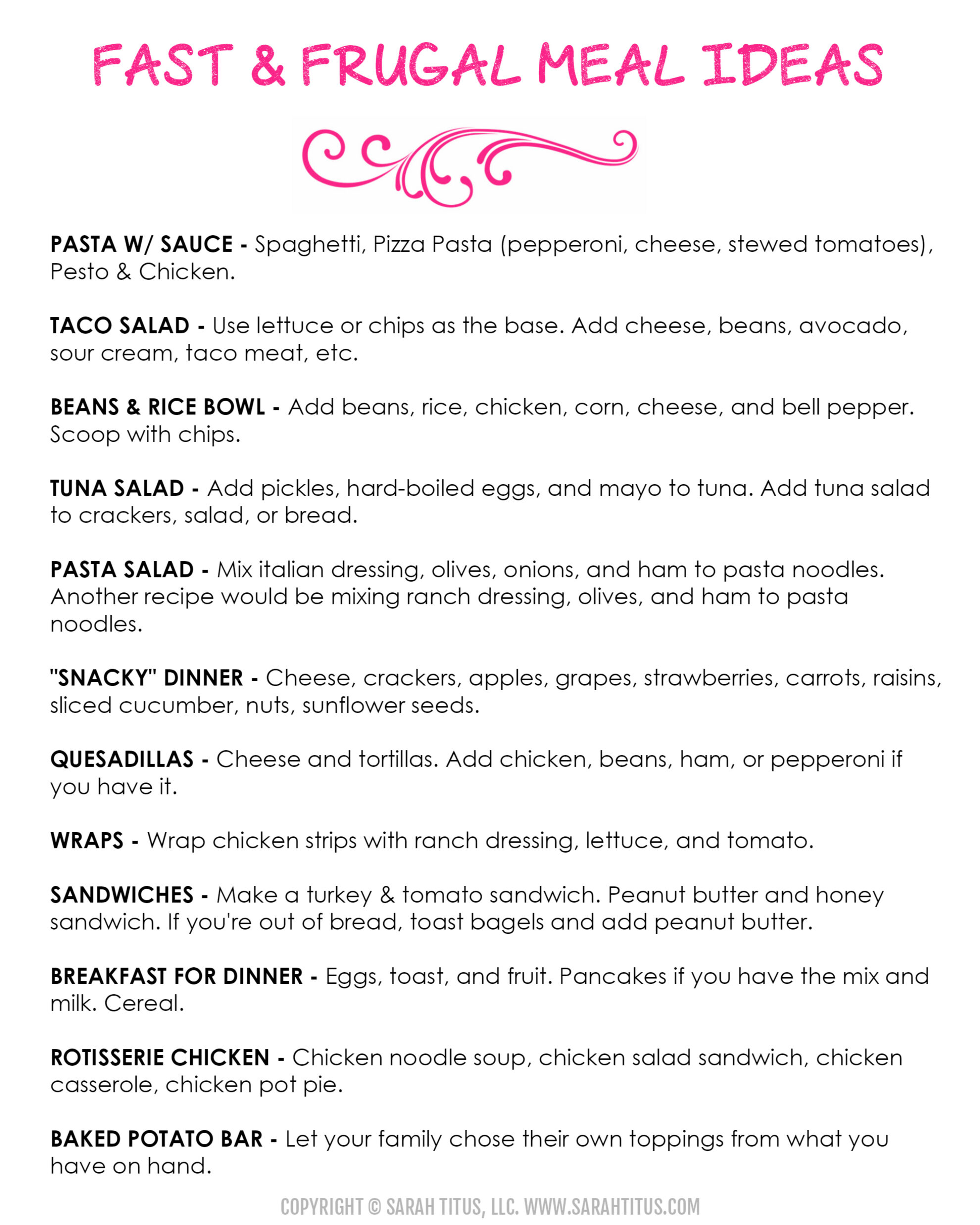 Keeping a list of easy, frugal menu ideas on your refrigerator is a great way to simplify your life and save you money. To print this free printable for your fridge, simply click here and print.
Quesadillas – Quesadillas are a great option for a fast dinner. All you need is cheese, tortillas and any other add-ins that your family may like such as beans, shredded chicken, ham or pepperoni.
To make, place a single tortilla in greased pan and cheese along with any other toppings, then layer with additional tortilla and grill over low to medium heat. Flip once. When cheese is melted, remove and cut into triangles.
Scrambled Eggs, Toast, and Fruit – Breakfast for dinner is always a hit at my house and eggs are a healthy and inexpensive kid-friendly dish.
To make, crack desired amount of eggs (1-2 per person) into a bowl and whisk until mixed throughly. Add, cheese, salt and pepper to taste. Cook over medium heat until eggs are cook through. Serve with toast, fruit or anything else breakfast-y that you may find.
Sandwiches or Wraps – This one is kind of no-brainer, but it's worth mentioning. Wraps and Sandwiches are a great way to get dinner on the table in a hurry and they're easily customizable for each family member.
For example, my 3-year-old loves peanut butter and honey sandwiches and I like turkey wraps with cheese, sliced cucumber and mayo. Plus, they're portable so you can pack them ahead of time when you know you will be away from the house for the evening. Serve with chips or fruit.
Bean and Cheese Burritos – Burritos are an inexpensive, kid-friendly dish that most everyone loves! Also, they're easily customized to what is in your pantry making them fast and frugal.
Some great add-ins would be ground beef, shredded chicken, black beans, sour cream, lettuce, salsa, cheese, etc. Click here for recipe. Note: Instead of freezing like the directions say, you will grill over medium heat and serve.
Rotisserie Chicken – Whether you cook your own in a slow cooker or buy one from the deli, a rotisserie chicken is an excellent choice for a fast and healthy meal. Add frozen veggies with a slice of bread and you're good to go.
If you have a small family then you will probably have enough left over for soup or casserole the next night making your budget stretch even further.
Baked Potato Bar – Did you know that you can cook baked potatoes in your slow cooker using this method?
Simply wash and poke a few holes in each one then set on low for 8-10 hours or until they're cooked through. Then, pull out all of your favorite toppings such as cheese, ham, sour cream, broccoli, chili, etc. to make a delicious meal. Serve with side salad.
If you're looking for more cost-effective and quick frugal meal planning recipes, here's a cookbook that I recommend. The recipes in the cookbook are simple and easy to make and many times requiring very few ingredients, yet the results are very tasty food. It was created by someone who raised her family on a very low budget, all while serving nutritious meals. Definitely something you want to check out!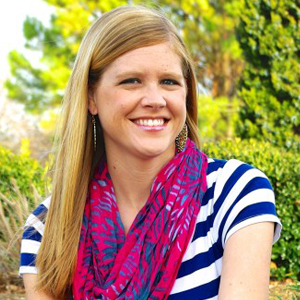 Missy is a stay-at-home mom of two who has a heart for encouraging women to live a simple and Godly life. She shares her frugal and simple living tips over at Graceful Little Honey Bee.