I love keeping little random acts of kindness free printable cards with me at all times.
You're in the grocery store and the clerk is feeling sad, you whip out one of your card printouts and give it to them to put at their station. I guarantee you, that one simple act will help them feel special and they will remember that ONE customer who took the time to give them something cool.
Maybe you keep the card in your pocket or purse to remind yourself. Maybe you need a pick-me-up and every time you reach into your purse, you find it, that little spot of encouragement in your day.
You can tape these free printable kindness cards on your computer desk, tape them on a mirror for your family to find, leave one on a windshield while you're out shopping. You could even use them as cute gift tags! There's so many uses for these simple, but beautiful cards.
Random Acts of Kindness Free Printable Cards
We all need a little reminder of how to be kind towards other people.
I mean, sometimes, we just forget. Life gets busy and we don't take time to really consider how far an act of kindness can go.
The Random Acts of Kindness Free Printable Cards are perfect for that! Easily brighten up someone's day up with these uplifting cards!
Quotes include:
And the blessings of the Lord rested upon us
Shine bright like a diamond
Be still and know ~ Psalm 46:10
Have courage and be kind
If it never rains we'll never grow
Be strong and courageous ~ Joshua 1:9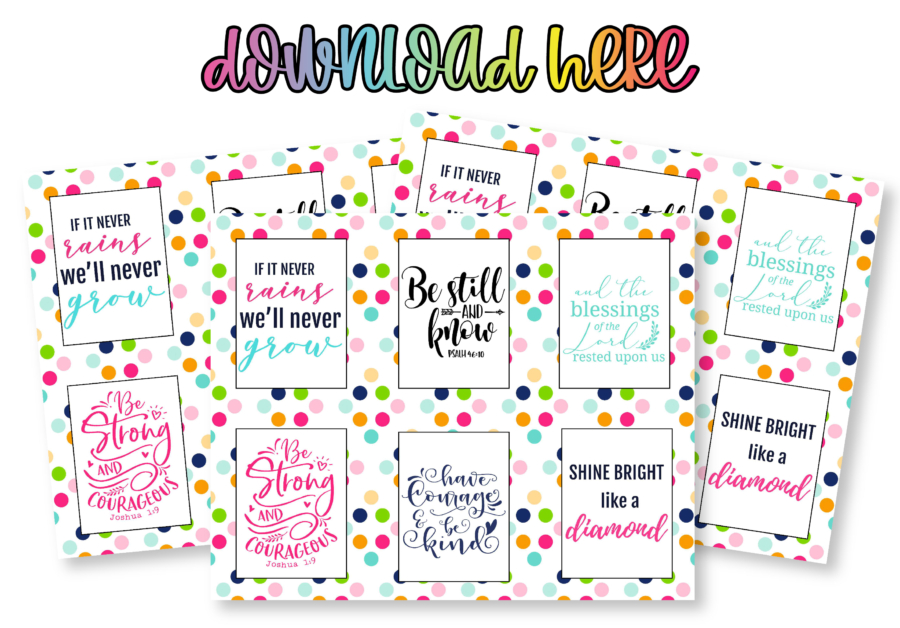 Download the Random Acts of Kindness Free Printable Cards PDF Template here.
Love all things Mother's Day? Then you will NOT want to miss your chance to get the new 130+ page Mother's Day Binder. It'll make you entire holiday season super organized and easy. Take the stress out of your Mother's Day plans now, plus it includes tons of gift ideas and other things to make your holiday super easy and fun!