Ho Ho Ho and Merry Christmas! I'm here to spread some holiday cheer with these fun and festive new holiday-themed printables. 🙂 These free Christmas holiday planner stickers are going to be just what you need this holiday season!
Printable Free Christmas Holiday Planner Stickers For You
I just LOVE the holidays! As much as I'm a summer and sunshine girl, nothing brings me more joy than celebrating Christmas-time with my family and friends!
These cute and fun Christmas stickers will make the perfect addition to your holiday plans this year! You can use them in your daily planners to mark the big day or other Christmas events you have happening. There TONS of other uses that we will look at too, in just a sec. 🙂
These bright red and green planner stickers templates include some classic phrases such as "Deck The Halls" and "Baby It's Cold Outside," as well as some spiritual ones too. This makes it perfect to add sweet little Christmas messages using these stickers.
You'll see:
Noel
Merry Christmas
Christmas Miracles
Happy Holidays
Let It Snow
Peace Love Joy
Deck the Halls
Baby It's Cold Outside
Let's Snuggle
Seasons's Greetings
Believe
Merry and Bright
A Child is Born
These stickers would also make the PERFECT accessories to my 80+ page Christmas Binder – you'll have all your holiday essentials organized with this fabulous duo. 🙂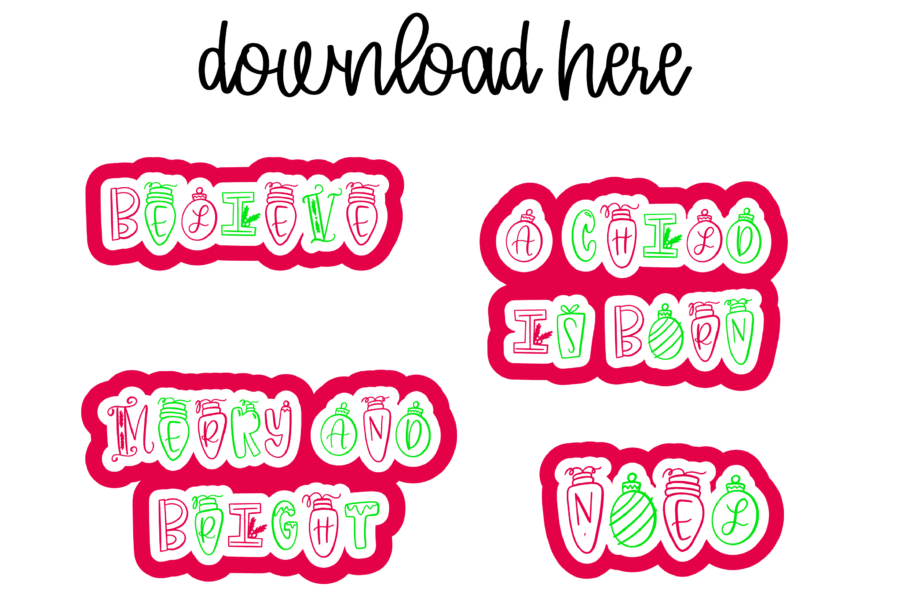 Download the printable free Christmas holiday planner stickers for you here.
Download all the SVG's here.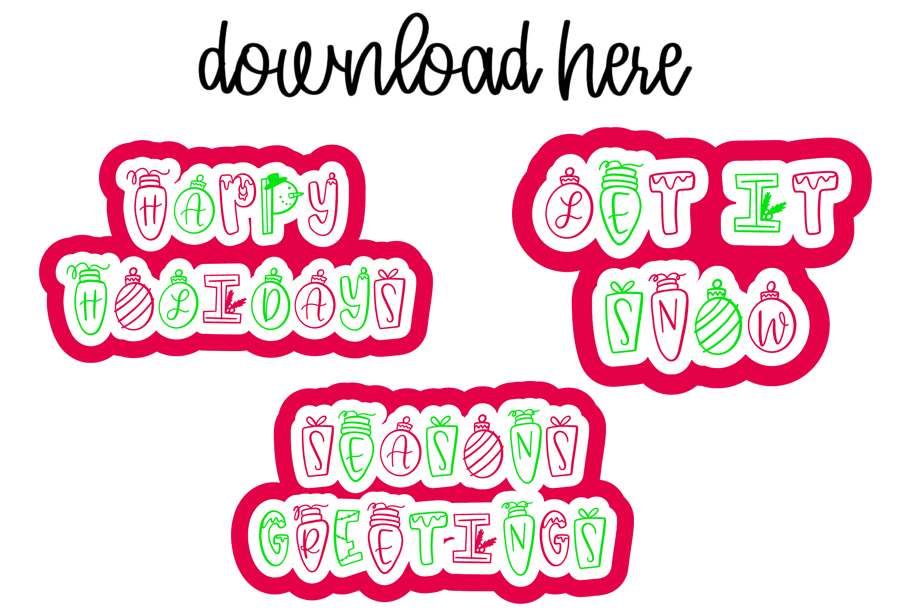 Download the printable free Christmas holiday planner stickers for you here.
Download all the SVG's here.
Festive Ways To Use These Printables:
There are so many uses for these holiday planner stickers (DIY)!! Outside of adding them to your planners or using them as calendar stickers, here are a few other ideas…
Scrapbook/Memory Pages
After the holidays (or even during) you can make a small scrapbook or memory page book to remember your wacky Christmas season!
Grab some pictures of the different things you and your family did from your festive bucket list during the season such as ice skating, opening gifts, making Christmas cookies, etc. Add these stickers for a super fun and easy way to document your family's favorite happy memories. 🙂
Place On Christmas Gifts
How cute would these be to add a little something to your Christmas present gifts! You can add them to wrapping paper (maybe even save some tape) or to the outside of gift bags to decorate them a little bit.
The red and green design of the stickers is sure to match all of your wrapping paper/gift bag needs. They add such a cute touch and helps people know which gifts belong to who at big family get-togethers!
Christmas Cards/Envelopes
These Christmas stickers are such a cute and festive way to spruce up your holiday cards this year! You can add these stickers to blank cards when card making and write a sweet message, use them inside store bought cards or even use them to seal your envelopes!
Save some cash (especially at this time of year!) and use these adorable stickers instead of buying them at the store or buying plain scotch tape. 😉
I hope these digital download Christmas holiday planner stickers add a little more joy to your holiday season this year!
Need help uploading your SVG into Cricut? Click here to see our full tutorial!