One of the first rules of thumb when it comes to organizing your home is often the famous refrain of "own less stuff and you will have less to organize." This works for most people, but what if you are married to a pack rat or you, yourself are one? Trying to manage organization in a space with too much can present quite a challenge, but here are some tips and ideas to ease your stress about it and get things under control.
How to Organize your House with a Pack-Rat Spouse
Don't cause strife and arguments over stuff
This is very much easier said than done, I assure you. No one likes to be accused of being a hoarder or a pack rat. The easiest way to avoid an argument is to not allow it to fester inside of you and always be kind in your choice of words. If you want your spouse to go along with your organizing tasks, don't set them up to feel at fault to begin with. Remember that you'll catch more fly's with honey than a net.
Set examples
Start clearing out any clutter that you create room by room. Sometimes, this can inspire others to follow suit. Many times, pack rats simply become too overwhelmed with the amount of stuff they accumulate and don't even know where to begin. Start going through your own things and show them it can be done.
Related: Organizing your home can be so difficult. You have no idea where to start or how to organize your home in a way that makes sense. This organizing essentials guide is the perfect solution. With real life advice, this go-to guide covers almost everything you own! Get started now and say goodbye to clutter forever!
Create spaces that are just yours
Ask your spouse if you can have certain parts of the home clutter free and agree to not nit-pick about the rest. Start small. Maybe that area is your desk or the kitchen table. If your pack rat spouse feels like they still have some areas that you won't say anything about, they feel like they have some control and you get some areas that are clutter free. It's a win-win situation.
When my husband was home, I bought him some nice pantry's to keep in the garage. That was HIS area. I didn't touch it. He could keep whatever he wanted in it. On occasion, I'd find him actually cleaning it out. Be patient and if you can have their area be something with doors on it, so you don't have to look at it, even better!
Don't encourage clutter
Many people think getting a storage unit for their spouses stuff is a good way to keep it but still have the home space clear. This is a bad idea and just encourages your spouse to fill your home again and you are literally paying for their clutter each month when you pay the bill. This causes tension with YOU. Also, if certain things or stores encourage your spouse to buy stuff they don't need, consider trying to find other hobbies to fill that time normally spent there.
Sell clutter and turn a profit…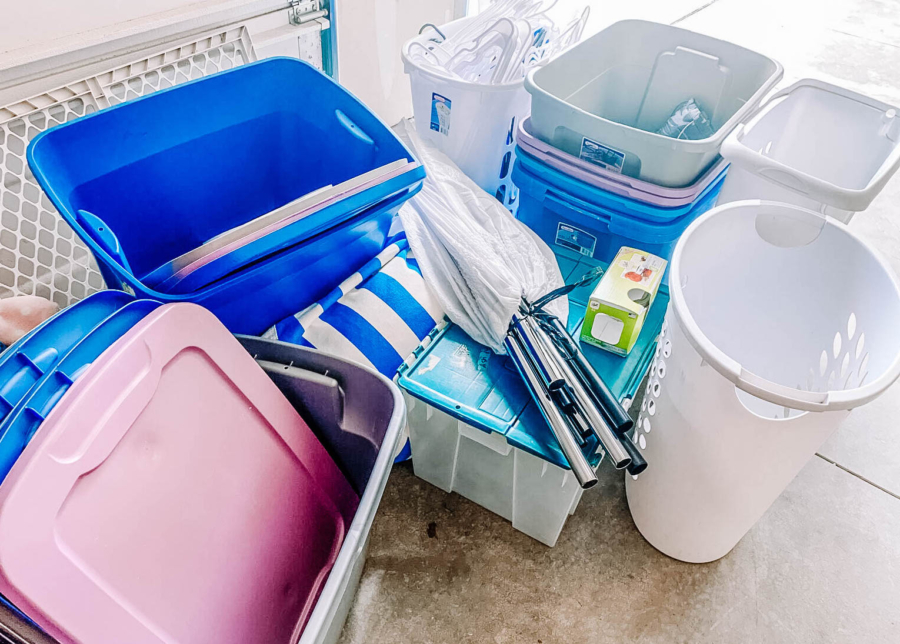 I recently went through my house at the weekend and ended up with all these items. Things I put in my garage. It's taking up valuable space and looks bad. Instead of donating it (costs me gas money to deliver to them) or throwing it away/recycling (fills up my trash, landfills, and takes several weeks to fit in your trash can), I sold it all on Craigslist, believe it or not.
I listed my ad to include 2 crib mattresses as well for $20 for everything. I got an offer that wanted everything but the crib mattresses for $10.
While $10 seems like such a small price to get, considering the alternatives, it's the best solution. I help someone AND pocket a little money. I still have two crib mattresses to sell and I listed those separately now for $20 for both. I'm sure they will sell soon and I'll end up getting more money than I originally expected.
I've been selling on ebay for 22 years now and Craigslist since it came out. If you wanna learn more about the ins and outs of actually making money on those platforms, check out my course, How to Make Money From Home!
Don't ask your spouse to stop acquiring things
This creates resentment and will not lead to a good final result. Instead, ask them to organize and help them come up with a system that works for both of you. Don't tackle it all in one day, either. Sometimes, this can be too overwhelming and before you know it, your spouse is crumbling under the pressure.
The proof is in the pudding
Show your spouse how much more efficient a home can be run without clutter. Don't go out of your way to be an "I told you so" type of person, but DO create specific shared spaces that run super-efficient.
Give your spouse options
I learned very quickly with my husband when I'd ask him if he wanted to go clean out the garage, he'd of course have every excuse in the book as to why he shouldn't. Instead of asking him in that way, give him choices. Something like, "I'd really like to be able to fit your car in the garage…do you think this week or next week would be a good time to go through the garage?"
First thing you should notice in that, is that you are making it about him. I'd like to fit YOUR car in the garage. There's the prize, the honey if you will….and giving him options, this week or next. If he says next week, then simply follow up next week. If he puts it off again, ask him when to follow up again. Listen, you are ASKING permission each step of the way to nag him. It's not considered nagging if he GAVE YOU PERMISSION! You are simply following up. Simple, but extremely effective!
Hire a professional
If it suits your budget, hiring a professional may be able to give you insight into how to help your spouse let go of some items or at least help you come up with an effective organizing system and checklist. Often times if your spouse won't listen to you, he WILL listen to a neutral third party about how to declutter!