Have you ever doubted the Bible where it says, "I can do all things through Christ who strengthens me?"
Come on….fess up.
I know *I* have!!!!
There've been several times where I'm just sitting there, in the mess and muck of my life and thinking to myself, "You know what, I'll never get through this!!! Why does the Bible say I can make it through? I can't. I cannot go another step. I feel like Elijah – I just need a broomtree to sit under (forever) and die under. I cannot make it! Lord, WHY do you put me through SOOOO much. Don't you understand that I can't make it? Don't you know that I can't do this?"
I say that through tears. Because those thoughts have hit my mind more often that I'd like to remember. I know of at least 3-4 times for SURE! In fact, I remember praying along those lines just the other day!!!! So it's definitely fresh in my mind.
Life is tough.
Life is trying.
Life is a jungle.
Sometimes, you're flat on the ground and you think you can't make it through and then you read that verse and you're like…"Yeah right!"
Wanna know what happens?
Wanna know what happens when you're at the end of your rope, feeling like you can't go on, as a child of God?
He's done one of four things with me.
Read on to see what those things are!!!
I Can Do All Things Through Christ Wallpaper
God is good. He's faithful and He's patient with us. Whenever I've been through REALLY tough times, I'm talking the times you just want to end it all (yes, THOSE kind of times), you feel like you just cannot make it through, I've seen Him do four different things in my life.
1- He strengthens me
Come on, you had to see that coming. 😜 But it's the truth. He's strengthened me. All of the sudden, I FEEL stronger. Maybe I'm crying the anguish of a thousand pains and suddenly I won't feel sad. Crazy, right?! But He is GOD! He takes away the pain somehow and I'm able to feel better. I'm able to get past it and go another day. It's incredible!
2- He provides a way of escape
Perhaps there's no doors available to you to get out of the mess you're in. But that doesn't mean there's not a way out. Look up. Trust and pray. He may just give you a window. Maybe it's not a door, but it's an option. A window. He provides a way of escape for you to get out of the situation you're in. There's hope!
3- He clears the way
This is from Micah 2:12-13. I love what John MacArthur says about it in His study Bible notes, "Messiah will make ready the way, removing the obstacles which might hinder His remnant's deliverance and return at the Second Advent."
God clears out the obstacles to make your paths straight so that you can get out of the mess you're in. He handles it. He takes care of it.
4- He ends the trial quicker
This is how He is choosing to end a massive trial in my life that I've been in for 7 years now. He ends it quicker. He knows that I can't make it the full term of the time that He wants me to make it through, although I'm trying my absolute best to make it further and although He HAS given me strength at times when I've needed it, this has just been such a massively hard trial that He's decided, through His grace, to end it early.
It comes from Matthew 24:22, and it's referring to the end times in the passage. Sometimes, God will end the trial quicker knowing you can't make it through. Again, I love John MacArthur's notes who says, "If the afflictions of this time were to continue, 'no life would have been saved,' (i.e., no one would survive). But 'for the sake of the elect' (so that redeemed people do not suffer more than they can bear) the time is "cut short"…."
If He sees you cannot make it through something, His promise to us is that we will not be tested more than we can bear, and so He may cut the time shorter. How much shorter? I do not know. It's really up to Him. If you're in a similar situation, you may see Him do any (or more) of those things to help you make it through.
After having been through so much, and starting out with an attitude like, "Yeah, right" when I read that passage, now, my heart truly knows that it's true. The Bible is God's Word. It is absolutely true and inerrant. He will always follow His own law. And it says, you CAN do all things through Christ who strengthens you.
You can have full peace and trust in God knowing that He WILL, 100% take care of the situation. Maybe He thinks you can go further than you think you can go, but if it's a case where you truly cannot make it, He WILL take care of things. You can find hope, trust, and comfort in that dear friends. He loves you. He cares for you. He will not allow you to be tested beyond what you can bear.
Grab the wallpaper, I Can Do All Things Through Christ Who Strengthens Me – Philippians 4:13, below to remind yourself of this AMAZINGLY beautiful truth…
Need help saving them to your device? Click here for the full tutorial.
Phone (1849 x 3798 px):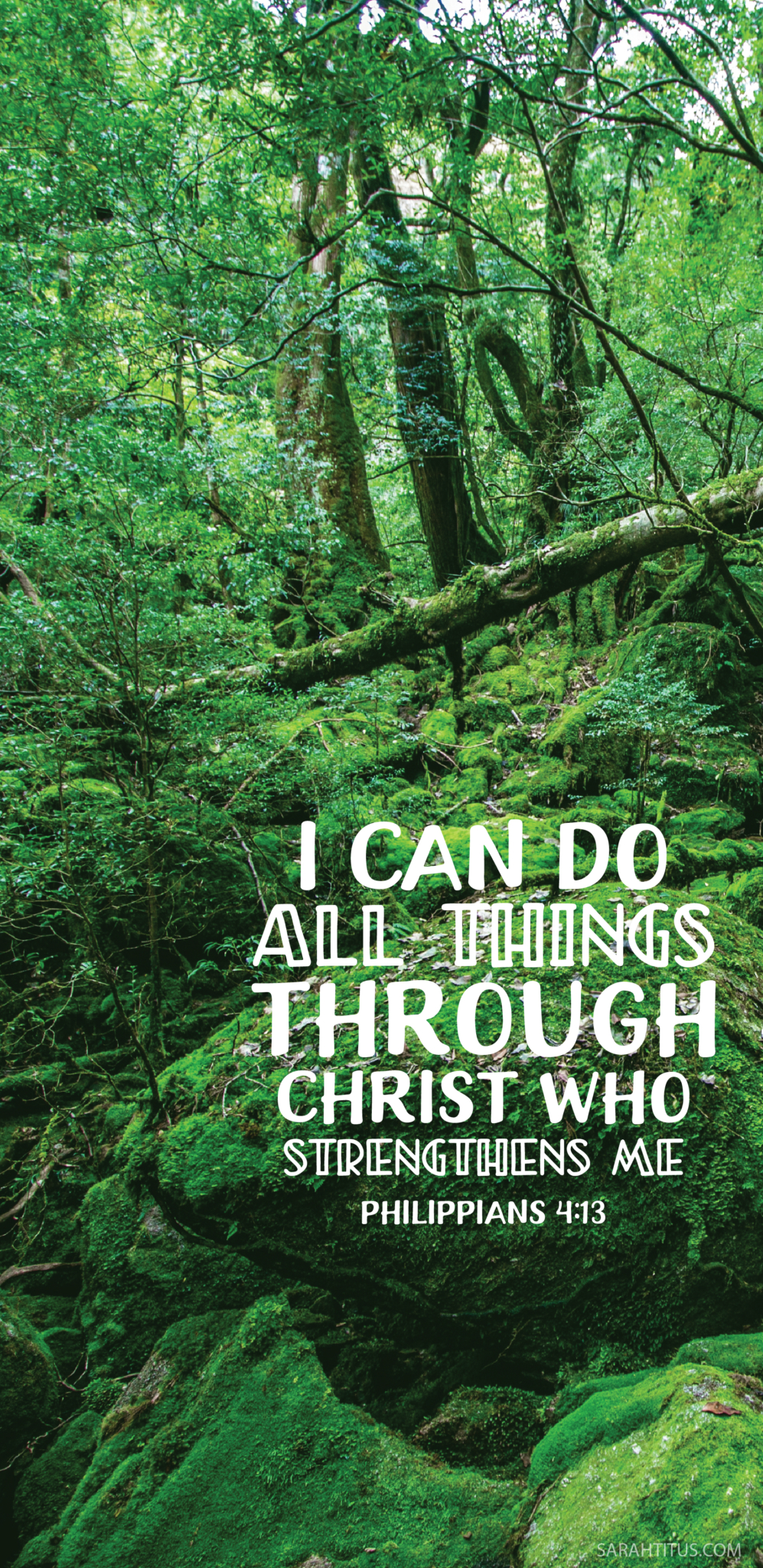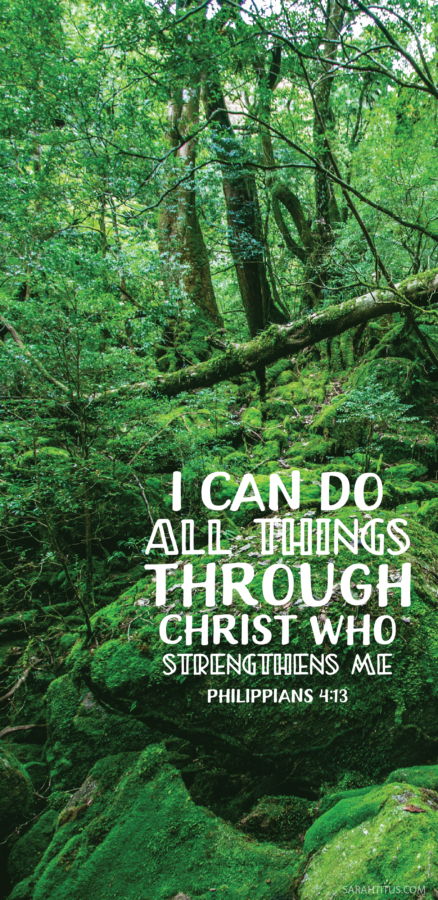 Laptop (2550 x 2048 px):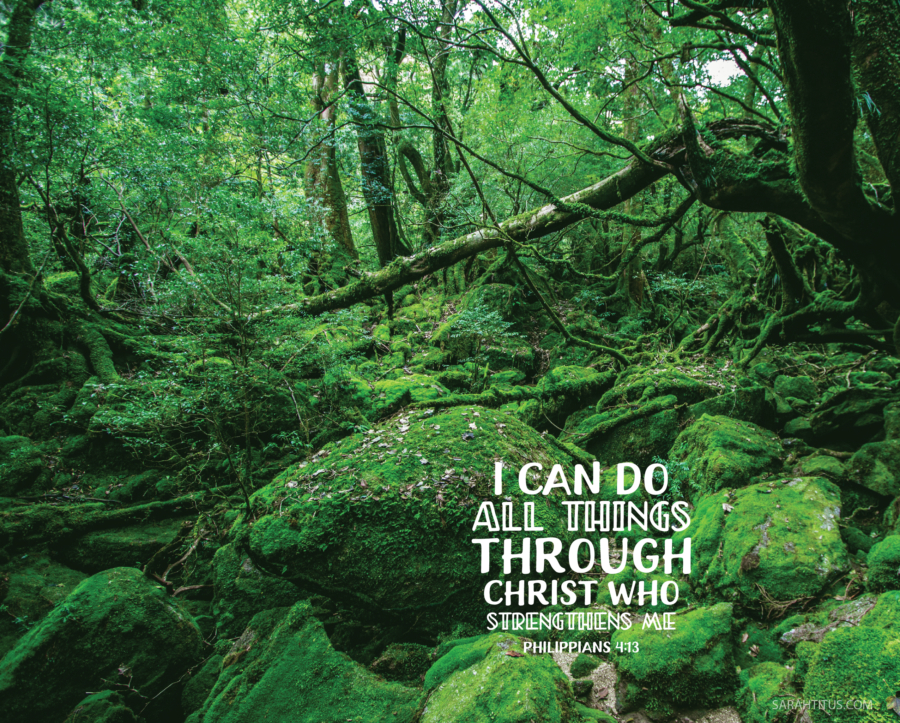 iPad (2550 x 3382 px):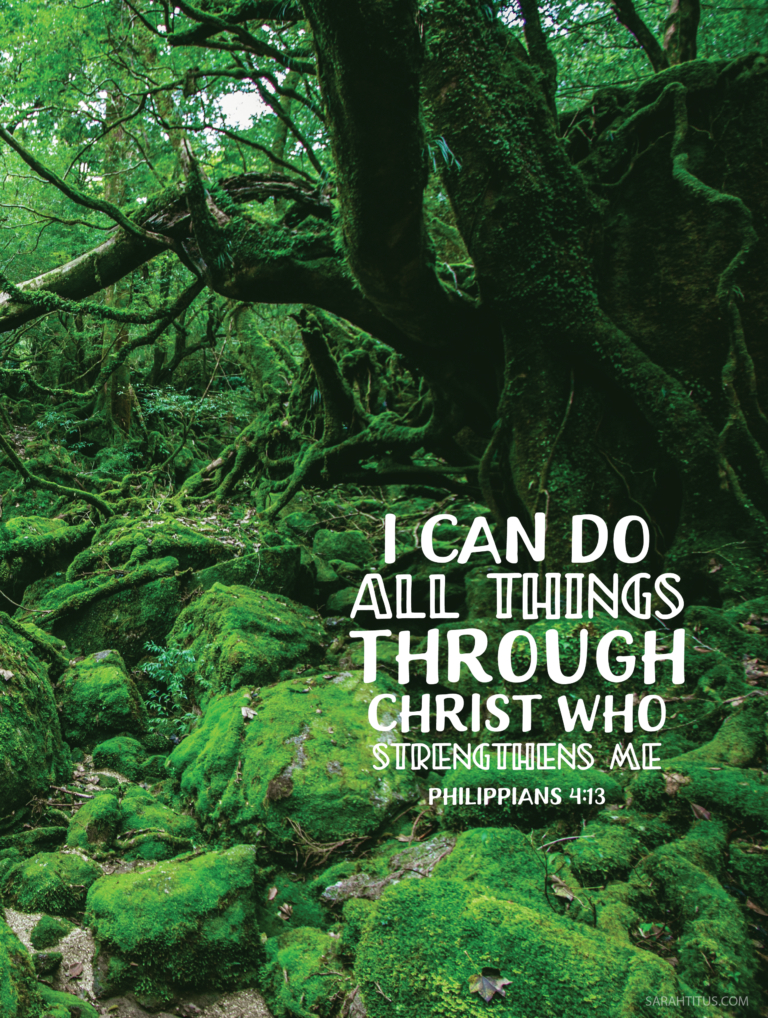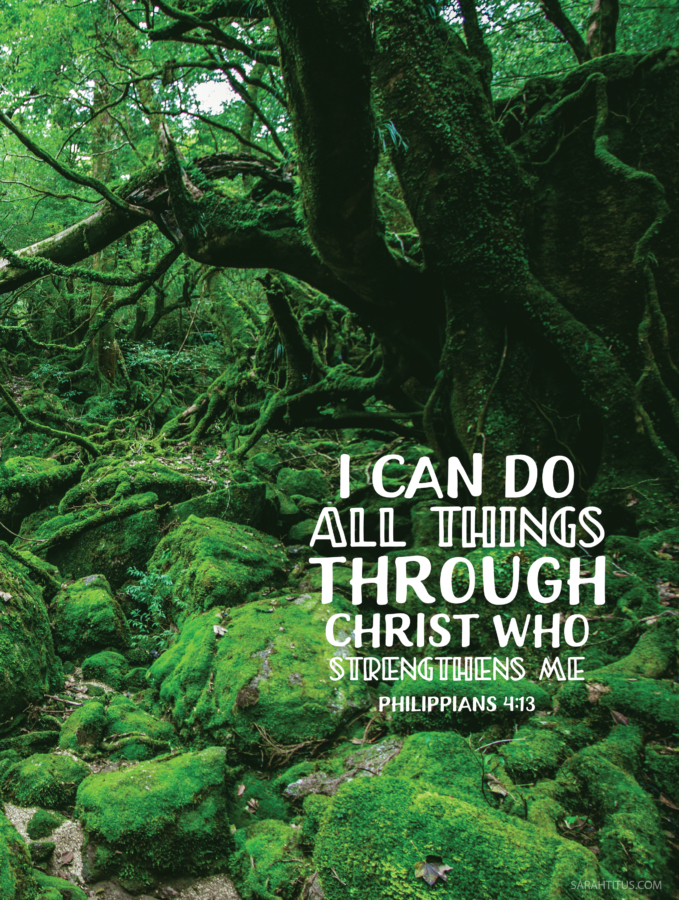 Instagram (2550 x 2550 px):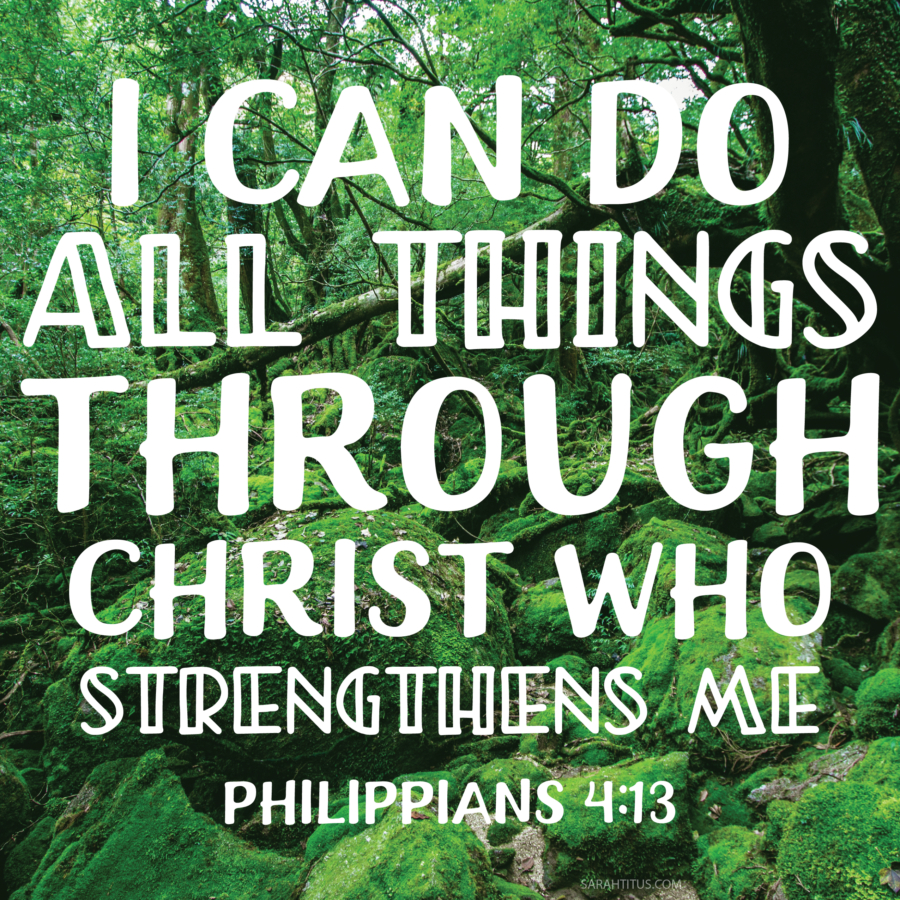 Desktop Computer (2550 x 1435 px):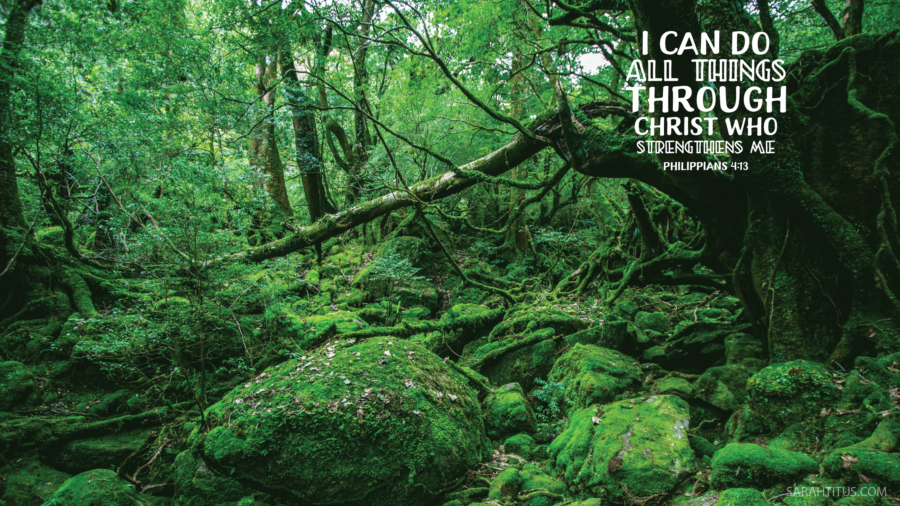 Facebook Cover (2550 x 948 px):

Pinterest Cover (2702 x 1548 px):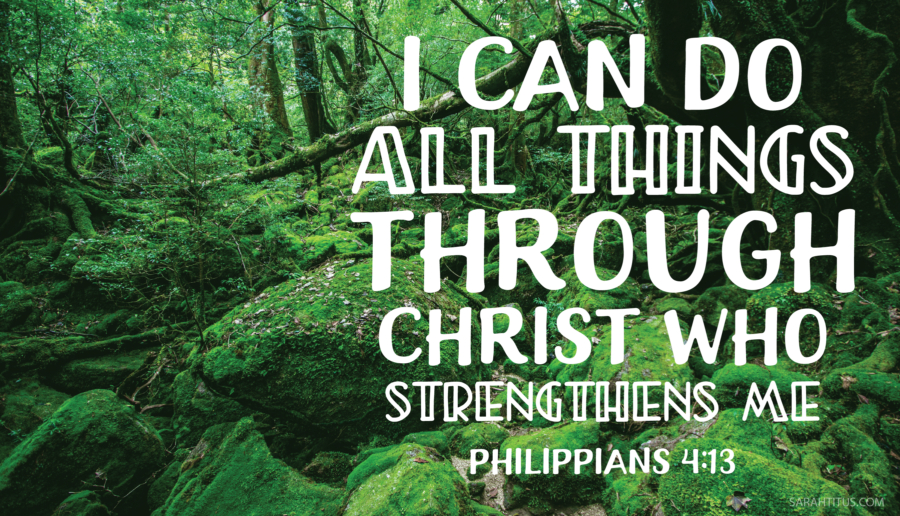 Enjoy!!! 💕🎁