I think we all can agree on one thing. Food is expensive. Sure, you can save a lot of money with coupons just like the people in TLC's Extreme Couponing.
They spend countless of hours clipping & sorting coupons trying to find the best deals out there.
But honestly, who has time for that?
Saving money on groceries doesn't have to be that hard. Or time-consuming for that matter!
Here's how to cut your grocery bill in half without coupons!!!
How to Save Money on Groceries and Cut Your Grocery Bill in Half
If you eat most of your meals out of the house, then that's the first thing you should stop doing. Eating at home or making lunch boxes will do tremendous wonders for your food budget, plus it's healthier!
Here are some more easy ways on how to save money on groceries tips…
Meal planning
Meal planning can save you a lot of time, calories and it's money-saving too! By taking 10-15 minutes to plan the meals of the week, you never have to stand in front of the fridge trying to decide what to cook for dinner.
It also saves you time since you don't have to go to the store every other day to pick up missing ingredients and by making sure that you plan quick and easy dinner recipes, you won't find yourself rushing through the drive-thru for dinner (or having it delivered!)
Speaking of delivery, places like Grub Hub, who delivers fast food, is about $15-$20 over what it would cost you to pick up the food yourself. It's not the cheapest way to eat! You are definitely being hit with convenience costs.
They sneak money into the actual prices of the food (cheaper when ordering directly through the restaurant), they pad money into the taxes. When you drive up, the tax on food is a lot less than they charge you through those sites. They charge you a delivery fee on top of all that AND you have to pay a tip, which is fine, it's just that you DO need to know, it's a hefty cost overall to have fast food delivered!
Check what ingredients you have at home and plan your meals based on that. Try to come up with meals that will still taste good to eat the next day and dedicate one night per week to be "leftover-day" when dinner will be whatever is left in the fridge. You can even do this one week out of the month too! Whatever is best for your family. 🙂
Write a list
If you want to be successful at saving money on groceries, writing a shopping list is an absolute must before food shopping. If you only use a mental list of the things you need, you'll end up forgetting half of the things you need and buy too much that wasn't even on the list.
Check the current ads from your grocery store to see what's on sale and decide if you should buy a few more of an item and add to your stockpile.
When you're at the store, you need to stick to your list! It's easy to add a few chocolate bars or any other unhealthy and expensive snacks if you're shopping when you're hungry or tired. Make sure to shop when you've eaten and are in a good mood or eat a quick snack before you enter the store to make it easier to stick to your list.
If you get tempted easily, don't walk down aisles that have things you want to buy. Example…if you don't intend to buy your kids candy, don't walk through the candy aisle. 😉 Avoid as many aisles as you can and just go to the ones with the things you need. Shopping in stores is a lot about keeping your blinders on.
Stockpile
Make room in your pantry, so you can start stockpiling. Your stockpile doesn't need to take up a whole room of your house and since most items go on sale every 6-8 weeks, you only should be buying enough of a product to last until it goes on sale again.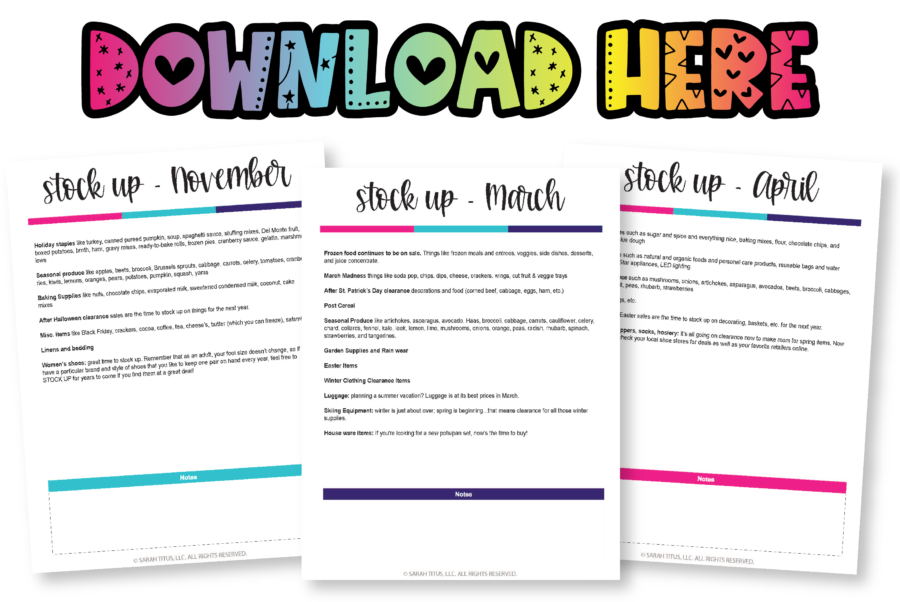 Download the monthly sales cycles Stock Up List here.
This means that you'll need to be buying more than you normally would, but you'll save money in the long run. If you only buy enough cereal when it's on sale, to last you a week, you'll have to pay more next week since you didn't buy enough. Yes…I'm totally that lady ordering 25 boxes of cereal when it's on sale! That stuff flies in my house. 🙂 I'm pretty sure my kids sneak it when I'm not looking.
You should only stockpile items that you normally use. Don't buy 20 cans of tuna if no one in your family likes it. You also shouldn't be buying items that you've never tried before, just because they're cheap. Buy things that you know you like when the price is at its lowest, instead of stockpiling things you'll never use.
Eat all the food
According to a survey by the American Chemistry Council, the average household throws out $640 of food each year. So while meal planning (get a free printable meal planner here) can save you a lot of money, you also need to make sure that you don't end up throwing the food away.
If you find a great deal on beef, then make a bunch of different meals and freeze for another day. You can save a lot of money by batch and freezer cooking. You can also buy big packs of ingredients and use in several different meals.
Batch cooking doesn't only save you money, it's also a great time saver. If you struggle with cooking for your family during the weekdays, you can cook the whole week's meal on Sunday and freeze.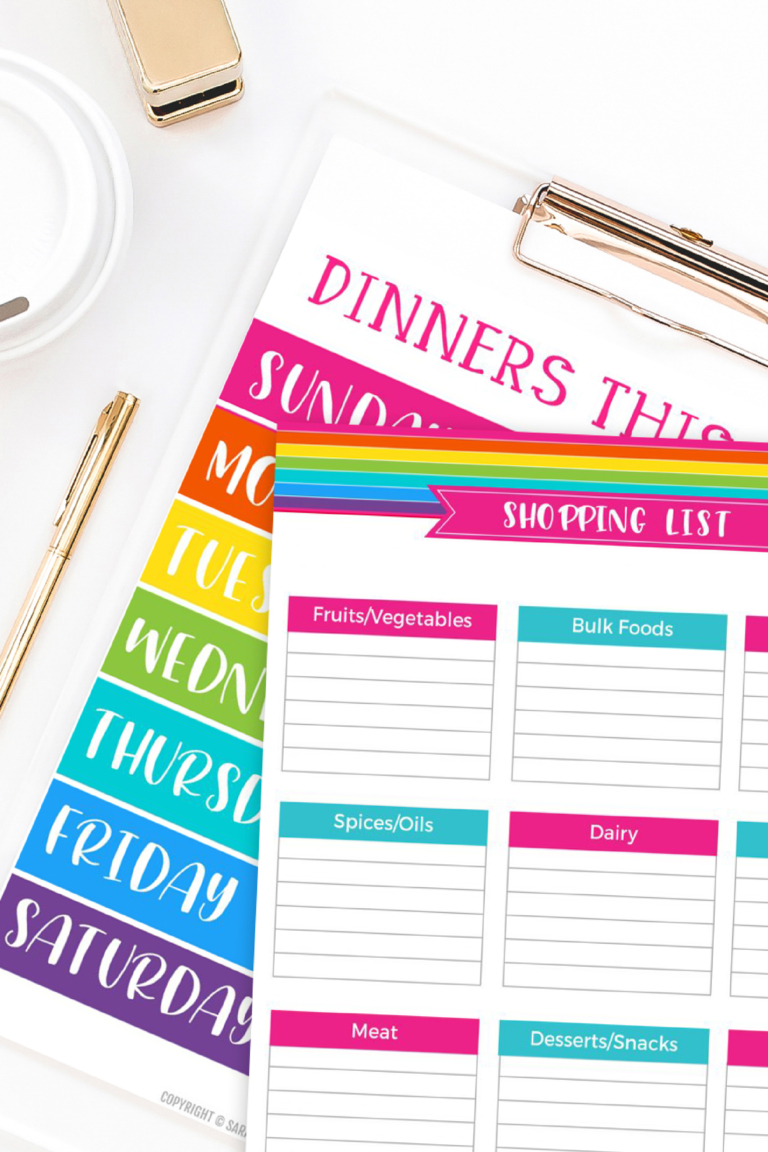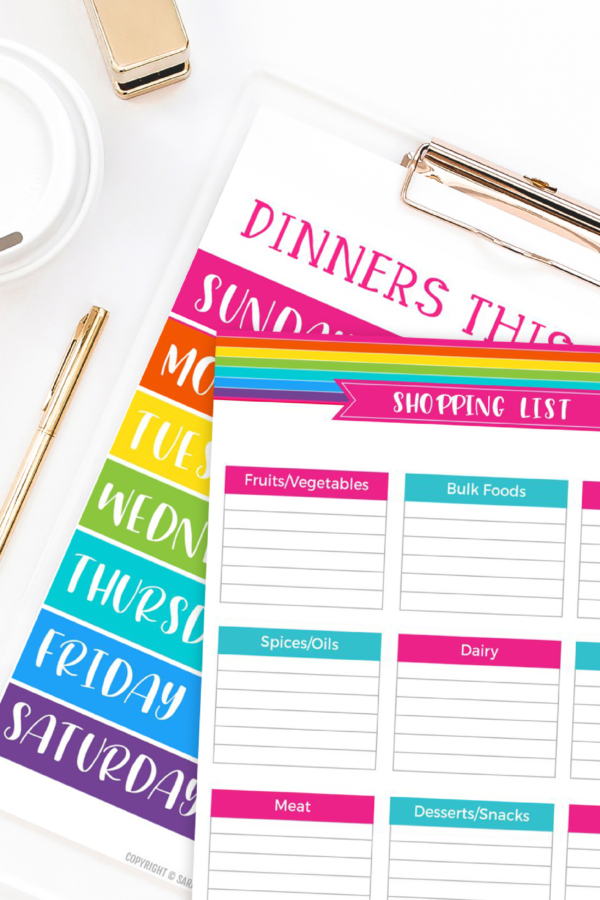 Click here to grab the free meal planner.
Compare the unit price
Comparing prices at the grocery store can be tricky. One thing that can throw you off, is different sizes. One bottle of juice may cost more but also comes in a bigger bottle than the brand next to it.
When you look at the price of an item, make sure you compare the unit price to find the best deal. The unit price is in small print in the corner of the sales tag. By looking at the unit price, you can compare the price per ounce or per pound instead of trying to do the math in your head.
Save with Ebates & Ibotta
You can also save money on groceries with apps like Ebates and Ibotta.
The Ibotta app is easy to use and allows you to save money on groceries at over 300 retailers. You can check the Ibotta app before you're writing your shopping list to see if there are any cashback items. And when you're done shopping, you just scan the receipt and get a small cashback.
When shopping online, you can save money with Ebates. You start by browsing to Ebates.com, sign up for free, and search for the store you want to shop at. When you've clicked the store and made a purchase, a percentage of the purchase amount will be credited to your account.
Implement these best way to save money on groceries tips to your weekly routines and your food bill will reduce almost immediately.