I'm always looking for tricks and tips to save money in my shopping budget, every dollar counts, especially when it comes to saving money on groceries. Not so much out of necessity, but more because I don't like the idea of some fat cat millionaire having another expensive lunch on me! Let it be that I am wiser in keeping my hard earned money where it belongs…in my pocket! Are you ready to hear the one weird trick that saves me $125/m in groceries?
One Weird Trick Saves Me $125/m in Groceries
So, every month (or every other month, depending on how selfish I get 😛 ) our family likes to play a game called CHOPPED. Maybe you've heard of it. It's a show on the Food Network, where the contestants take 4 mystery ingredients and try to make a meal out of it. The person who transformed the items the best, has the best presentation, and who's food tastes the best WINS.
Usually in our pantry and fridge, there is a myriad of things that are left over, maybe things that I stocked up on when they were on sale, shelf stable things that I could use in a pinch, and so on.
One week out of the month, I forbid myself to go grocery shopping. I use only what is in the fridge, freezer, and pantry. No going to the store for anything! Not only does this save me a bit of gas, but it also saves me about $125-$200 on groceries without coupons! The kids and I love to get creative. Since they are still young and not old enough to cook, whoever comes up with the best IDEA wins. It's a fun game with frugal living in mind, rather than a chore. And it gets rid of a lot of food that probably would have gone to waste if we didn't do it!
I encourage you to try it. If you're just starting out and you absolutely can't do an entire week, start small. Try 3 or 4 days the first time and see how it works. I mean, don't starve. Go to the store for pete's sake, but if you have the food there, but just don't WANT to do anything with it, that's where I would encourage you.
Be sure to stock up on the things you absolutely need to be able to do this as well. For example, my kids have cereal every morning, so I know when I'm going to do this plan, I need to grab an extra milk jug to get us through. If there's anything your family uses every day like that, be sure to have enough of that item, and supplement with all the other foods in your pantry and fridge.
Still aren't motivated to try it? Think of it like this…If you do this once a month, every month for a year, you will have saved yourself, drumroll please…….$1,500-$2,400!
Do you know how many bills can be paid with those new-found funds!?!?!?!?! Simple tricks like this add up to HUGE savings throughout the year, and it's how our family 'beats the system.' And if you're looking for real life advice on how to get out of debt and become financially free, check out my new book here on Amazon!
Update: This post has become so popular, that the story was picked up by CBS and Rachael Ray! They asked me to be on the show. Check out my video here.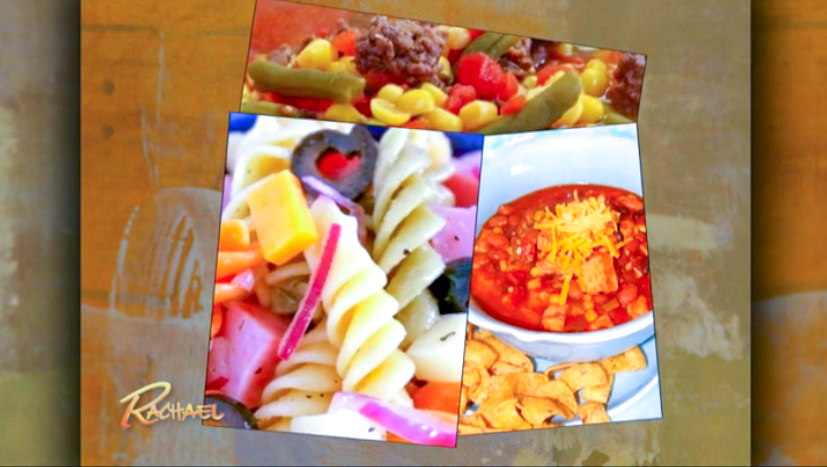 Want my recipes that were featured on Rachael Ray?
Chicken Pot Pie (as seen making on the show with things I already had in my pantry closet):
Ingredients:
1 can of corn and 1 can of string beans (I usually use 1/2 frozen bag of mixed veggies)
12.5 oz can of chicken (I usually use left over fresh chicken that I've diced and frozen to use later)
2 cans of cream of chicken soup
Bisquick
Milk
Directions:
Add all ingredients to bowl, except for Bisquick and milk. Stir well and pour into a greased oblong Corningware dish. Make the biscuits according to the directions on the box of Bisquick and shape the biscuits into round circles. Place the biscuits on top of the mixture. Cover with aluminum foil (My favorite is Reynolds wrap) and bake for 30 minutes at 350 degrees. Uncover, add butter to the top of the biscuits (this will brown the tops of the biscuits and make the dish taste better) and continue baking for 15 minutes until biscuits are completely done.