Hand Lettering and calligraphy has become a real passion of mine! I'm no where NEAR where I want to be, but I love facing new challenges and am a firm believer, that if you want something, you go after it!
Lettering doesn't come easy to me. I'm TERRIBLE at patience! And really, hand lettering practice requires some patience.
But it's also taught me a few things.
It's taught me that I'm not as perfect as I want to think I am. Boy, don't we all just wanna believe better about ourselves than we really are. We gloss over mistakes, instead of owning them and moving on.
When I'm drawing, I make mistakes. I color outside the line, a line won't go as smooth as I want it to, it won't look as "clean" as I want it to, the shape is off, it just didn't look good. When I letter, as I'm learning, I draw with a brush pen. There's no eraser, no do-over, no go backs, and right now, that's exactly what I want as I strive to get my hand to not be so shaky and just draw…for the fun of it. Not worrying about how it'll turn out in the end. Just draw.
But when I make a mistake, I get mad at myself. Then, I remember, is there a way to fix it? Can I color a little more inside the line to make it not seen. Is there a way to fix my mistake.
I'm learning that yes, I make mistakes. I'm not as perfect as I'd like to think. I'm not as good at hand lettering penmanship as I WANT to be (yet!), but you know what…it's okay. I'm learning to show myself grace. And if I can learn to show myself more grace as a result of learning hand lettering, then wow, just wow. It's so worth it!
Today, I'm bringing you a new, modern how to hand letter free tracing printable worksheet just for you!
And if you missed the first one, you can check it out here: How To Hand Letter + Free Printable
I hope you'll come along with me as I learn to hand letter.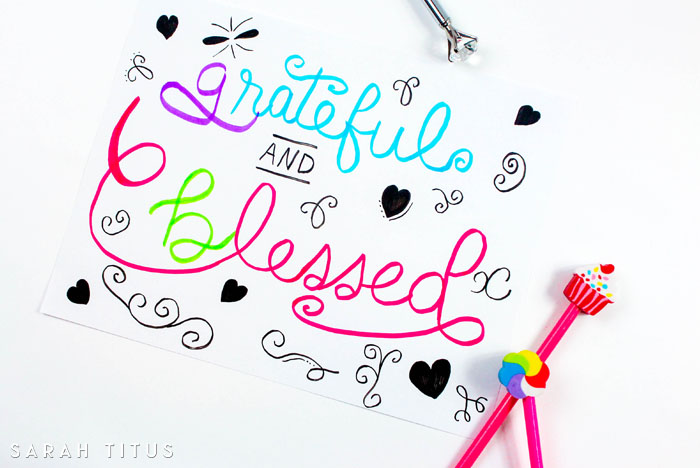 How to Hand Letter Free Tracing Printable for Beginners
Be grateful and blessed! That's what I decided to hand letter this time.
I am so grateful and blessed for God, for you, my family, good friends, my home, all the blessings that I have in my life. What are you most grateful for?
Download the How to Hand Letter Free Tracing Printable PDF Template here.