One of the things I think is so important in our lives is to have hobbies we truly enjoy doing.
A lot of people ask me, how come I don't niche down my blog to just one or two topics.
Well, the reason I always say is because I'm not a one or two dimensional character in real life, why would I be on my blog?!?! I like introducing new topics. I like having a variety of topics. If I feel inspired to talk about money one day and printables the next, it's totally fine.
There's no blog police gonna come after me and say, "HEY! Niche down or else!"
It's SarahTitus.com. It's not SavingMoney.com or Printables.com. It's Sarah Titus. That's me. That's my passion.
I have a lot of hobbies. I love to cook, so I have recipes on the blog. I love organization, so I have organizational posts on the blog. I love printables, so I have printables on the blog. I love binders, so I create binders for the blog. I like helping moms stay home with their kids, so I have saving money and making money on the blog.
But don't let my hobbies fool you. This is no hobby blog. I make $75k/month from this blog. That's not hobby pay.
Here's the thing and please listen well.
If you have a blog you are running and you're NOT having fun on it, no one else will be either.
So many blogs don't get traffic because they are boring, passionless, inspireless.
If you're not having fun, neither is your audience. Who will stay for that? Who will come back week after week to someone who's not on fire and passionate about what they do???
So for me, I do stuff on the blog that I enjoy. Stuff that I'm passionate about and while the topics may seem random, I do stick to a core set of topics and I do what I love. It's who I am. I love to do new and exciting things. I love to be a passionate person. To live life to the fullest. To have fun, be real, be myself.
I'd encourage you to do the same.
Be full of life.
Don't let life pass you by.
HAVE FUN!
Don't work all the time.
Take time out to really have fun and enjoy what you do.
Because if you don't enjoy what you do, you won't get excited each morning to even get out of bed!
Speaking of passions, I'm starting a new one! 🙂 Handlettering and calligraphy! Here's how to handletter…
How to Handletter + Free Printable
My last passion (and still is), photography is finally at a point (after a year or two) where it's looking good and I feel like I have a good grasp on it. Time to learn a new skill!
I wasn't PLANNING on picking up a new hobby, to be honest. It just kind of fell in my lap. But, I've learned a few things. Like how to make coloring sheets! And…I'm teaching myself how to handletter.
So, bear with me, this is literally my FIRST attempt EVER to handletter.
It's kind of hard to even put it out there in the world because to me, I feel like it's not good enough. I can tell my hand is a little nervous and not steady. It's because I didn't want to mess it up. So, with time, I'd like to learn to make my hand be more confident. 🙂
I see online all the time, printables that are just black and white. I like a lot of color, so I created it to be colorful. I didn't create this with the intention of sharing it. I created it simply to learn and teach myself how to handletter and have neat penmanship.
But because I'm struggling so much with WANTING to share it online, that's exactly why I WILL!
See, I always want to be pushing my comfort zone to be bigger and bigger. I always want to be putting myself out there and being real with you, letting you see my flaws and imperfections. This printable is NOT perfect. It is the first sheet I ever even attempted!
But for me, it's not about it not being perfect.
It's about expressing myself and sharing my flaws with the world.
It's about having fun.
It's about putting myself out there.
It's about getting out of my comfort zone.
It's about being me and using colors in a black and white world.
It's about the saying, "Know truth by living it."
It's about sharing with you. Perhaps there's someone out there who likes it and wants to print it.
It's about adding a new topic out of rebellion because I'm tired of hearing, "NICHE DOWN!"
It's about being unapologetically me.
So if you like it, I hope you'll share it with the world. I hope you'll print it. And I hope you'll show me grace, because it's NOT perfect. I'M not perfect! But I will get better.
If you've thought about handlettering, but haven't started yet, I invite you to join me on my journey! We can start and get better as we practice together.
If you want more printable templates, like the one I will share with you below, just let me know in the comments. If there's enough interest, I can definitely start creating templates for you to practice along with me whilst learning to handletter. 🙂
Here's what I did to start.
Step 1: I pencilled an outline of what I wanted on special thick paper (here's the printable paper I use and love). I drew and erased a lot of times to get it looking how I wanted. I drew horizontal lines across the page where I wanted my letters to go to make sure I was keeping my words straight as I wrote them.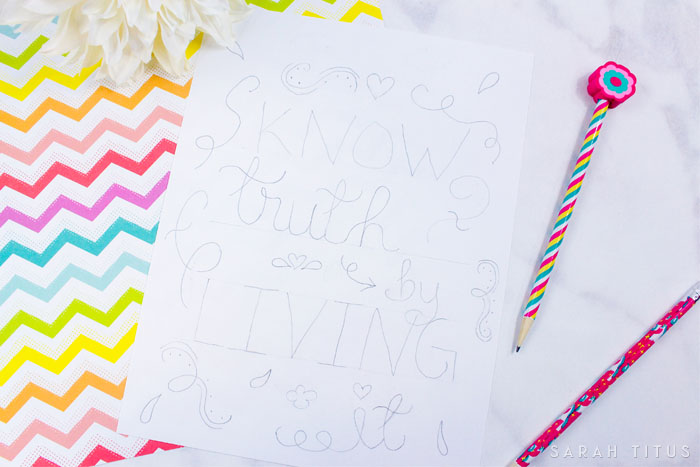 Step 2: Since my pencil lines were darker than I needed them to be (I suggest either drawing a LOT lighter or do what I did…) I scanned the picture in my computer and then used picture software to make the picture more transparent. From the above picture, I set it to 15% opacity, which is super light.
It's dark enough you can trace your lines though when you're coloring it in. You'll have to play around with the opacity to see where you need it to be if you're creating your own template.
Here's what mine ended up looking like before I colored it (see how you can BARELY see the design. You don't want it too dark because you'll never make those lines exactly and you don't want the lines to show on your printable)… Click here to print that same PDF template worksheet so YOU can color one too!
Step 3: Color. You can't really see the lines in this picture, but I could barely see them and then I just started coloring. You can use whatever colors you like. I like a lot of vibrant, bright colors, so that's what I went with. You can do all black color if you want or any variety.
To color the page, I used Sharpie brush type pens. I like the thicker lines they give me than regular permanent markers. I know there are a lot of specialty markers out there that you can use. Honestly, I just used what I had on hand. 🙂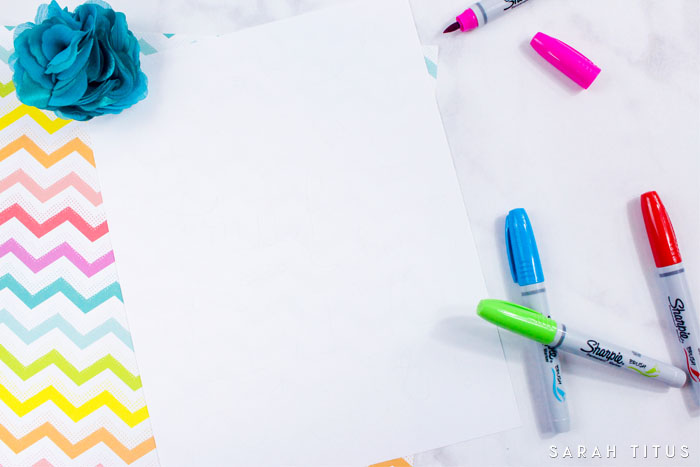 After you're done coloring, you now have your own masterpiece. You can frame it or keep practicing, but it's a lot of fun to do! Eventually, I'd like to get into shading and creating shadows and stuff too! That will be fun!
If you'd like to print out the one I colored, you can do so by clicking here.