I cannot wait to share with you today these super cool printables! Your kids will be ready and armed with Valentine's for all their friends and classes!! 🙂 Take a look at these fun monster Valentine cards printables!
Fun Monster Valentine Cards Printable Free
These bright green and blue inspired printable cards make the perfect Valentine's for all your kids' friends this year. Whether they need lots for classrooms, friends, or family, you'll be set!
I had created some more girly monster Valentine's Day cards for my daughter one year and my son wanted a set too, so I made these with boys in mind (though girls will love them too).
The blue-and-green-themed printable Valentine's Day cards for kids have cute little monsters on each, with fun and silly phrases kids are sure to love.
Don't let Valentine's Day cause any stress this year – you'll be prepared…AND save money along the way. 🙂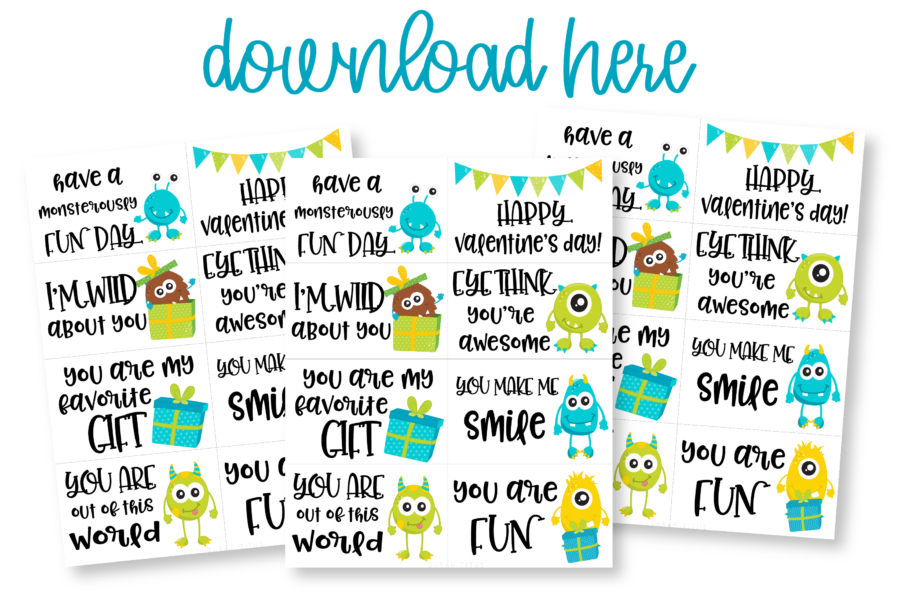 Download the fun monster Valentine cards printable free here.
Fun Ways To Use These Printables:
Here are great ideas on how you can use these fun monster printable Valentine's Day cards!
Printable Valentine's Cards For School Classmates And Friends
Obviously, these are the perfect solution for when you need a lot of valentines at once! My kid's classes always traded Valentines on Valentine's Day.
If yours do as well, then just print as many sheets as you need and have your child sign them! Even if your school doesn't do this, they can still bring them to their friends and give at recess. 🙂
You can use them for other large groups too like Sunday school classes, boy scouts, their sports team, band group, or anything else!
Save some cash and use these free and cute cards. The kids will love the fun sayings. 🙂
Tape To Kid's School Supplies
These would be so great to use to brighten your child's day!
Tape them to the insides of their notebooks, folders, binders, and even place one in their backpack to find later! They will love the fun surprise and start the day on a positive note.
Such a simple and easy way to bring a smile to your kids' faces. 🙂
Use As Gift Tag Labels
Repurpose these cards and use for gift tags too! These cute little cards can easily be taped to presents, gift bags, or boxes.
They will encourage the receiver of the gift with the sweet saying, and be more personal than a regular label, or even worse… forgetting to label the gift at all! 😉
I hope you enjoy your Valentine's Day this year with these super fun monster printable cards!