I know that I may be really weird, but I'm not that big of a fan of buying Valentine's Day cards in the stores for my kids.
First, they are like 4 bucks a box and they always come in an odd number that we need 2 boxes for each of my kids. I think the makers do that on purpose. They know class sizes are around 30! But it's like 24 cards per box. Grrr.
Last year, I tried to save money by buying gender neutral cards and 3 boxes total, instead of 2 boxes per child. That worked great, but…it still set me back $12 and they seemed kinda dumb…too plain and basic. And some of the sayings, I'm sorry, are inappropriate.
"I think you're hot stuff"
Yeah, NO! lol.
That's not treating a girl with respect. Ladies should be treated like ladies and I've always tried to teach my son that. "Be a gentlemen," I say.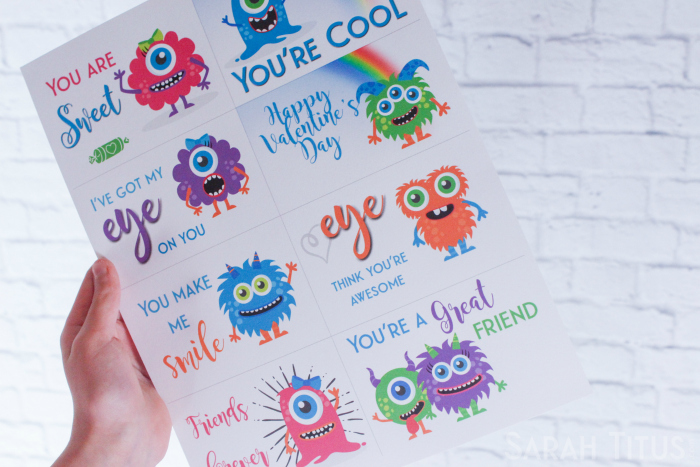 So, because I am TOTALLY obsessed with free printables (I might have a problem!) 🙂 I decided THIS year, we could MAKE free printable valentine cards better than they sell in the stores! AND…we can print the number we need!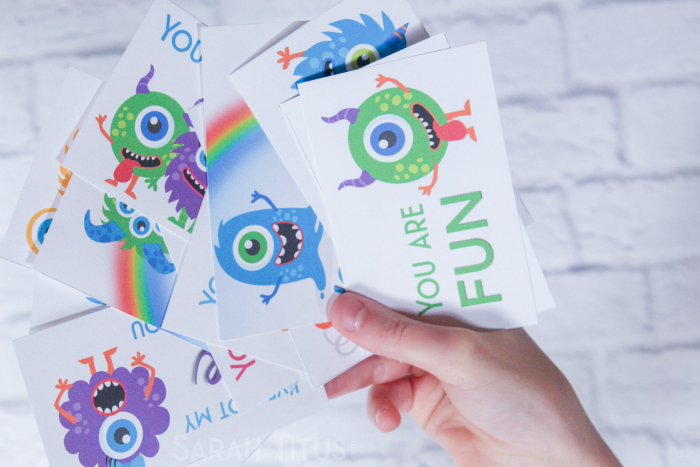 My kids and I had a lot of fun coming up with sayings that are sweet and fun, and totally kid-appropriate, as well as designing the text and colors. My daughter helped me design the girl set and my son helped me design the boy set.
They turned out really good and we thought we'd share them with YOUR family…from us to you! Hopefully, they will save you some money (I get most of my ink nearly free- here's a post I wrote on how I do that) and your kids will love them.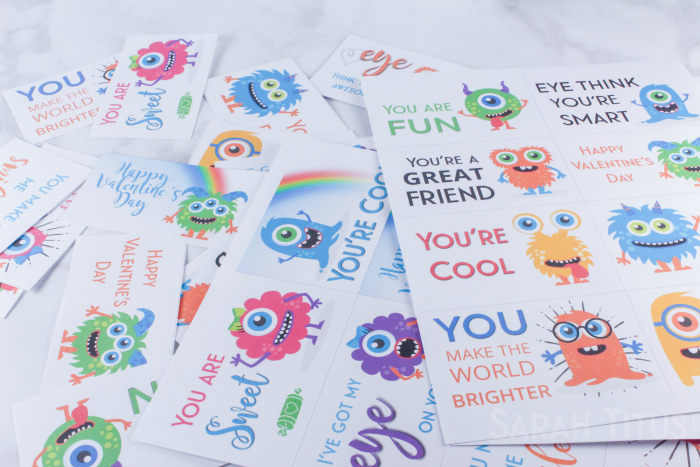 I adopted the funny and pink fluffy monster as my own and named her Sarababel. 🙂 If I was a monster, that's what I'd look like. Perhaps your kids could pick a monster they'd like to be as well. They are all so stinkin' cute!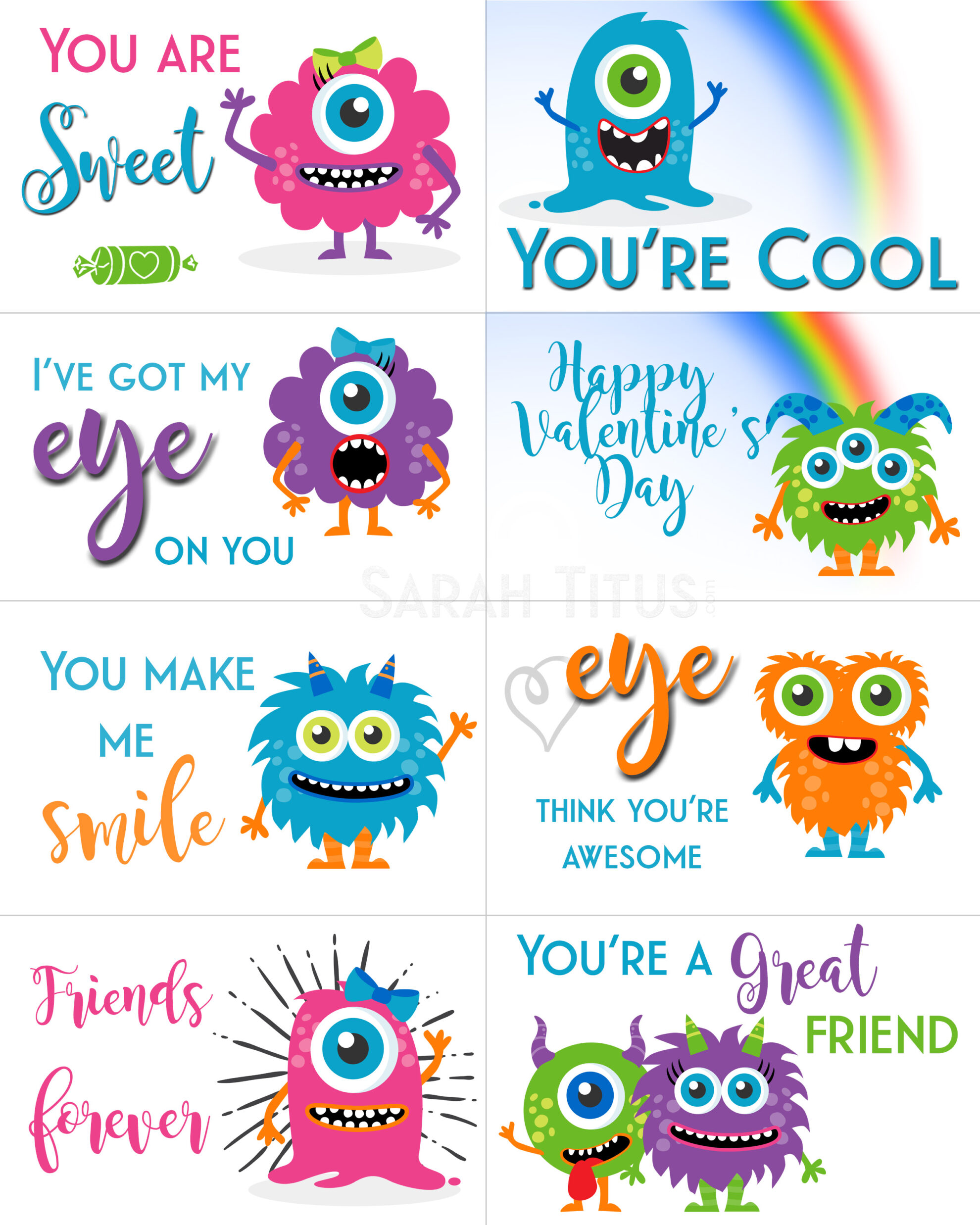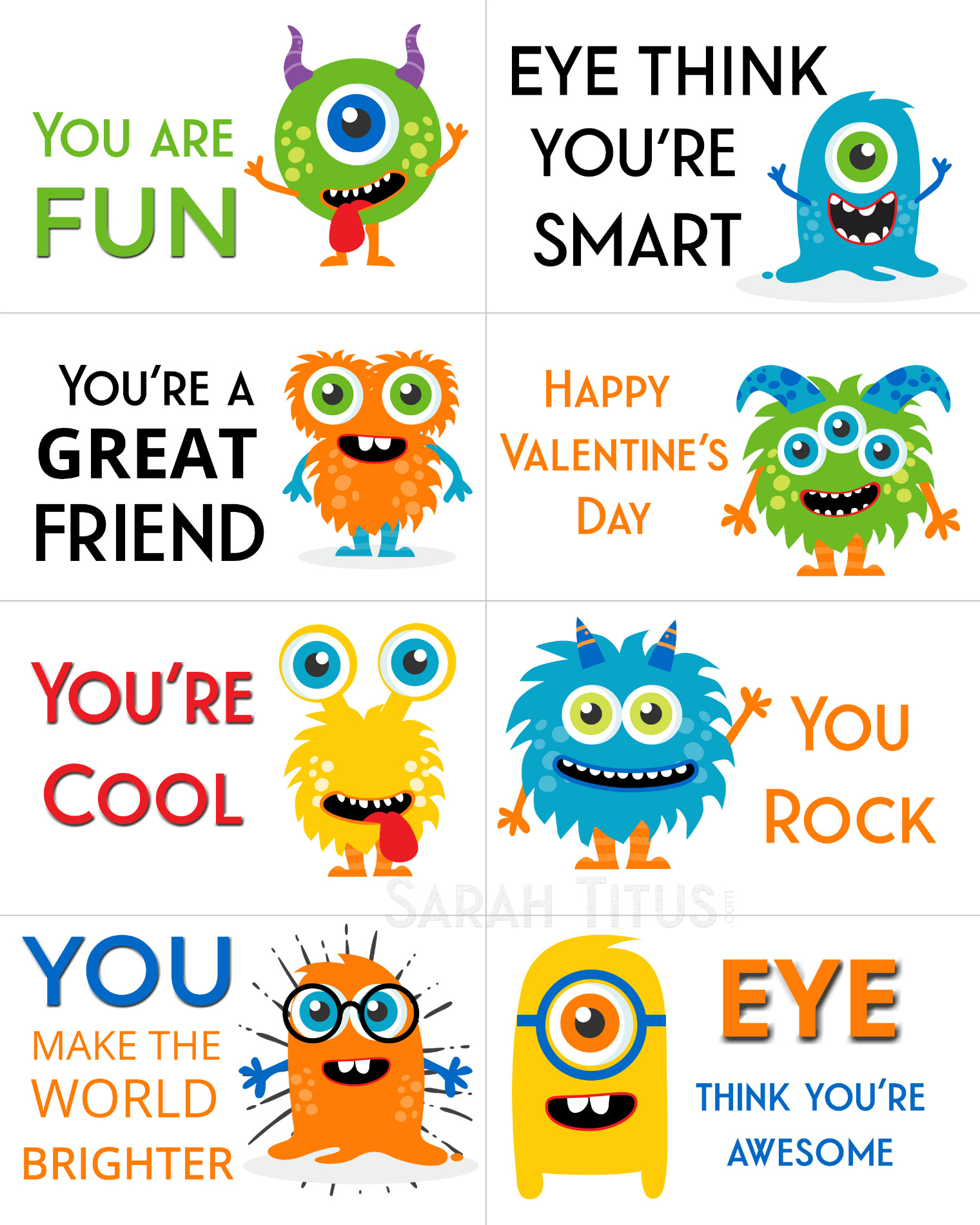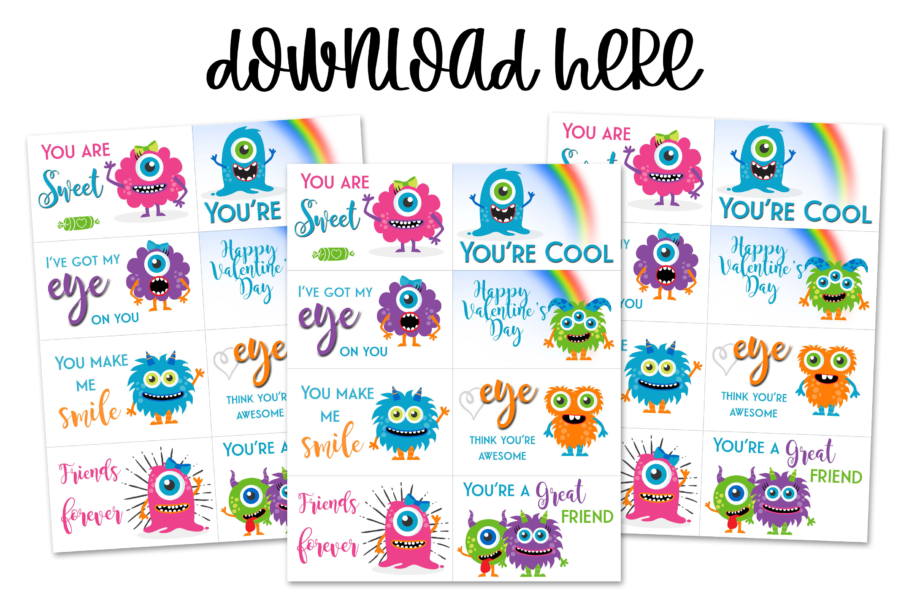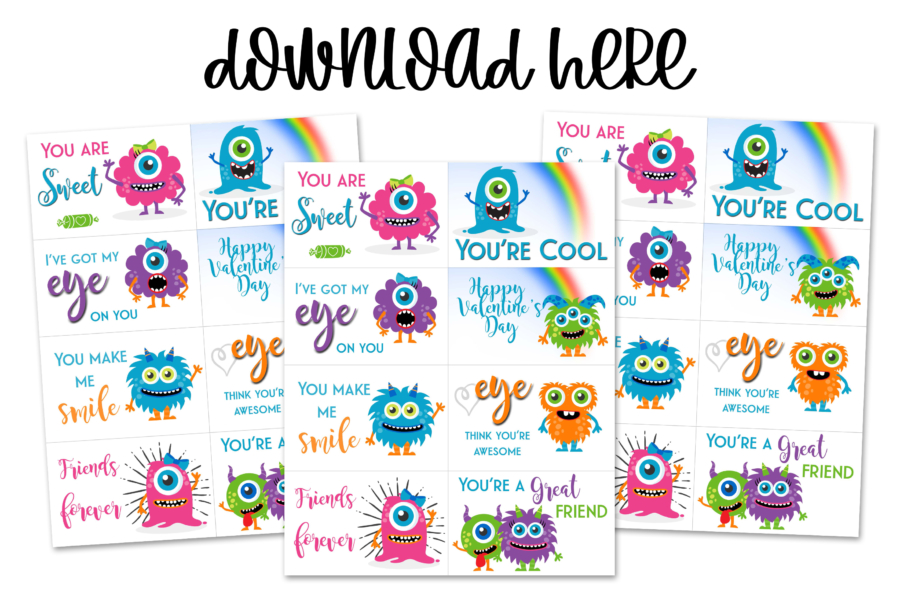 Download the free printable Valentine cards girl sheet here.
Notes include:
You are sweet
I've got my eye on you
You make me smile
Friends Forever
You're cool
Happy Valentine's Day
Eye think you're awesome
You're a great friend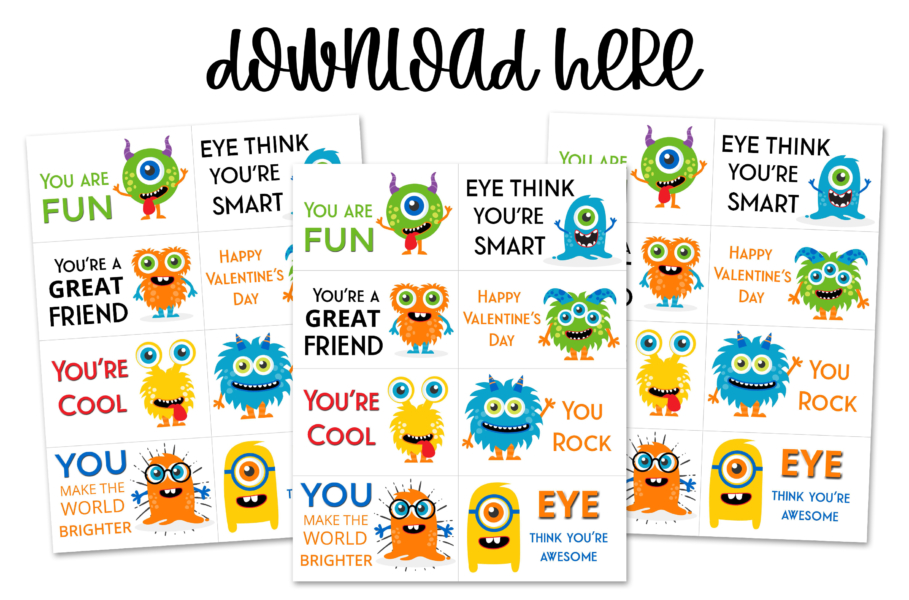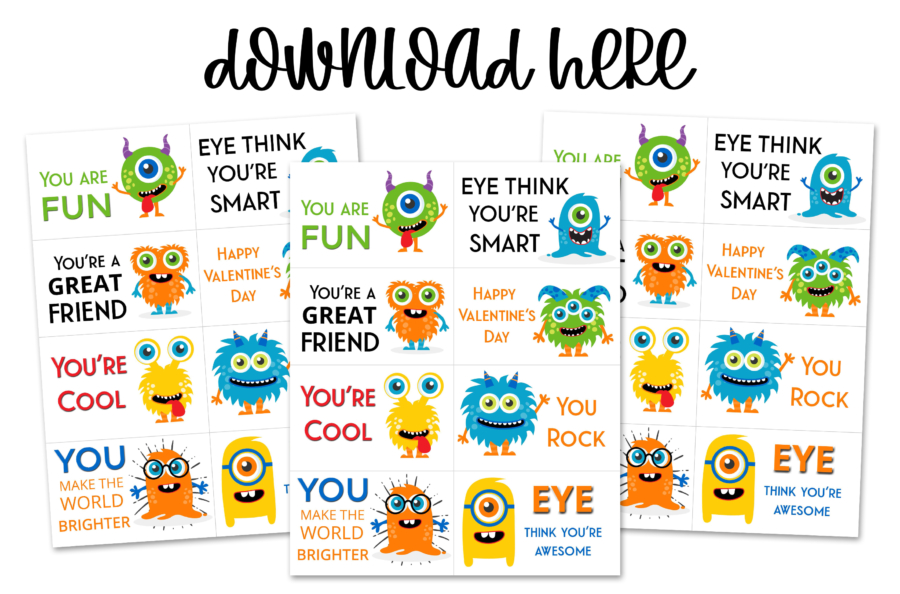 Download the and the free printable Valentine cards boy sheet PDF here.
Notes include:
You are fun
You're a great friend
You're cool
You make the world brighter
Eye think you're smart
Happy Valentine's day
You rock
Eye think you're awesome
I like to print them on card stock (this is the exact pack I buy; it's super cheap but well made). After you print them, simply use scissors or a paper cutter to cut them.
These card templates would be perfect:
for classmates
from teacher to student
for coworkers
for adults
for teachers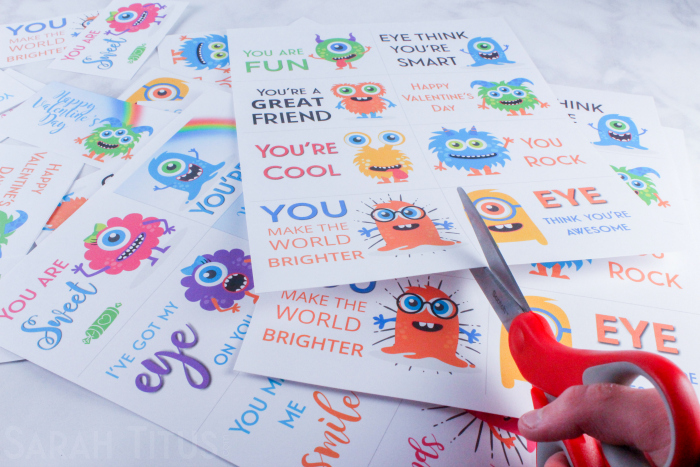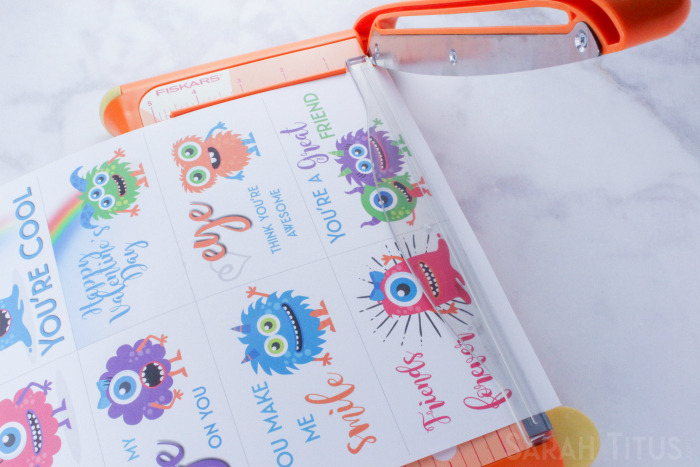 Want MORE cute and easy printable Valentine's Day cards?? I have a BUNCH of awesome V-day cards to choose from here!
You might also like Glue Valentine Cards and Show Him You Love Him Free Printable Art.
Love all things Valentine's Day? Then you will NOT want to miss your chance to get the new 85+ page Valentine Binder.