This week I've been beat up pretty bad.
My heater went out 4 times this week (5 times total this month) and I'm just PRAYING it'll stay on at this point. I've sunk $1k into it. There's literally no more parts to replace on that particular error code.
Then, I ordered an end table and they ended up dropshipping (I HATE drop shippers, and didn't know they were one when I ordered!) me a dining table instead. Four days later, they keep putting me off, saying they'll "get back to me" on this issue, but no results yet.
It's really not that difficult to pick up the dining table and send me the end table I ordered. :/
I wasn't able to get much work done this week, b/c of all these issues. Behind the scenes, I'm working on a "How to Create Printables" course and can't seem to ever get to it, and that's driving me absolutely nuts! 🙂
Free Printable Learn to Rest Wall Art Quote
Life is not perfect, is it?
Sometimes, it'll sidebar you.
Sometimes, it hits you outta nowhere, like a linebacker, and you're thrown to the ground wondering what the heck just happened.
There's no warning, it just happens.
And all your goals and projects you're working on, have to take a backseat to "life."
You can become discouraged and feel alone.
Drained…
Exhausted…
And while those times will continue to happen in your life on and off, there's a promise I CAN make you:
After having gone through SOOOO much grief and pain for 10 years now, dealing with one thing after another, there IS a time when it stops.
Maybe the road you're on feels hard, and like it'll never, ever, in a million years end. You'll never get to where you want to go. You'll never make it.
But I look back at my life, and I can say with full assurance, you will! <3
Yes, times are tough ahead for you. Yes, you'll get so frustrated you wanna pull your hair out. Yes, you'll have things you need to overcome, but you will be VICTORIOUS.
I've worked hard, I've stayed the course, and I have my dream life. My biggest problem is my heater keeps breaking. I'm just thankful I HAVE a HEATER TOOOO break! You know.
It doesn't really matter WHAT life throws at you to try to derail you.
It doesn't MATTER!
Why?
Because if you don't give up, if you stay the course like I have, EVEN in the trying times, you will absolutely get to where you wanna go.
Most people ask me what the secret to my success is, and while there are many things that play a part in it, I think the #1 thing (outside of God's sovereign grace), is that I never give up.
You can push me down 100 times, and I may lose all my confidence. I may be dead tired, but I'm like the horse, Spirit. I have a fire in me that won't back down, I won't give up.
B/c I want something MORE in life than all my friends. They seem to be so complacent with their lives. And I just don't get it. For me, I want more. I won't be satisfied with the status quo. I was born for more and so were you!
When life throws you a curve ball, swing. Don't give up. Don't back down. That's what everyone else does. You're different. You're a champion!
Martin Luther King Jr. didn't give up when he was pushed down.
Rosa Parks didn't give up when she was pushed down.
Barry Bonds and Babe Ruth became a few of the greatest baseball players that ever lived because they didn't give up.
And the same is true of you.
You wanna be someone great?
You wanna serve the world and really make a difference?
Don't give up.
Take breaks, rest yes, but don't give up.
Banksy says it best…"If you get tired, learn to rest not to quit."
Here's free printable wall art ideas to inspire you. Print it out and put it on your office desk, frame it as wall decor in your bedroom, bathroom (any room) so that when the time comes, you'll remember not to give up! <3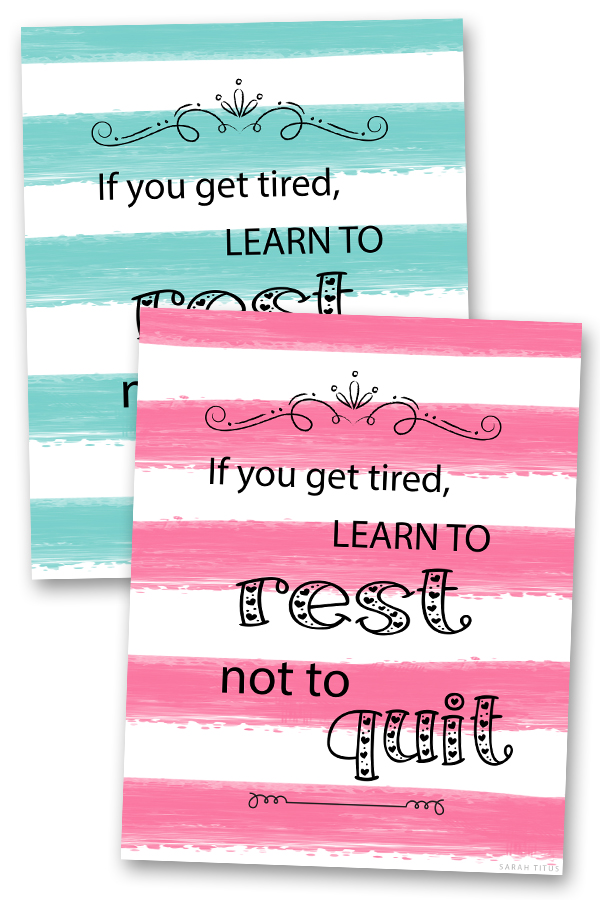 Free Printable Learn to Rest Wall Art Prints:
Download the teal wall art PDF Template here.
Download the pink wall art PDF Template here.