I love creating printables!!! Especially these free printable Christmas signs!
It's this hobby I discovered about a year ago and since then, I've really gone to town. I create printables for just about EVERYTHING. You can see many of them in my store. Everything from a Household Binder to Blogging Binder, wall art, calendars, and everything in between. I'm just simply OB-sessed with printables.
If you're here, I have a sneaky suspicion you like printables too, so you're automatically my best friend forever! 🙂
It's funny because, when my son and one of my friends, both separately suggested I create a Christmas Binder, it was a like a "DUH!" moment for me. I have everything else, literally, why don't I have a Christmas binder printable?!
As you can imagine, I went to work, creating THE BEST Christmas Binder ON the market today!
With over 80+ pages, the festive Christmas binder includes:
Christmas dinner planner with shopping lists and complete recipes for your entire meal (no more spending hours searching the internet to find that perfect, tried and true, side dish)
Free holiday printable cards to mail to loved ones (save your money with this great selection of 14 different designs!)
Family memories keepsake pages (to remember your holiday fun)
Games and Activities for adults and kids (including memory, word search, maze, bucket list, scavenger hunt, and more!)
Holiday essential oil diffuser blends (create the perfect atmosphere for your gathering)
Holiday homemade gift ideas, printable gift tags, shopping and budgeting guides
…and of course…wall sign printables to as home decor to decorate your home for the season, which you can download below.
If you'd like the entire Christmas binder (you can get it free here for a limited time).
Free Printable Christmas Signs
If you love Christmas (and printables!) the way I do, I know your going to LOVE these free printable Christmas signs.
Simply print them out and create a DIY Christmas wall collage, or just print one or two to place on a table for some extra holiday cheer.
Here's a link to the white frame I use in most of my pictures and here's a link to a black frame I have similar to it.
To access the high quality prints, simply click below to open the PDF and print! I like to print the free printable holiday signs on card stock (this is the exact pack I buy; it's super cost-effective, and well made.)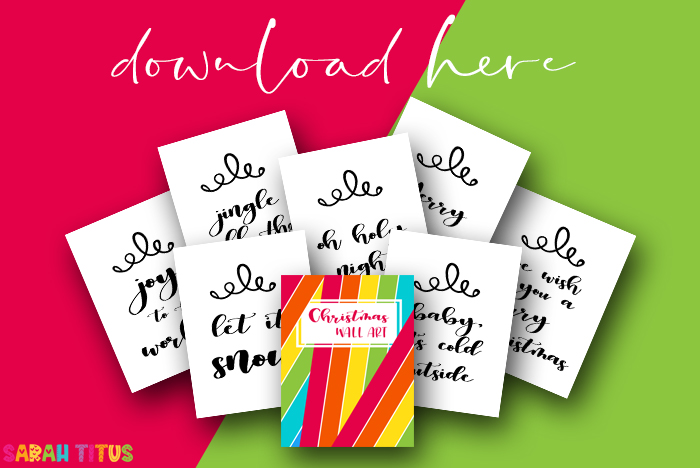 Download the Christmas Printables Wall Art Templates here.
Love all things Christmas? Then you will NOT want to miss your chance to get the new 80+ page Christmas Binder.