I love-love-love monogram letter printables. They're such a cool design and so versatile too!!
Today I made a set to share with you. I hope you really like them. 🙂
You can color them, hang them as wall art, give as gifts, and so much more!!!
Free Coloring Monogram Letter Printables To Download
These printables can be used by both adults and children! You can give them as a gift, or keep them all for yourself. 😉
Download them below, then scroll down for more fun ways to use them!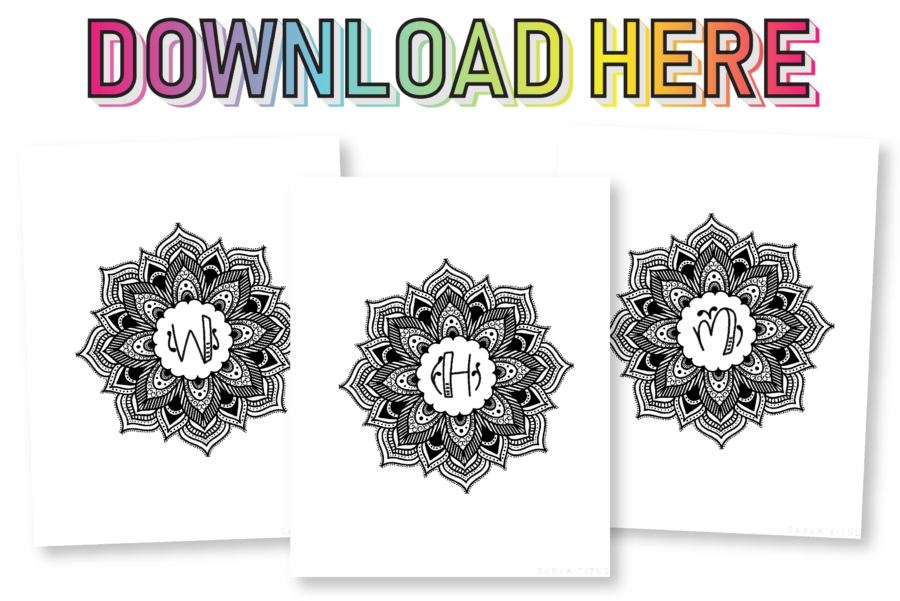 Download the free coloring monogram letter printables here.
Ways to Use These Coloring Printables:
Want some ideas on how you can use these free coloring printables? Here are some suggestions.
Decorate These Templates
If you enjoy using adult coloring books, then you'll love to decorate these monogram printables!
Just get together some colored pencils or nice pens (I use Tombow Dual-Tip Brush pens), and get to work. You could follow a specific color palette, or choose a random array of colors.
If you plan on hanging these up on your wall, you could match the color palette to the existing colors in the room.
Use The Monogram Letters as Binder Covers
Another way to use these printables, could be as binder covers! After decorating them to your liking, you could use these printables as binder covers for your work or kids school binders.
What a cute, simple way to customize your binders!
Related: 40+ Free Printable Binder Covers
Place The Monogram Initials on Your Desk
If you'd like an adorable way to decorate your home office, you can use these free printables! Simply decorate them, find a cute frame, and display it on your desk.
You could choose the first letter of your first name, first letter of your last name, or the beginning letter of something special to you! You could even color one, frame it, and give it as a gift! <3