If you're like me, you just want to be prepared for EVERYTHING (especially since kids change their minds ALL.THE.DANG.TIME! 😂), all in one shot. No messing around, wasting time, looking in 5 billion places for gift tags or remembering to pick them up at the store.
No-nonsense type of things, because we have bigger fish to fry, right?! Like spending your time on absolutely EVERYTHING that glorifies God and furthers His kingdom.
That doesn't mean you want to forget the little people in your life that you care about!!!
So today, I have for you some really cute gift tag printables for kids.
Gift-giving doesn't just stop at Christmas! With these printable gift tags, you can give to kids all year long, no matter the occasion. 🥰
Cute Gift Tag Printables For Kids
Do you ever forget to label gifts? You get to a big get together and hear the dreaded question, "Uhm, who is this one from??" Your face turns red and you realize you forgot to label it! Talk about pressure.
Not anymore with these adorable gift tags printables! 😊
There have so many options to choose from these gift tags – or all of them since they are FREE – from animals to Christmas to colorable robots!
Every single kid in your life, no matter WHAT age, is going to love these gift tags!!! And that's the point. You are now prepared! Print them all out, keep them in your gift closet (don't have a gift closet- oh no!!! Let's get you one A-sap! Learn all about how to create a gift closet here).
You'll also have the options to color some of these designs in, perfect for a fun little art project and to add that personalization.
You get ALL of the following gift tag template designs for the kids in your life:
Colorable Fairies
Animals
Kawaii Christmas
Comic Book
Cute Animals
Colorable Robots
Halloween
Monster
Puffy Stickers
Ready? Download away…🎁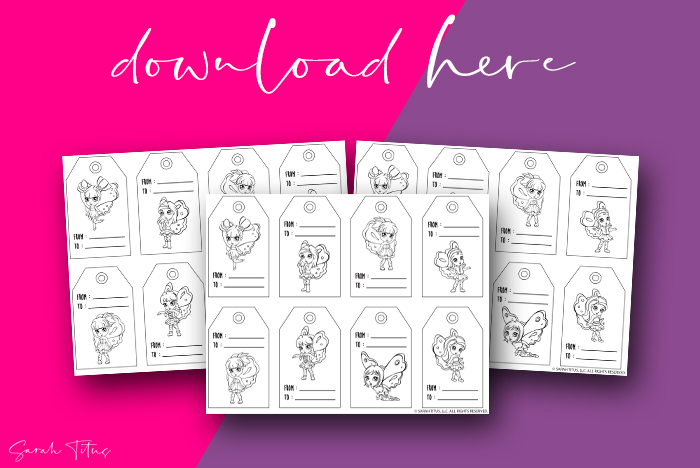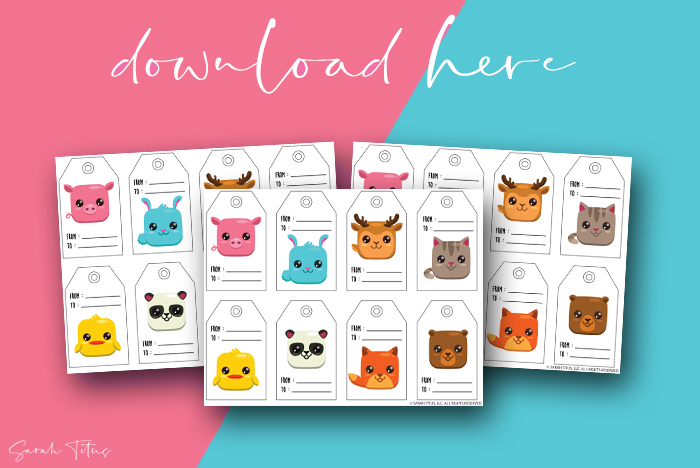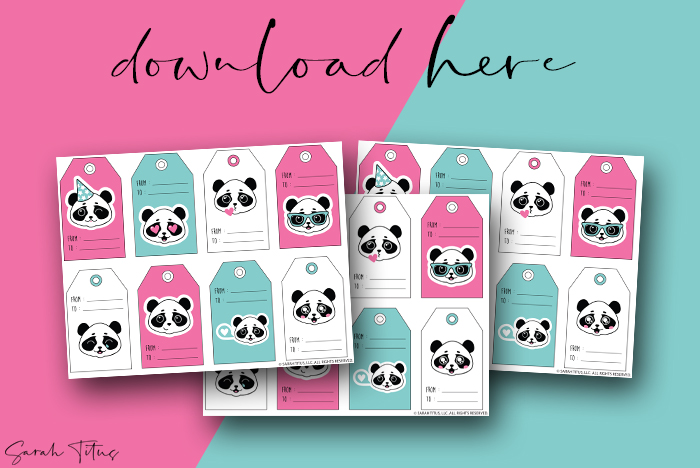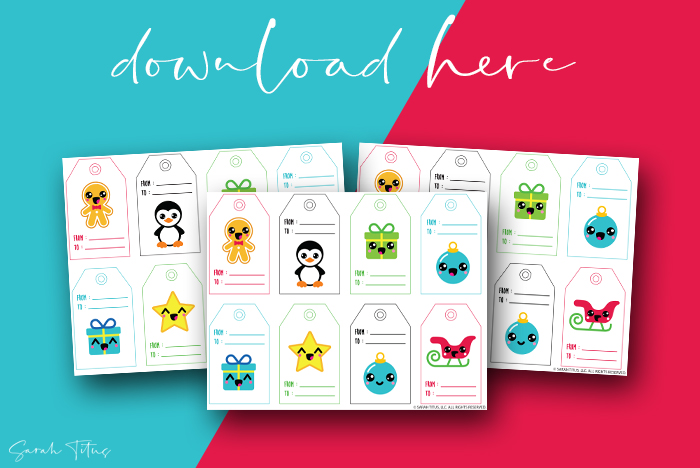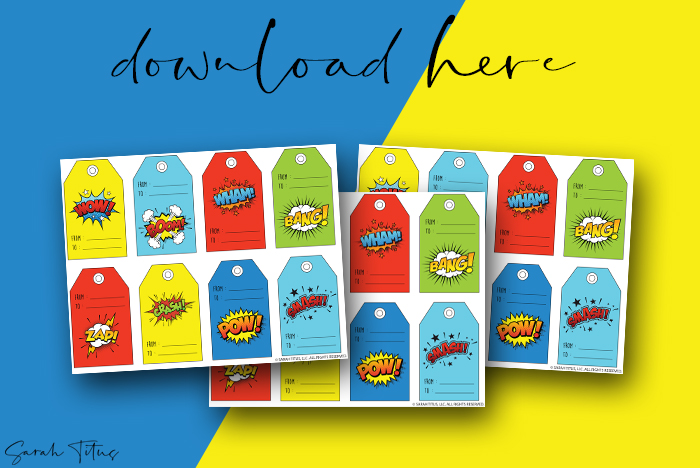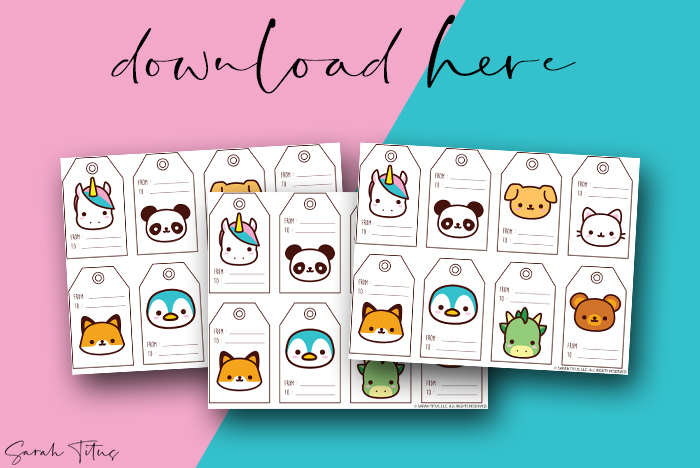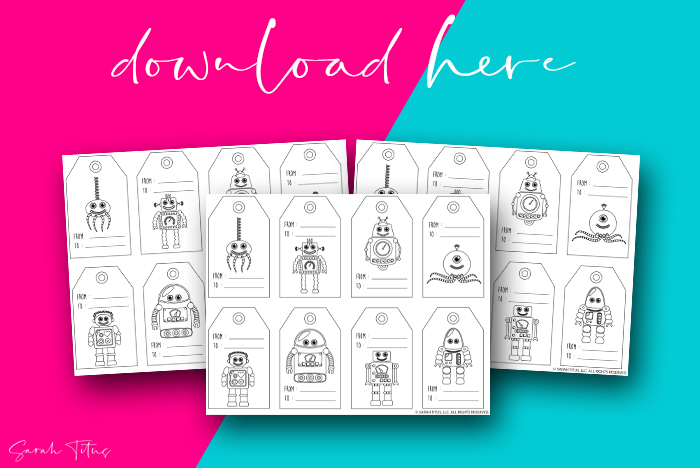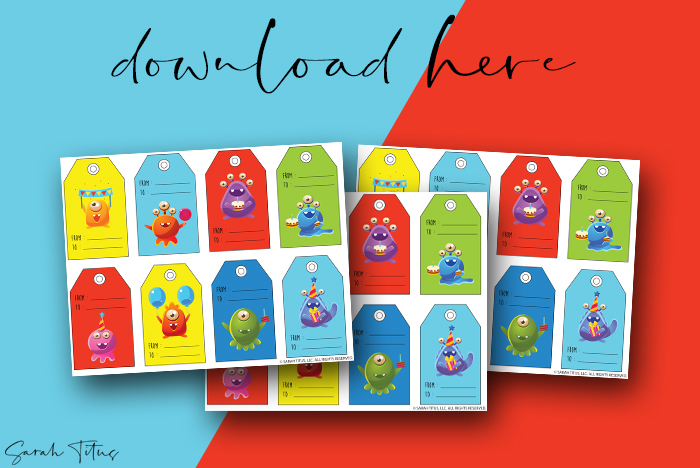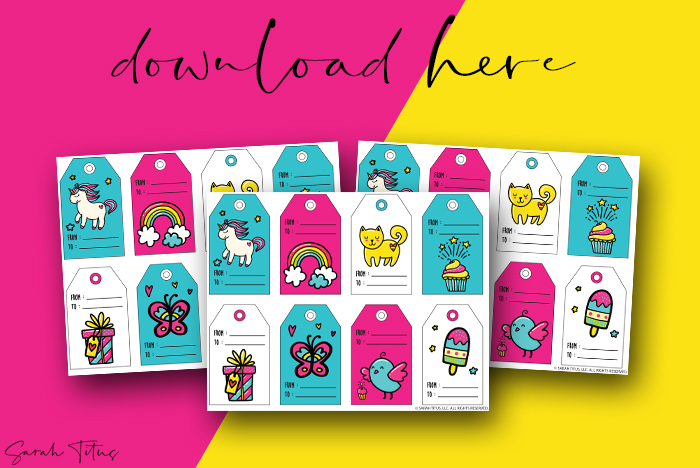 Creative Ways To Use These Printables:
How can you use these printable gift tags?? Here are some ideas for you!
Use For Party Gifts
You can definitely use these for ALL of your gifting needs! Instead of spending money at the store buying a pack of labels, print these for free. They are way more personal and SO cute.
Some occasions you can use these for are:
Baby showers
Summer bash
Girls birthday
Boys birthday
Halloween
Christmas presents
For kids' birthdays especially, it would be fun to give them a blank colorable tag, so they can color it in themselves! You're repurposing the gift tag, which is always a great bonus.
Label Books & Supplies
These would make perfect accessories to attach to kids' books!
Simply white-out/cut-out "from" and "to" and just fill in the lines with their names and phone number in case their book gets lost. Tape inside with clear packing tape to make a self-laminated label for all of their books!
You can also tape these to the insides of baby books, journals, folders, binders, pencil cases, etc.
Give As Gifts To Other Parents
If you love using these, imagine how much your other mom friends will love them too!
These printables would make a nice and thoughtful gift to other parents as well. It's free for you and they can use them for all of their gift tag needs as well!
Maybe you know someone who has a child's birthday party coming up, or maybe going through a tough job transition? Gift them these printables to use to streamline their life more too!!! 🥰