How many birthday parties did your kids go to this year?
How many baby or bridal showers did you go to?
In addition to Christmas and Valentine's Day, all those different occasions and celebrations during the year add up to a lot of gift giving, don't they?!
I'm not complaining, I LOVE giving gifts to others, even for no special occasion! But, I don't like paying full price for things, when with just a little forethought and planning, I could have gotten better deals, and been able to tuck some money into the college fund or retirement savings.
So in order to give generously but also inexpensively, I have a "gift closet." If you want to save money and organize your supplies, you'll want one too.
Here's how to create a gift closet…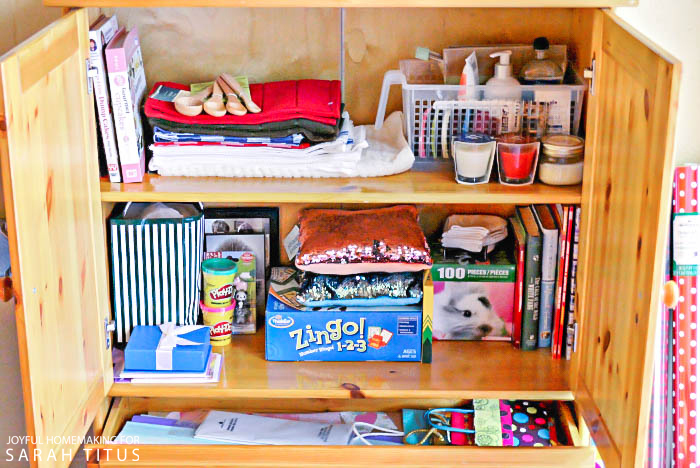 How to Create a Gift Closet
My gift closet isn't a real closet, and yours doesn't have to be an actual closet either. It can be, if you have one to spare, or it can simply be a shelf in a closet, or a couple of unused drawers, or even a storage container under the bed. Wherever you have room, and your little ones can't get into it, makes a good spot if it's clean and dry.
I have a small armoire downstairs in our home that stores the little treasures I come across when I'm out and about. If I find something I know a loved one or family friend will enjoy, and I catch it on sale, I snag it, and stash it in my "gift closet." It's also wonderful for those times my children say, "Oh at school, so and so's birthday is tomorrow, and I don't have anything to give them." Voila, we go check out what I have stored for just such an occasion, to see if we can find the perfect gift.
My gift closet organization is also nice for all the birthday's of grown up friends and family members where I can't spend a ton, but I still want to show them I'm thinking of them, and then love on them by giving them a little special something. If someone I know is going through a rough time or not feeling well, it's nice to know I can encourage them with a small gift and card.
When my daughter and I are out shopping, and can't resist adorable baby clothes, if we find an outfit that's beautiful and inexpensive, we just might add that to our stash at home to save until someone we know has a baby. 🙂
To make gift giving even easier, I keep all my wrapping supplies together with my gifts.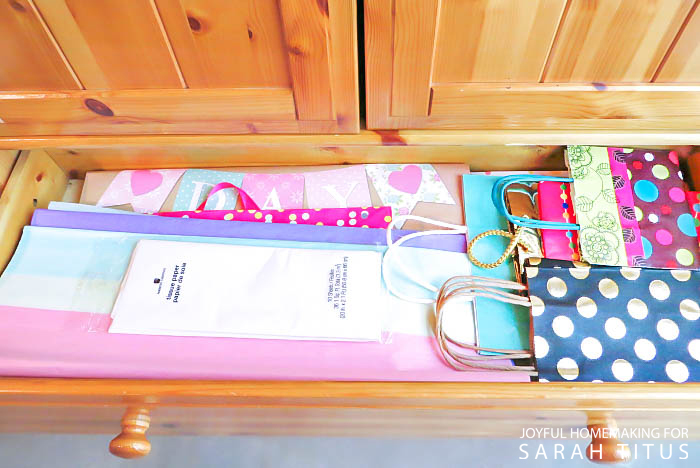 I do recycle and reuse some of the gift bags that I've been given. If they are in good condition, I don't see why not. In addition to the gift bags, at Christmas-time when there are good sales on wrapping paper, I like to pick out some that are more versatile looking that I can use for different occasions.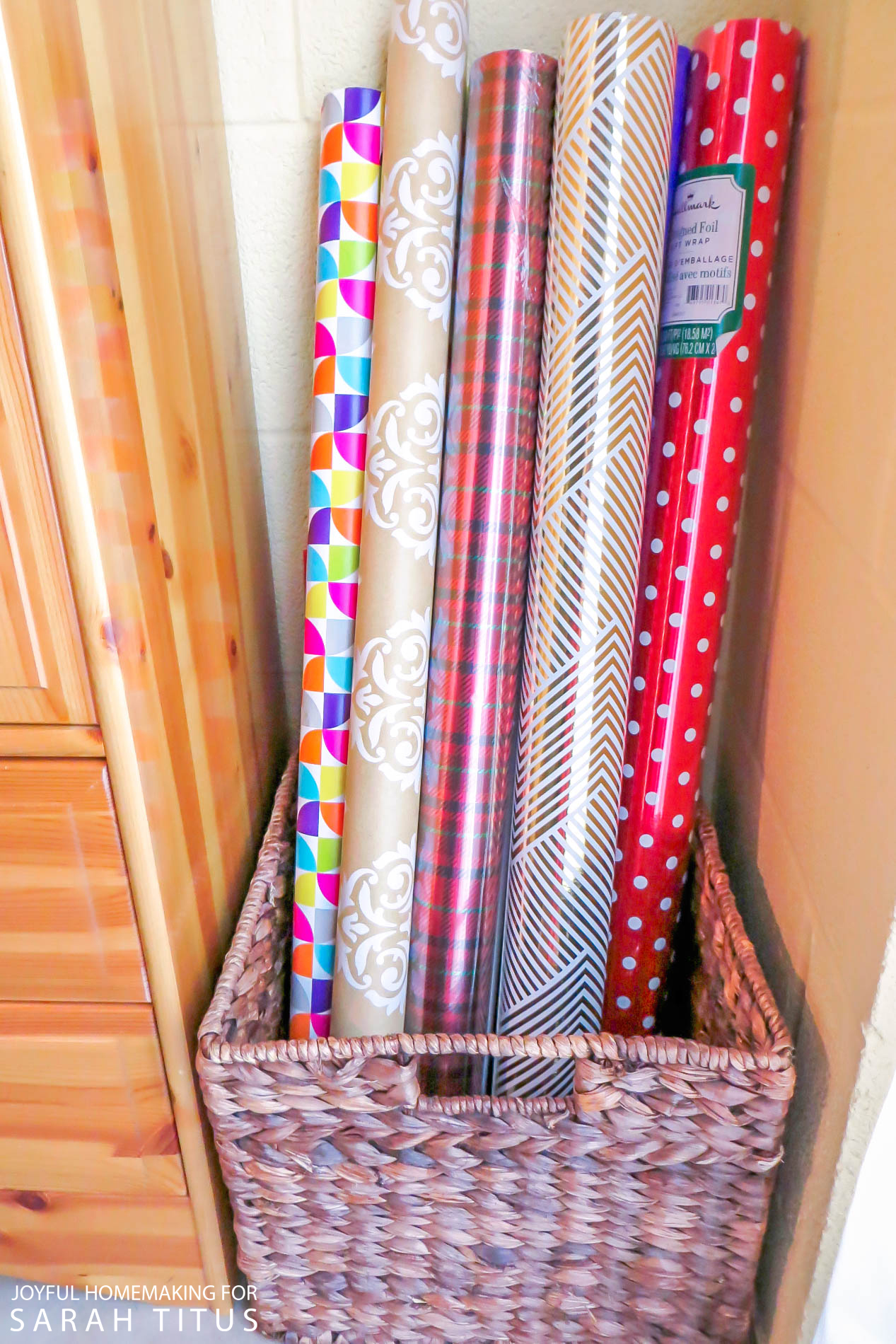 Brown and white, gold and white, silver, or any solid colors are adaptable for lots of different occasions besides just Christmas, and could be used for men's or women's gifts. I keep all the big tall rolls of wrapping paper in a basket by my "gift closet" armoire.
One of the armoire's drawers holds tissue paper and gift bags. The other drawer has small gift boxes, ribbons and tape.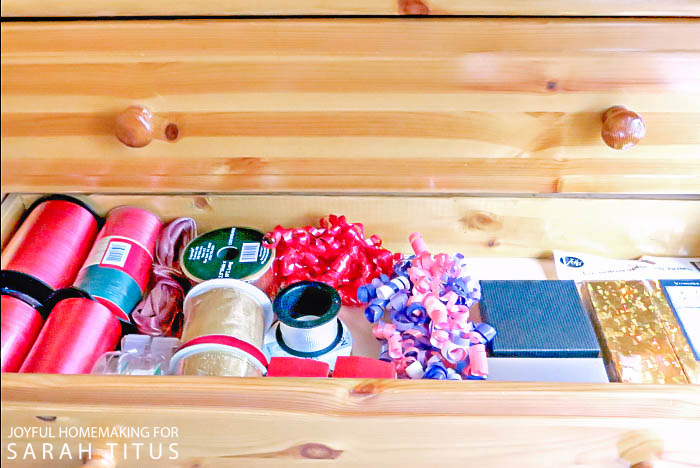 To go along with all of my gifts, I keep a box of nice birthday, get well, graduation and other cards (here's how I organize them).
So many times, being prepared has saved me from making a quick and often expensive trip to the store. Having everything all in one spot keeps me from wasting time looking for all of the supplies I need to package my gifts, and makes gift giving even more enjoyable. 🙂
Now of course there are circumstances when I have something very specific in mind for someone, and I WILL make a special trip for a certain gift, but much of the time having a "gift closet" has proven itself very convenient and oh so helpful.
Gift Closet Ideas
A few of my favorite things to keep on hand for gift giving are (free printable below):
For Women:
Coffee mugs with a bag or box of favorite coffee or tea
Luxurious hand or body lotions
Pretty kitchen towels and unique measuring spoons
Super soft thick throw blankets (especially for someone who's sick)
My favorite devotional book
Plushy soft socks
Thick fluffy bathrobes
Fragrant bubble bath soap
Crocheted dish cloths
Cookbooks
Attractive picture frames
Candles
Pretty journals
Beautiful stationary or note cards
Candlesticks
Attractive mousepad
Gorgeous fancy pen
Elegant office supplies
Feminine scarf
Pretty earrings
For Children: (Age appropriate of course)
Puzzles
Board games
Drawing supplies like colored pencils and sketchbooks
Books
Fancy hair accessories
Cute mouse pads
Legos
Comic books
Kids magazine subscription
Sports trading cards or other kids themed trading cards
Watch or bracelet
Toys
Journals
Playdough set
Fun bedding set or pillowcases
For Men:
Music
Funny calendar
Fancy ball point pen
Special key chain
Rugged socks
Car detailing supplies
Moleskine notebooks
Hat or gloves
Books or magazines
Grooming supplies
Travel bag
Backpack / Luggage
Travel coffee cup
Cologne
Stainless steel water bottle
T-shirt
Sports memorabilia
Wallet
Watch
Flashlight
Office supplies
Ear buds
Kindle
Sports equipment
Gift card
Hobby supplies
Tools
Pajamas
Jacket
Men are harder to buy for in my opinion, and unless it's for my dad or sons, I usually let my husband do the choosing. 🙂 If I know a guy likes certain comics, authors, or has a sense of humor, I may buy a book or a funny calendar. If they enjoy a sports team, I've been known to get sunglasses, hats or an article of clothing with their teams logo.
Grab your free printable Gift Planner below (instant download; no email sign up needed!)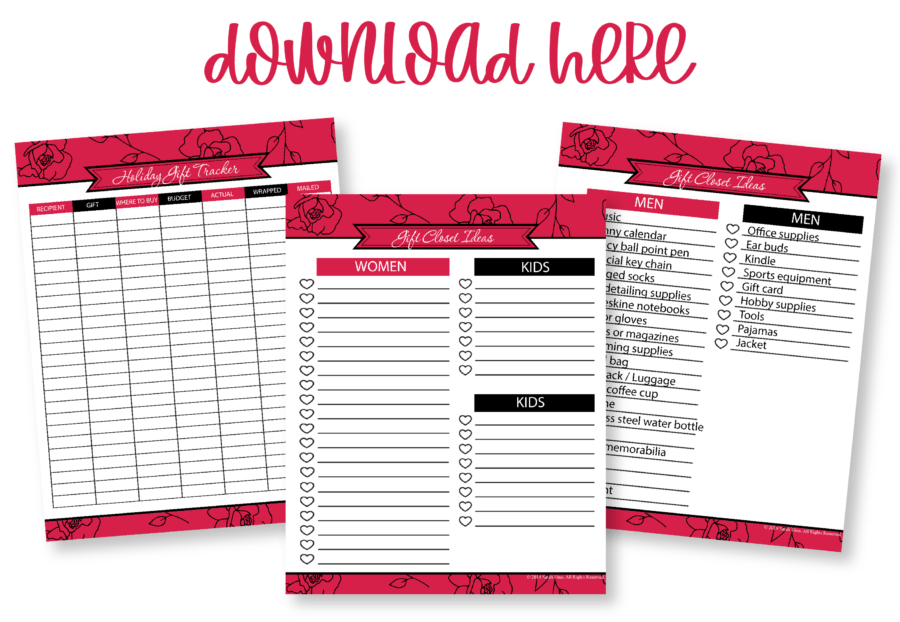 Download the free Gift Planner PDF Template here.
For gifting a collection of smaller gifts, it's nice to have baskets, little bins or even a large mug on hand to group items together in a cute and fun way, and to make a more special looking gift. For instance you could make a spa themed basket, or a coffee and tea themed gift basket. A kitchen themed gift for a bridal shower with cookbooks, measuring cups or spoons, and some pretty dish towels would be nice. For a child (age appropriate) you could fill a basket or colorful bin with puzzles, play dough, Legos and coloring supplies.
I keep a birthday list on the side of my refrigerator to help me remember those important dates, and so I can refer to it when I know I'll be going shopping. This helps me plan ahead to keep my eyes open for something special when I'm doing other browsing.
If you're interested in becoming more organized and saving some money when it comes to gift giving, I highly recommend finding a spot to set up your own gift closet. With just a bit of planning, and the fun part, shopping, you'll be saving money in no time!
Have you set up a gift closet in your home? Let's us know any tips in the comments below! <3