Are you looking for a cute gift idea for your daughter, or maybe a close friend?
I just love giving thoughtful gifts to my loved ones. It really warms my heart to be able to bless others, and bring a smile to their face!
Trust me! Even the smallest surprise present can completely brighten up someone's day!!
Plus it's a great way to let them know you're thinking about them.
But when it comes to picking out a present, it can be a real challenge to find the gift, especially if you're shopping for a child.
So today I wanted to share with YOU 😊 my uber cute blank monthly calendar planner templates.
With soft pastel colors, these fun undated monthly schedule calendars are gifts that are MADE to last year after year!
Not only can these planning calendar templates be added into your favorite planner, but these can easily be made into a cute printable planner for your little girl!!
She can use it to keep track of homework assignments, and mark her special days. Having that little bit of responsibility will make her feel all grown up.
And I bet she'll love to customize her new planner!
Cute Blank Monthly Calendar Planner Templates
These fun printables can also be given to a fellow friend of yours! With the landscape style of these calendars, she'll have plenty of room to write out her days and important deadlines, while keeping notes of important stuff on the right hand side.
AND, she'll be able to reuse this gift year after year! Doesn't that just sound amazing?
Using a GORGEOUS calendar can make planning out your days so much more fun!
Personally, I feel more motivated to write out my to-dos when I have something pretty to write them in. Raise your hand if you can relate!
Perfect to use for menu planning, homeschooling, blogging, or just to organize your life by month.
To grab them, simply download them below…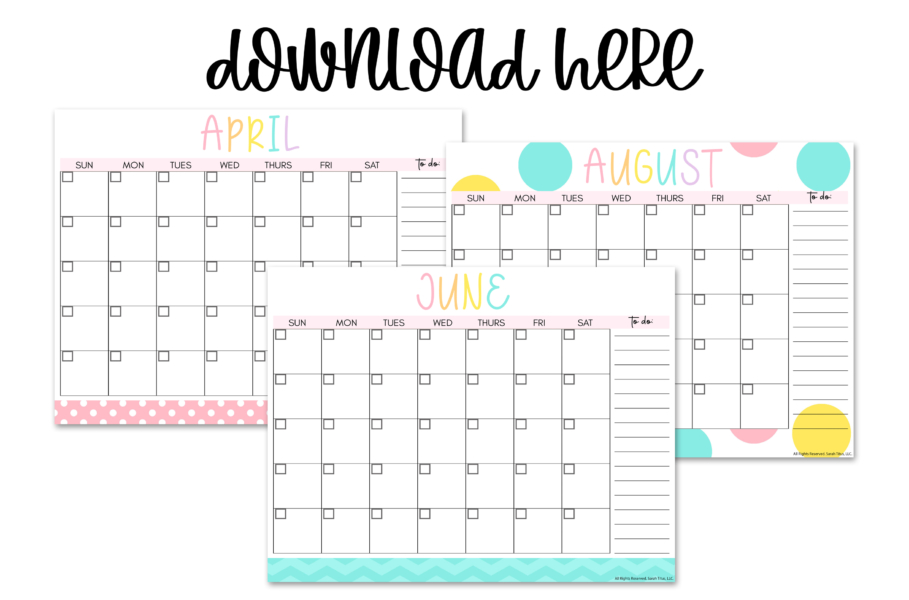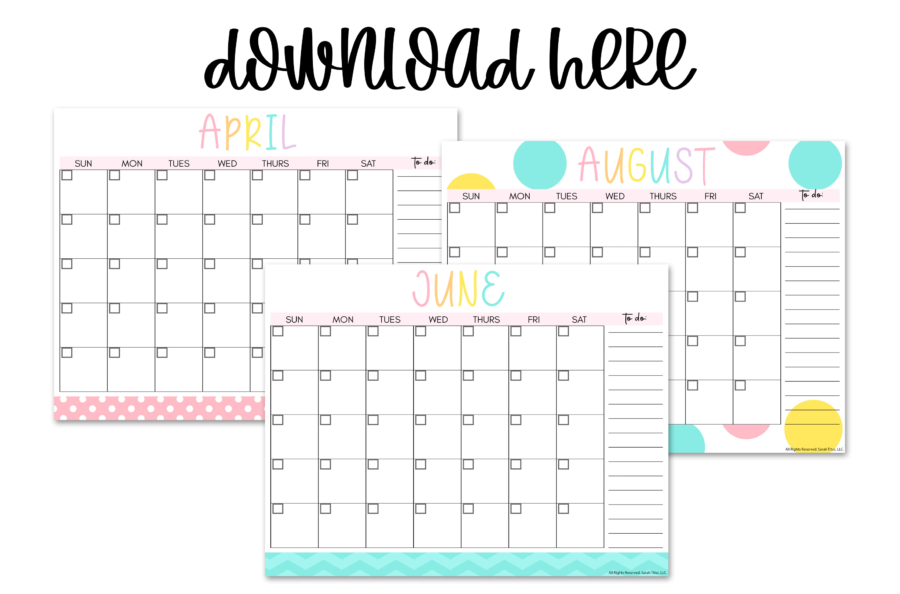 I'm so ecstatic to share these FREE printables with you because I love how they encourage the gift of giving.
It's so easy with the busyness of life to only focus on OUR needs and wants, but doing good things to bless others is so rewarding!
No gesture is too small, and nothing feels better than bringing someone else just a bit of 😊 happiness.
If you're looking for a little bit of a different style, I also have a Galaxy Printable Free Weekly Planner and a Rainbow Printable Free Weekly Planner. Teens really LOVE those things!!!