Are you looking for a cute way to make your daughter's birthday party extra special and unique?
I've got the perfect surprise for you!
These beautiful pink, black and white birthday banner printable templates will make your daughter feel like a princess for the day! And with over 70 pages, you're sure to find exactly what you're looking for!
Beautiful Pink Birthday Banner Printable Free
These FREE printable banners are so ADORABLE. Seriously I love them. They were SO much fun making!
They each feature a letter of the alphabet (in both plain pink and pink/white stripes), so you can use them to spell out whatever words you'd like.
You can use them to spell out Happy Birthday, I Love You, your daughter's name, or anything else!
Also included are the numbers 0-9, so no matter what age your child is, you can include their age in the set and it's so cool to have something so customized like that.
You can spell out a sign with their age or you could even spell out the year. There's so many options with this set!
They could easily work as:
Birthday banners for adults
Birthday banners for teens
Birthday banners for young girls
Birthday banners for friends
Birthday banners for your mom
Download the beautiful pink birthday banner design printable free here.
Fun Ways to Use These Printables:
Want some ideas on how you can use these printables? Here are some suggestions…
Organize a Sleepover
If your daughter loves to have friends sleepover on her birthday, here's some tips on how to make the slumber party extra special!
What you'll want to do first, is print out the pink banner printables! Then you can use them to spell out fun things such as "The Princess Castle" or "Katie's Special Sleepover." Get really creative!
Now let's get together the refreshments for the sleepover.
You can never go wrong with popping some popcorn! But I have a delicious popcorn recipe, with a twist. Birthday popcorn!! I think it might be better than cake!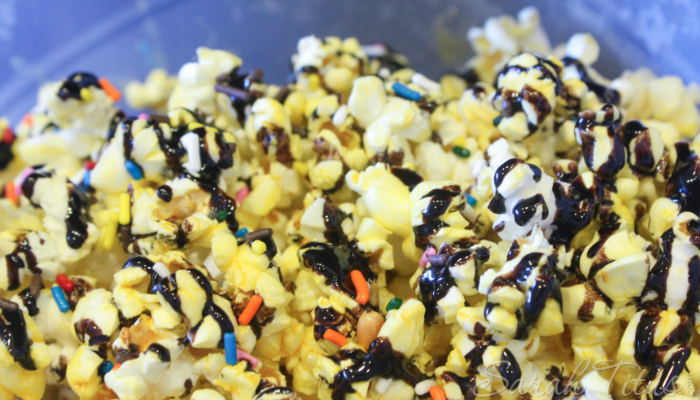 This Birthday Popcorn recipe is so yummy. One night my kids and I were bored so we came up with this recipe. 🙂 All you have to do is mix together chocolate syrup, popcorn, and lots and lots of sprinkles (the salty buttery flavors mixes SOOO well with the sprinkles!!!).
Now, after the popcorn is ready, let's move onto the beverages!
I love making Crockpot Apple Cider. You can chop up the ingredients, and let it simmer all day during the birthday party celebrations! And after the guests leave, and your daughter's sleepover starts, this delicious drink will be ready to serve, nice and warm.
Because you have the refreshments ready, here's one last tip to make the slumber party super fun!
In between watching movies or playing with dolls, your daughter and her friends can spend time doing these adorable printable games:
Throw a Surprise Birthday Party
These printable banners are PERFECT to use for a surprise birthday party! Here's some tips on how to make your daughter's surprise party, a success.
First invite all of the guests ahead of time, and plan for them to arrive at the party well before it starts!
After that, organize the recipes you'll make for the birthday party. Depending on the age of your daughter, I'd recommend these delicious appetizers for the party:
Now that you have the guest list and food all together, you can use these printable banners to decorate! You can spell out "Happy Birthday Ella" and something else fun!
Your little one will feel so special 🙂
Want my party planner printables?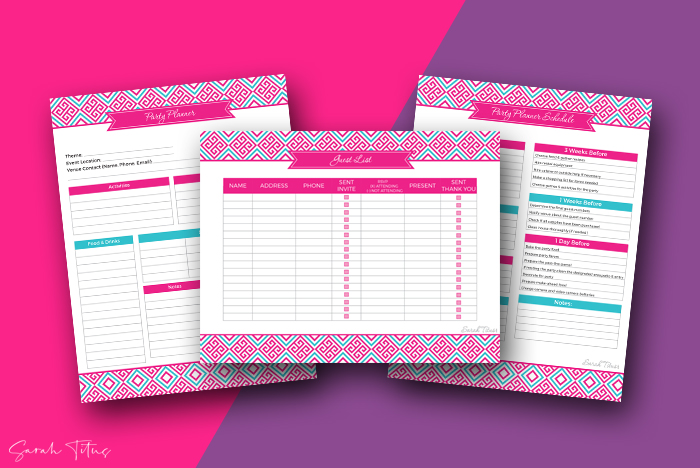 If you'd like to grab my party planner printables to plan your party, I have them in my Household Binder PDF, which is 110+ pages full of awesome stuff to organize your whole life from cleaning to your kids school and everything in between! Grab it here FREE!!!