There is so much power in a good inspirational quote! It can remind us to take a step back and take a deep breath for a little bit, realign our focus on God and to keep Him and His precepts at the forefront of our minds, always.
This beautiful motivational wall art quote printable will encourage and uplift your heart today!
Beautiful Motivational Wall Art With Quote Printable For Free
This quote is something that I personally needed to hear today (I spoke it to my own heart) and so I created it for you in hopes that it'll remind you as well!
As a blogger, teacher, mom, friend, we want and hope for the betterment of those around us, those that we are teaching or imparting our wisdom upon. However, it's really up to THEM whether they become a wisdom collector or whether they actually TAKE the golden advice and wisdom we are offering to them.
What's a wisdom collector?
A wisdom collector is someone who takes wisdom on a continual basis but never applies any of it to their own personal life. Wisdom collectors collect. They never USE what they have. They never change or make progress. They refuse to take ACTION in order to actually grow in the Lord.
I have a couple friends in my life who I made up the word for them, wisdom collectors. They run to me for any problem they have. They CONSTANTLY want to talk to me, constantly want me to share my wisdom with them, because they know it's good and valuable and comes from God, but when it comes down to it, all they do is collect. They NEVER APPLY! They are wisdom collectors.
I'm not here for THOSE people- 1 Timothy 3:5 makes that perfectly clear. The Bible says to not throw your pearls to swine (Matthew 7:6). Why give someone wisdom who is not applying it? It's pointless and does no one any good. Rather, focus your time on the people who actually WANT to change!
We cannot change other people, no matter how hard we want what's best for them. If they cannot see it and refuse to take actions, there's nothing we can do (except pray for them, which is a huge power). Only GOD can change other people…and HE CAN!!!
The point here is to not try to change other people. Bring your requests before the Lord and live your life out as a testimony for Jesus Christ. Being an example to all you meet and to all who see you, that you have what you have and do what you do, because of God and FOR HIM.
Quote: "We're not here to change other people, we're here to be an example for those that want change" – Sarah Titus
This inspiring quote printable includes such a beautiful design that can translate well to any person, any age, and used for so many different things! The black and white life quotes design makes it easy to match any decor style you may have.
Grab it below…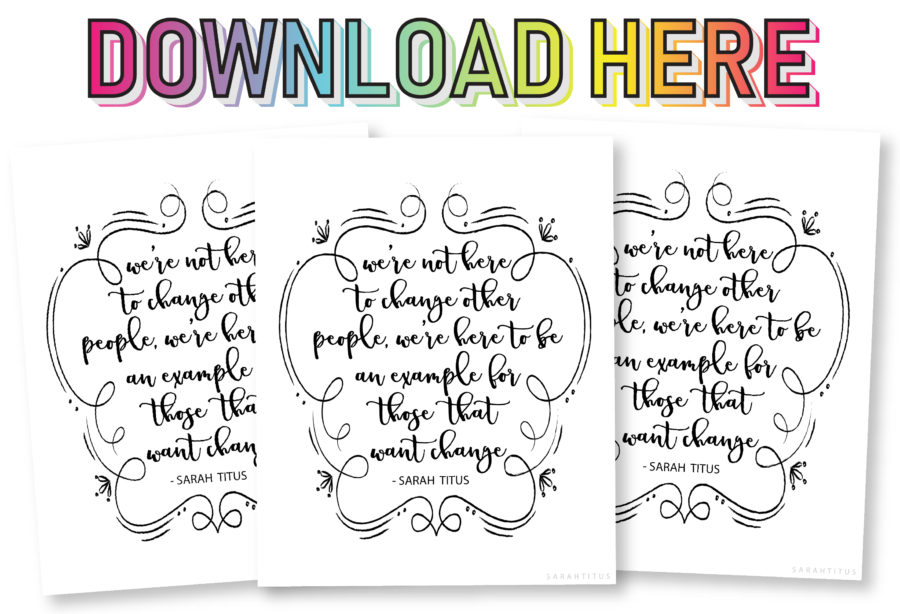 Creative Ways To Use This Printable:
This beautiful designed printable can be used in so many ways! Here are a few ideas…
Frame This Printable Wall Art On Your Desk, Nightstand, etc.
When we can see something and are reminded, it makes all the difference in how we view a situation! Frame this beautiful art and place it on your desk at home, nightstand, dresser or any surface you will see! You can also hang it up on your walls if you'd rather do that.
If you're a blogger, put it near your computer to inspire you to keep going, even when a few others are heckling you. Same goes for teachers. Put on your walls in your classroom, put it on your desk or in your planner. Somewhere you'll see often to remind you.
It is a super cute and attractive design that will look like something you bought at Hobby Lobby! The only difference is this is free. 👏 BOOYAH!
You can even use bright highlighters to color in the design if you want to add a little something extra to the design!
It not only becomes a cute decoration in your house, office, or classroom, but a subtle reminder throughout your day to ask God for that peace you need!
Give Free Printable Art Quotes As Gifts To Friends/Family
Do you know a friend or family member who may be going through a tough situation? Someone who's being bullied, a mom living with an unsaved spouse, your teen in a bad relationship? Giving them this gift will be a subtle hint to them that there's more than just trying to change someone.
This motivational quote printable makes such a thoughtful and beautiful gift to give!
You can buy a cute frame, or make a wood frame clipboard, and add this printable inside. 😊 Your friend or relative will be so encouraged and it's such a great way to brighten their day during whatever they are going through!
Whether they are dealing with a hard situation at work, a rebellious child, or an estranged family member, this is sure to be a helpful reminder for them!
This beautiful printable motivational quotes template is the perfect thing to help ANYONE who's struggling. 🥰