Love is in the air and I've got the perfect printables to celebrate! 🥰
I'm so excited to show you these free beautiful hearts design binder covers printables!
Beautiful Hearts Design Binder Covers Printable For Free
Valentine's Day is probably the most obvious love holiday we celebrate, but we should make every day a celebration for those we love, continually showing them our love and doing nice things for them all the time. 🥰
It's kind of like Christmas. We don't JUST love Jesus, worship Him, and spend time with Him during that ONE day of the year…on His birthday, do we?
We love Him and show Him our sacrificial love every DAY! We constantly strive to be the women that He wants us to be, constantly striving for His wisdom in order to make good choices in our lives, constantly wanting to worship Him and sing to Him, constantly.
Same is true here. Love is not just a one day a year thing. It doesn't JUST happen on their birthday and we CERTAINLY do not need a holiday to remind us to show those around us that we love and care for them!!! 💯
The cool thing about these beautiful printables is they are great for any time of year! The quotes are so sweet and encouraging too!
Whether it's someone's birthday or a random Tuesday, use these heart designed printables to show your love for someone any time. 🥰
Quotes included are:
Shower me with your love
I love you
You're the best thing in my life
Love you always
You make me melt
I love you to the moon and back
You are my shining light
All you need is love
Hearts design (no words)
Baby, I'm in love with you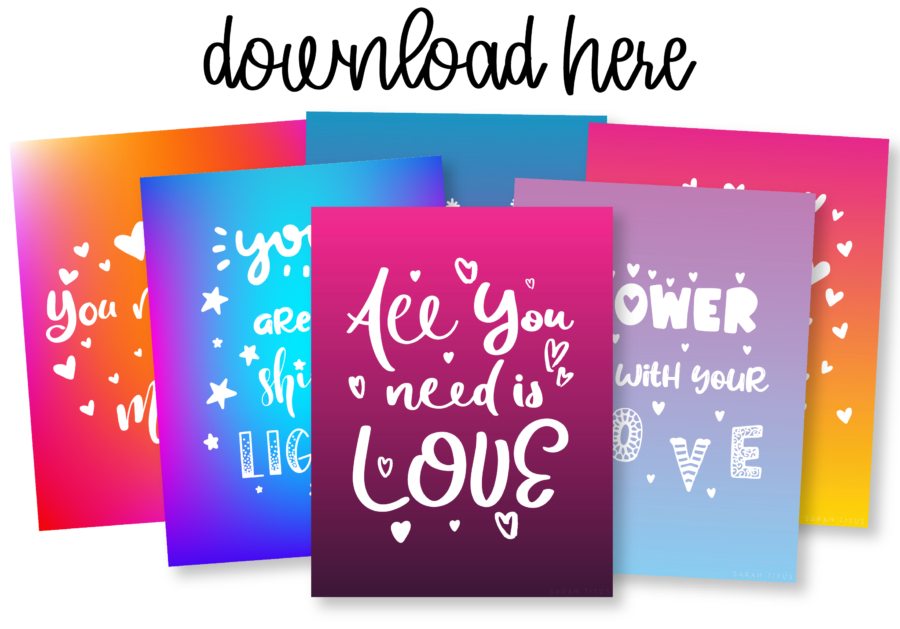 Creative Ways To Use These Printables:
Need some suggestions on how to use these beautiful heart printables? Here are some ideas for you!
Use For Binder Covers
Use these on all of your binders as beautiful cover art!
You can use these for kids' school binders, home organization binders, cleaning binders, prayer binders, or any other binder you have.
You'll definitely smile when looking at these sweet messages and the designs will be so beautiful on your binders!
Use them as dividers IN your binder too. Let's say you have a Daily Planner (here's my free one). You can use these as dividers for each month, since there are 12 binder covers! 💖
Use As Cute Wall Art In Your Home
These printables were MADE for adding some beautiful decor to your homes!
You can frame these and hang them up on your walls or frame and give as a gift to a church friend or your mom. That will totally make her day! Pick a frame to match each picture or just keep it neutral with a classic black and white look.
Or stand them up in frames on desks, entry tables, dressers, etc. I know personally, my daughter would love one of these as a cute tabletop decoration on her bedroom nightstand!
Frame And Give As Gifts
Frame these up and give them to all your friends and family as gifts! They are free, meaning you can print as many as you want. This is a cost-effective and easy way to give your friends a meaningful gift. 🥰
You could even make a cute love book for your spouse and use one of these pictures as the cover, or fillers in the book.
I hope you enjoy these beautiful heart design printables as much as I have creating them! Let your love show all year long with these. 🥰