The snow is starting to fall and that can only mean one thing!! Christmastime is near. 🙂 This also means it's time to get your Christmas cards together, and I've got the perfect accessory to add!
Check out these beautiful free Christmas stickers for envelopes and card making!
Beautiful Free Christmas Stickers For Envelopes And Cards
Have you ever set down to do your Christmas cards and felt like you were stuck in a rut?? Sometimes we can get lost in the sea of cards we need to get out – family, friends, kids' schools, church, staff, etc.
You want to add a little something special to your cards but don't know what.
Well, I've got a solution!
These stickers add that fun and festive art touch to all of your holiday cards! Use them on your actual handmade or pre-bought holiday cards, then seal the envelopes with them! This will save you money on buying tape because these stickers are completely free. 🙂
I love the purple to blue color gradient artwork too – it's so different yet still offers a beautiful winter color scheme. These printable Christmas crafts are great to use not just for Christmas but all winter long!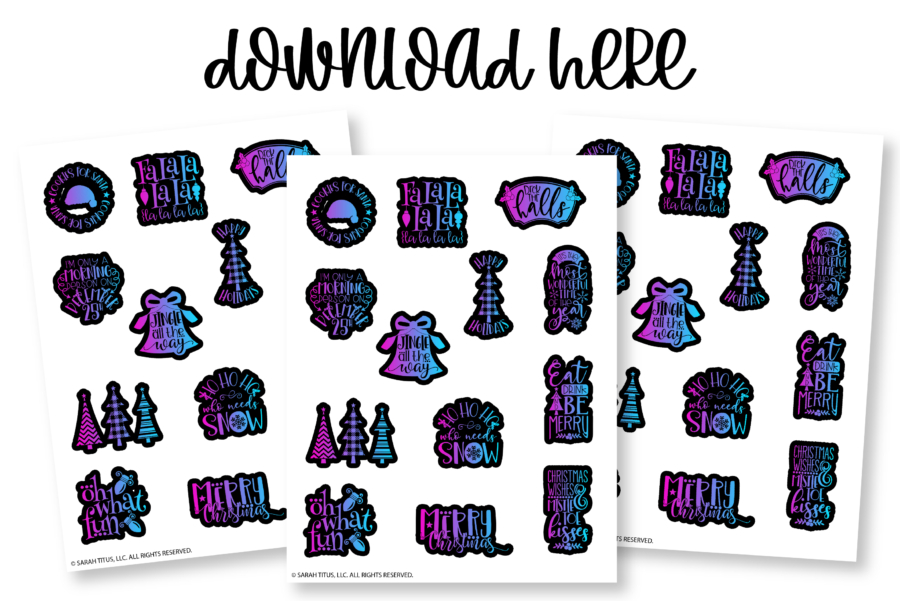 Download the beautiful free printable Christmas stickers for envelopes and cards here.
Some Fun Ways To Use These Printable Christmas Stickers:
There are so many great ideas for using these Christmas stickers! On top of adding them to your holiday cards/envelopes, here are some other ways…
Mom Planners, Calendars, Holiday Binders
These festive stickers make the perfect accessories to all of your organizational tools! Add them to your mom planners, desk or wall calendars, and holiday binders.
This will definitely help motivate you to get organized! I don't know about you but sometimes I get more happy and excited about doing the organizing and adding fun stickers than the actual events I'm writing down. 😀
Plus, the pretty purple and blue colored stickers will match with whatever cute decor you have in your planner, instead of the traditional red & green!
You can check out my 80+ page Christmas Binder here to help get your holiday season organized. 🙂
Fun Christmas Crafts Ideas With Your Kids
These stickers would make awesome accessories for easy Christmas crafts for kids during the holidays!
Let your kiddos use the stickers, markers, glitter, and whatever else they want to decorate blank sheets of paper! Once they are done, you can hang them around the house to add a little family inspired holiday decor. 🙂
They could even use them to decorate presents and gift bags too!
When my kids were younger they absolutely LOVED stickers. Since these are free, you can literally print out as many as you want at no cost to you! Let them go wild with them and not worry about running out.
Use To Label Holiday Bins
Does anyone else spend hours digging through their attic to pull out their Christmas decorations every year?! These stickers can help!
Place one of the Xmas stickers on the top or sides of your bins that hold your holiday decorations for an easy way to sift through all the boxes! 🙂
I hope you get as much use as you can out of these free beautiful Christmas card stickers!
Merry Christmas!!