Getting your binders organized just got a whole lot easier (and prettier!!) These cute binder covers aren't just limited to binders though, but have so many other fun uses!
Check out these beautiful free binder cover monogram printables!
Beautiful Free Binder Covers Printable Monogram Templates (SVG/PDF)
Okay, I don't know if you all can tell, but I am OBSESSED with this gradient blue to purple color scheme! It is just so pretty and can be used in tons of designs! I love the simple chic look it gives. 🙂
Moving past the beautiful colors, the star design, and hand-letter inspired monogram all make these so nice and serene to look at! The script font background adds a nice touch, making it look like you found it at Hobby Lobby!
There is also a blank one included which can be left empty, filled with names, words, phrases or pictures. Personalize it in any way you want! 🙂
These are also FREE so they can be printed and used as many times as you want!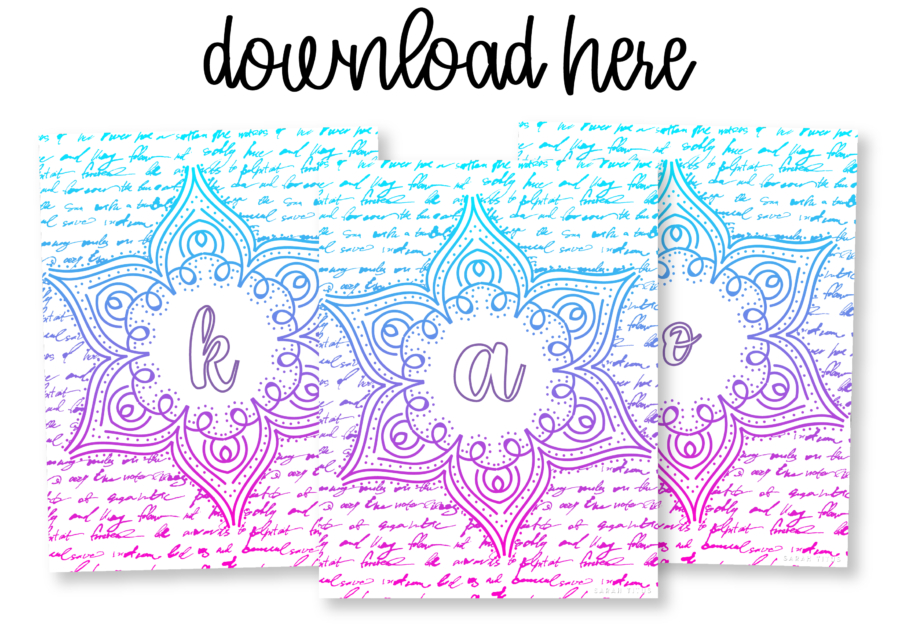 Download the monogram binder cover templates free here.
Download the monogram SVG templates free here.
Creative Ways To Use These Monogram Printables:
Here are some great binder cover ideas for using these beautiful monogram printables!
Use These Printable Binder Covers In Different Types Of Binders
These can be used not just as binder covers for school but so many different types! Home organization binders, art binders, daily journaling, etc.
I can see using the blank template for your prayer binder! The colors just remind me of peace and serenity, helping you get into the right headspace to lay out all of your prayer requests before God.
Decorate Your Home With Them
These would make beautiful home decor! They provide such a beautiful yet subtle art piece to add to lots of places in your home!
Frame them and hang up on your walls, place on your fireplace mantle or office desk. You can use the letter of your last name, or fill in the blank one with your full last name or an inspirational quote. 🙂
Give As Gifts To Your Family & Friends
The monogram aspect of these printables makes them perfect for personalized gifts to family and friends!
Print out a whole set and tie them up with a pretty blue or purple ribbon (to match of course 😉 ) and you've got a beautiful and thoughtful gift. You could also frame one with their initial and give that as a gift as well.
These printable monogram binder covers can be used for SO many things and make a beautiful statement no matter how you use them. 🙂
Need help uploading your SVG into Cricut? Click here to see our full tutorial!