I am a closet organizational fiend. Not many know about my organizational fiendish ways. I can't help it. I have organizing tips coming out my ears! 🙂
When things are not put up in their proper place, I feel nervous, all stressed out, like there is inner turmoil there. I can't seem to rest or have peace.
It somehow affects my mind and my thought process, especially if trying to work in an untidy office space. It's like the clutter in a home = the clutter of my mind. Things everywhere, not connected, scattered.
Can you relate?
******BREAKING NEWS: I have been so overwhelmed at the response to this post and all the people asking me for more organizing tips and tricks that I decided to start an entire organizing Pinterest board (like today!) dedicated to people who are organized obsessed like me. 🙂 I would love for you to follow me there! You can find the Pinterest board, Home Organization Ideas by clicking here.
Because of that, I really like to live in a minimalist way. I don't need a lot and what I do have is quality. Here's how I accomplish that on the cheap. I definitely take the 'less is more' approach. Unfortunately, my family is not the same!!! lol.
They don't care if clothes are scattered in the middle of the hallway and you're tripping just to get to their bedrooms.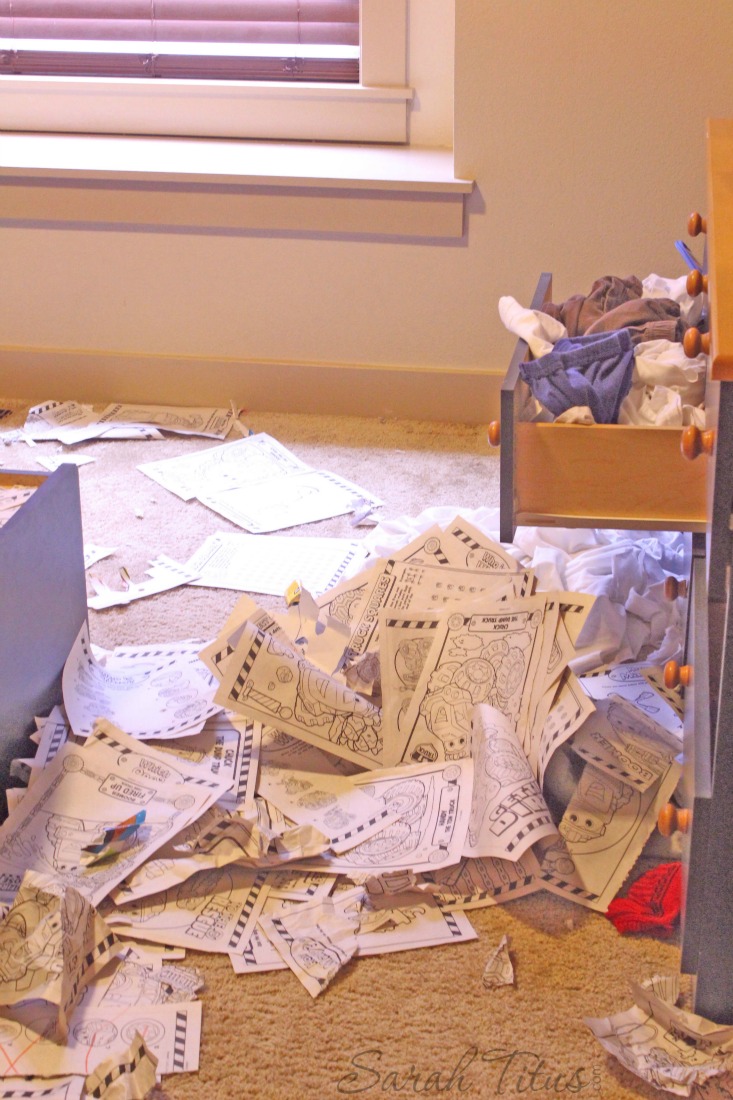 They don't care if there's a big piece of paper in the middle of the kitchen floor, clothes laying outside the closet instead of in it, or a mountain of clothes on the couch that need to be put up.
Related: Organize Your Entire Life eBook and Planner
To me, these things drive me nuts, and I probably drive them a little nuts too. Hey, isn't that what family is all about? 😉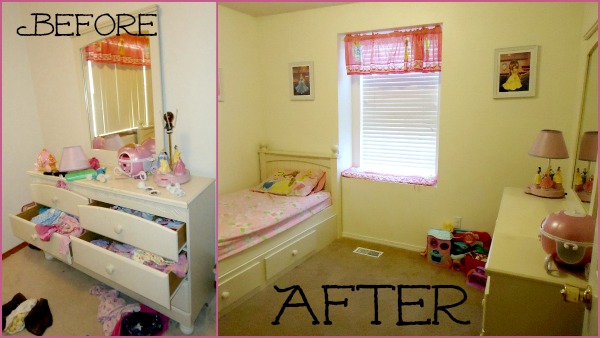 With that said, two of the absolute biggest helps you can learn if you're not a nut-case organizational freak like me are:
One: Apply the 6 month rule
If you haven't used it, worn it, played with it, or missed it for 6 months, it's safe to get rid of. Throw it away, give it to Salvation Army, sell it on eBay, give it to a friend, whatever you do, get rid of it. You do not need it.
The Excuse: What if I'll need it later on?
I can say that by applying this method over the course of my life, I have been able to get rid of a lot of things and have a much neater, cleaner, and organized home, but there are a couple things that I have actually had to replace. It hasn't happened often and definitely not enough to warrant keeping all my junk.
Perfect example, don't get a storage unit to store your stuff. Just don't! Sell it and have the cash in hand. Now, I know there are a few exceptions to that rule, just use your best judgement.
The Exception:
• Seasonal items like clothes, etc. For those types of items, apply a one year rule. If you haven't used it in one year, get rid of it.
• Organizational supplies. I'm a big fan of things like modular boxes and use them for many things, such as receipts, in my closet to organize beauty products that I bought while on sale and so on. The modular boxes fit nicely under the bed, so you can store things under there as well.
Anything that you can organize with, I don't throw out. I have a row of pantry cabinets in my garage and one of them is for things I am not using, but am not getting rid of yet. Right now, I just moved, so there are curtains, lamps, and wall decor in there as well, waiting for me to decorate with it and if I don't, I'll sell the items. Since I have a dedicated cabinet for these items, everything is still 100% organized and I can find what I'm looking for super quick. I know right where everything is.
Two: Spend just 10 minutes a day organizing
It doesn't seem like a long time to organize, but this tiny change can make a big difference over time! Maybe you are thinking you'll never get things done if you only do this for 10 minutes a day, but I guarantee you that you will if you do it consistently. This is not a race. It took you years of accumulating stuff, it's not going to happen overnight, but what WILL happen, is you will begin to set a small pattern for yourself.
Related: 10 Tools That Will Make Your Life Easier & Help You Get Organized Now
Even a super busy mom who works 80 hours a week can find the time to set aside 10 minutes a day. Set the timer, and only organize. Take one drawer one day. A closet the next. Start small and work yourself up. If you are in the middle of organizing and the timer goes off, your 10 minutes is up and you still want to finish up, then do it. No harm, no foul.
**Everything you sort in that 10 minutes, remember your 6 month rule.
Depending on the amount of clutter, even the most gruesome of spaces can get a major overhaul with those two principles applied. Just be consistent. You can do it!
What are your top tips and hacks for staying organized?

You might also like:
7 Tips to Organizing with a Messy Family – Having a messy family can be hard if you love to be organized. This post will get you thinking about this problem in a whole new way.
Organize Your Life: 2015 Free Printable Calendars – These calendars won't suck up a lot of ink and have plenty of room for writing inside the boxes.
10 Tools That Will Make Your Life Easier and Help You Get Organized Now – 10 fantastic tools that will help you get and stay organized. A must read.
10¢ Cleaning Hack: How to Clean Your Microwave Oven in 1 Minute – I love this quick and easy cleaning hack that anyone can do.
Top 5 Things To Clean in a Time Crunch – Company's coming and you have 5 minutes. Here's what to clean.
Organizing your home can be so difficult. You have no idea where to start or how to organize your home in a way that makes sense. This organizing essentials guide is the perfect solution. With real life advice and ideas, this go-to guide covers almost everything you own! Get started now and say goodbye to clutter forever!