You know what they say, April showers bring…black flowers binder covers?? I think it's something like that. 😜😂
I can't wait to share with you these 12 cute printable black binder covers with fun flowers!
12 Cute Printable Black Binder Covers With Fun Flowers
There's just something about binders that brings me joy. I absolutely LOVE creating binders and fortunately, that includes binder covers as well! I had so much fun making these beautiful flower binder covers. It really challenged my printables skills! 🎉
The black background really makes the rainbow flowers colors POP!
You can't ever have too many binder covers. It's always good to have different options and be able to switch them out as your style preferences change, seasons, or even mix and match with other ones. These specific ones would be great for teen girls, teachers, homeschool moms, and the colors make them usable for all year round. 😊
You'll be getting 12 different cute binder covers that cover a very broad range of school subjects.
Binder cover subjects include:
Art
Biology
Computer
Drama
English
French
Health
History
Math
Music
Science
Spanish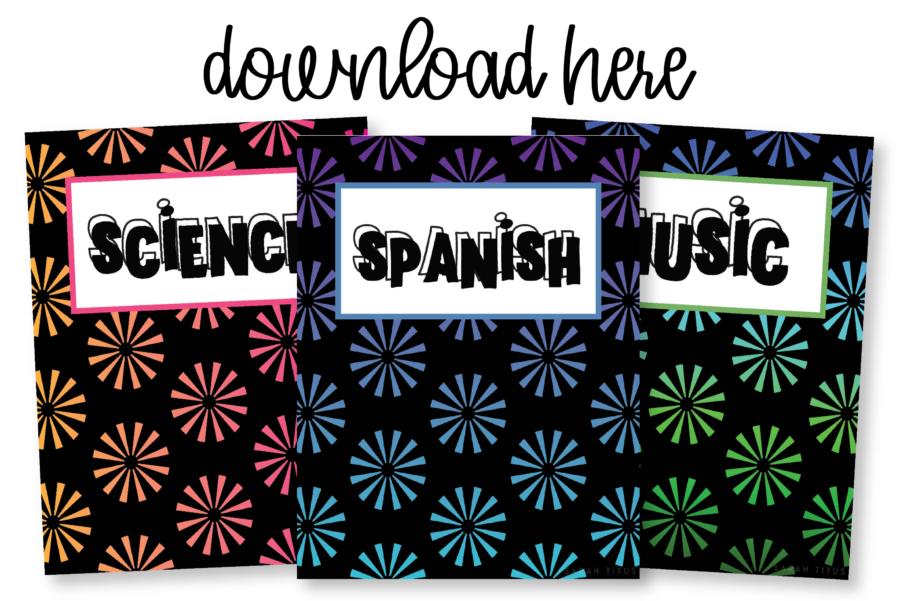 Ways To Use These Binder Covers
These binder covers can be used in lots of different ways by lots of people! Teachers, students, and homeschooling moms; take a look at how these will work for you…
Use For School Classes
These will be great for all your kids' school binders this school year! I think that your teen daughters would love these as much as your younger girls. The design really makes them relatable to all ages.
Maybe even you are taking a college class, feel free to use them for yourself too. 😊
Use For Homeschool Binders
Homeschool moms, this one is for you! These would be great to help get all of your lesson plans together. Since you are teaching EVERY subject, you'll definitely need each one to be organized. And why not organize them with these cute binder covers?
You can also allow your kids to use these for all of their homework assignments, notes, and other school papers they will need.
Teachers Use In Lesson Plan Binders
Alright public and private school teachers, this one is for you now! These would be great to label your lesson plan binders; you are sure to find your subject label in this set of cute binder covers. Easily organize and find what you need. You could even print multiple of the same subject and label them with different names for what you need.
For example, say you teach science. You can print 3 different science covers and add small labels to each one – one can say "lesson plan," one for "attendance book," and one for "graded papers." Customize however you need!
I hope you get your kids (and yourself!!) organized this school year with these cute free printable binder covers. 😊