If you've been looking for a simple way to refresh your bedroom decor, I've got a special (and FREE) treat for you!
Today I'd love to share my free wall art printables with you. With these swirly heart shaped designs, these printables are super gorgeous and perfect for your luxurious suite-like bedroom.
Wall Art Printable Free For Bedroom
Black and white is super popular, but a lot of people have reds and burgundy colors in their home and so today, I wanted to make you some of those colors for wall art! The rich burgundy and gold tones give a luxurious feel! I could definitely see this hanging in a suite of a modern, minimalist motel room.
You can bring that feeling home every single day. Just grab a black frame and you're good to go OR you can grab a few frames and spell out your last name and hang them above your bed as a gallery wall feature.
Wanna put them in your living room? Same thing there. They are super versatile for any room of your home! 🙂
Simple download and print below…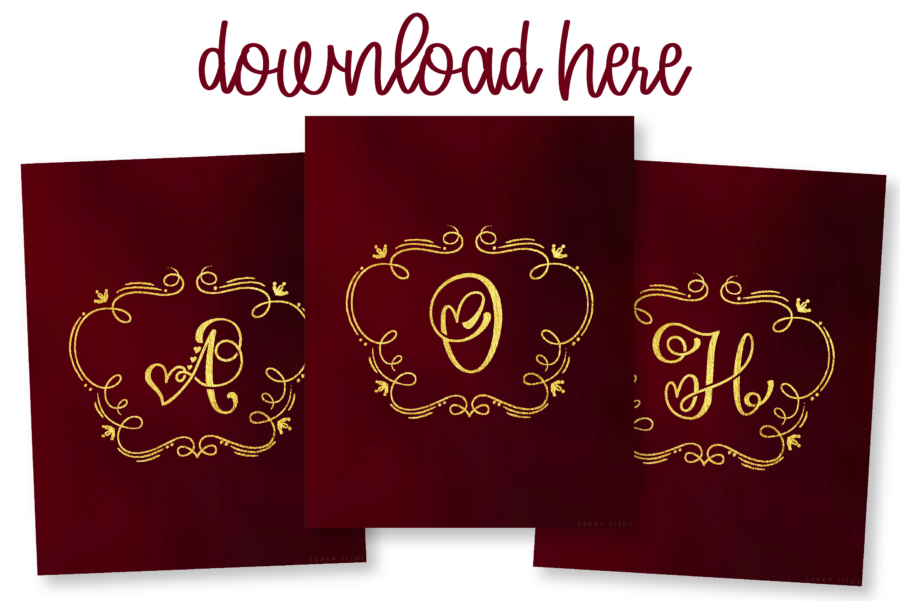 Download the wall art printable PDF here.
Ways to Use These Printables:
Want some ideas on how you can use these printables? Here are some suggestions…
Personalized Birthday Gift
If you have a friend who's redecorating or who just moved in somewhere, these printable wall arts would be perfect. This bedroom decor would also make a cute birthday gift!
You can print out all the letters, or spell specific words, and frame them. Your friend will love this thoughtful gift! Because who ISN'T utterly obsessed with new home decor?
I personally LOVE everything about home decor. It's a great way to personalize your space.
Decorate Your Bedroom with Them
These printables can be used in your bedroom decorating ideas!
Just pick out your favorite letters, and find some frames that you love. Then, download and print out the letters and place them inside the frames. Now you have a set of beautiful bedroom decor to hang on your wall!
The gold and burgundy colors will immediately bring new life to your bedroom and match a lot of the home decor pieces you find at Target, Ross, etc.
These printables would even look amazing in your child's room! If your daughter loves to play pretend princess, these printable wall arts will make her feel like a true royal.
You could spell out her name with these printables, that sounds so exciting!