Looking for some uber cute space clipart graphics to use for your crafts, gifts, and apparel? Maybe you even want to make some personal use printables out of them to play around with a computer design program (Illustrator is my personal fav). 💖
Whatever you do with these, it'll come out really great and it'll always remind you: I'd fly to the moon to be close to God!
And YES! These stickers are pre-cropped for Goodnotes! 🎉
Check out this SVG bundle free download below…
SVG Bundle Free Download – I'd Fly to the Moon to Be Close to God
This SVG graphics set actually started out as a penguin. 😂 I LOVE penguins and I was trying to make the shape of a penguin's body and then suddenly, I saw ice cream. 😜 I might have been hungry at the time. 😉
After that, I saw a rocket and it all went from there (the ice cream SVGs are coming soon on the blog too!) 😊
It got me thinking…
Things don't always turn out how we imagine them to be, do they?
Maybe you're sitting there thinking, "Man, I just can't get past this struggle. I can't seem to make it through".
We've all been there. We start out with a good intention and it just evolves into something else and that's okay.
Sometimes, what it becomes is a lot BETTER than what we intended it to be!
The penguins didn't turn out well, but I really LOVE these rockets, for example.
It's okay. Be open to change. Be open to new ideas. Be open to redoing things as you go through life. The more open you are to adapting, the more successful you'll be and the more you'll grow and learn and change.
We are people not meant to sit in one place for our entire lives like a rock.
Do you know those kinds of people in your life? They sit there and do NOTHING.
They drive me NUTS! 😂
I can't do it. I have to be moving and growing. I have to be that rocket ship who flies somewhere really cool. I can't sit there and do nothing. I was created to do something. Like this song suggests, we were all created to do something. What is it that you were born to do????
What did God create you to do, specifically? Maybe He made you a blogger. An architect. A mom. A wife. Maybe He made you to serve hot meals to those who are home-bound. Maybe you were born to be a teacher. Whatever it is He's created YOU to do, do it.
Don't be shy. Don't shrink back. Don't fall away.
Do and be exactly who He's created you to be b/c when you put yourself out there, and you become the person He wants you to be, you become close to Him.
Listen, I'd fly to the moon to be close to God, wouldn't you? And yet so often we don't realize how short that distance truly is!!!!
Be who He wants you to be. Do what He's called you to do. It is there….that you find God. It is THERE…that you can truly be close to Him.
Let these graphics remind you of that. In this SVG bundle, you'll find all kinds of cute stuff. The design pack is a full collection of all things sun, moon, and stars.
23 SVGs included:
Rocket Ship
Rocket Ship Taking Off
Sun
Earth
Saturn
White Star
Gold Star
3 Constellations
Words: Rocket Ship, Galaxy, Planet, Space, Earth, Sun, Stars, Rings, Moon
Full Moon
Crescent Moon
Glitter Moon
Cloud
8 PNGs included:
Navy blue stars pattern background (size 8.5″ x 11″)
Rocket Ship (colorable)
Rocket Ship Taking Off (colorable)
Saturn (colorable)
Earth (colorable)
Full Moon (colorable)
Crescent Moon (colorable)
Cloud (colorable)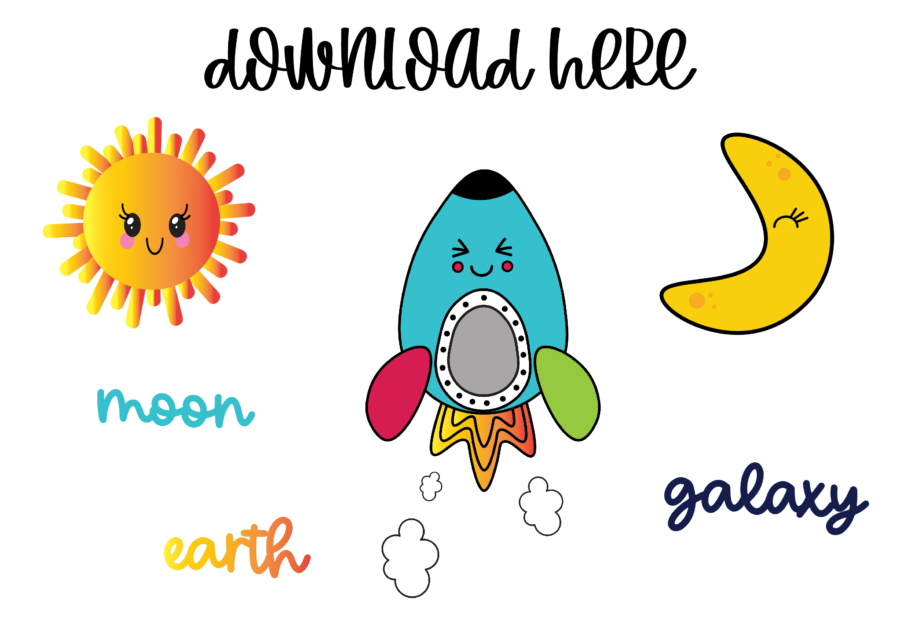 Need help uploading your SVG into Cricut? Click here to see our full tutorial!