I am SO excited to be sharing with you these cute free stickers printable templates! There are so many different arrow designs to choose from and endless possibilities for using them.
I can't wait to give you all the details to print stickers at home, so go ahead grab your sticker paper and get ready to start decorating with these FREE arrow stickers!
Stylish Cute Free Stickers Printable Arrows Art (SVG/PNG)
Arrows have become such a trend in decorating! They are very cute and a FUN way to add that little extra something to whatever project you are working on. The best part is they translate so well to ALL ages; from your child and even to you!
I LOVE things that serve multiple purposes… and these definitely do that too! Maybe you have some mason jars holding craft supplies, food or spices. These are such a fun way to add a little more design in addition to labels!
They also make the perfect accessories for kid's walls, scrapbooking, laptops and even your own Mom Planner or journal. From cutesy swirly arrows (my FAV) to kid-friendly block arrow shapes, you'll find every style you need here. 🙂
The best part is when you run out of stickers (we all know how quickly stickers disappear!), just print out more!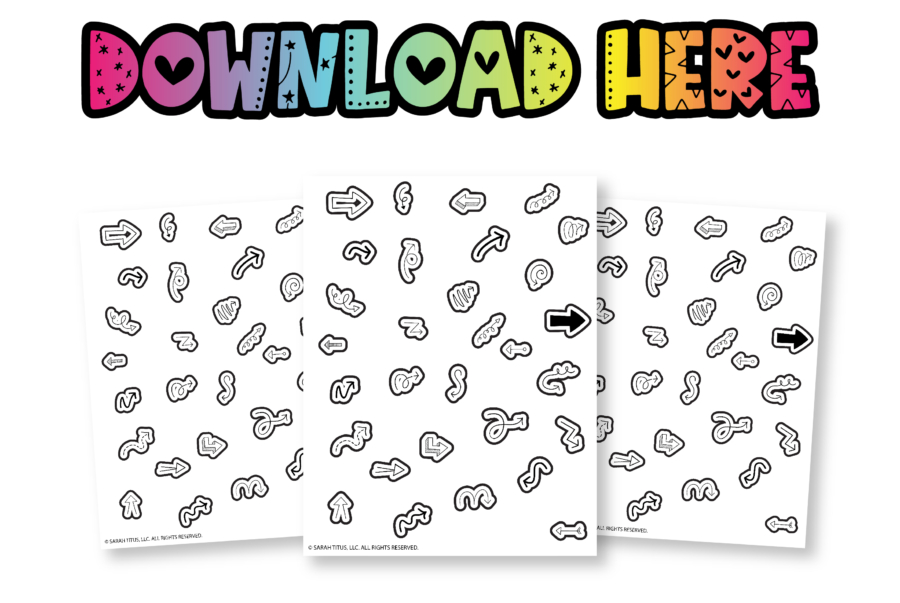 Download the free stickers printable arrows art PNG here.
Download the free stickers printable arrows art SVG's here.
Need sticker paper?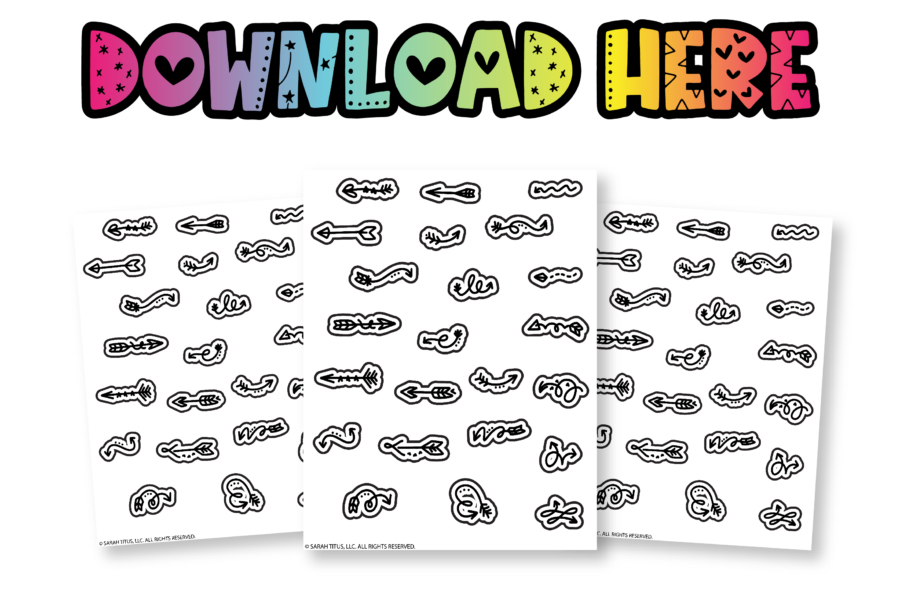 Download the black and white free stickers printable arrows art PNG here.
Download the black and white free stickers printable arrows art SVG's here.
Unique Ways To Use These Printable Stickers
How can you use these cute arrow sticker art printables? Let me give you a few suggestions…
Use Them On Your Kids Walls
Add some creative flair to your kid's rooms! Grab some paper, markers, glitter pens and let your kids make their own bedroom wall art! Then help them add on these cute arrow stickers and hang them up on the walls with non-stick tape. 🙂
These aren't just for kids' rooms… they are perfect for teen walls too; let your teen make a creative poster collage of some things they like – movies, books, magazine cut-outs, pictures with friends, etc. These arrow stickers make the perfect accessories for chic teen art!
Make Memory Pages Or A Family Scrapbook
Maybe you've been wanting to document that family trip you took last year into a scrapbook? Or make a baby book for each of your kiddos? Let these arrows serve as your accessories!
All you need is some blank paper or a pre-made scrapbook, a few pictures and these stickers – they make it look creative without a lot of effort!
You can even let your kids add the finishing touches with the arrow stickers to make it a fun family activity, and you'll have memories to look back on. 🙂
Add Them To Your Personal Mom/Business Planners
I'm all about organization! If you use a planner to help keep your home organized, these arrows make adorable accessories. You can use the arrow stickers monthly/weekly to highlight out important dates, birthdays, laundry day, ball games and more!
Check out my free household printables bundle (free for limited time) to get your planner started today. 🙂
I bet you'll never see arrows the same way again! SO many ideas and ways to use them!
Need help uploading your SVG into Cricut? Click here to see our full tutorial!