Valentine's Day will be here before you know it and I'm excited!
I don't know about you, but I like to plan ahead for special days. It's easier for me to do a little here and a little there in order to have it all done by the big day.
In the past, I waited until the last minute, but it caused TOO MUCH STRESS, so I began to do a little all along, in order to save myself the hassle. That's exactly why I created the 85+ page Valentine Binder, and you can get it in my shop by clicking here. To go along with the free Valentine Binder is this really cool homemade Romantic Diffuser Essential Oils Blends printable!
Easy DIY Romantic Diffuser Essential Oil Blends Recipes
I love celebrating special days with my family. Although I believe in showing love every day, sometimes you can use special days to show your family just what they mean to you. And, you know what that does? It inspires you and makes YOU feel good too.
The old adage, "it's better to give than to receive," goes right along with doing for others on special days. Showing your family how much you love them, maybe doing something a little "over the top," will make you feel so good, and give you a happy heart, and encouragement, which will last for a long time.
But it doesn't have to be expensive, just creative. Using your imagination and creativity can make a celebration even more special, saving you money in the process!
So, along those lines, I have created some things to share with you FOR FREE to help you begin to plan for Valentine's Day, and show your family how much you care!
Last week, I shared a link for Free Printable Valentine Gift Tags. These are great to use as tags for gifts to your special someone, or your family. Or you could print them off and use them as notes in lunches, backpacks, or briefcases.
This week, I have a different item to share.
You know I'm a HUGE fan of natural essential oils. You can use essential oils for so much.
So for Valentine's Day, I decided to come up with a printable list of delicious Valentine's day scents to use in your diffuser.
For example, I have "Date Night" with Cinnamon, Cardamom (one of my favorite scents!) and Lemon, so you can welcome your sweetie home with a special scent.
Or what about "Valentine's Candies" with Rose, Wild Orange and Cardamom? Wouldn't your kids love to walk into their home after school to this delicious smell?
My free printable gives you 10 different choices to use for the days leading up to Valentine's Day. Use one a day – or several every day in different rooms in the house. Try them all and take a vote from the family as to their favorite to use all year long.
Essential Oil Diffuser Blends include:
Valentine's Candies – Rose, Wild Orange, Cardamom
Love potion – Clary Sage, Peppermint, Lime, Juniper Berry
Allure – Clary Sage, Patchouli, Wild Orange, Rose
Under the Covers – Bergamot, Birch, Clary Sage, Ylang Ylang (sensual blend!)
Date Night – Cinnamon, Cardamom, Lemon
Mi Amor – Kumquat, Lime, Ylang Ylang
Love Charm – Red Mandarin, Lime, Cinnamon
Valentine's Day – Tangerine, Sandalwood, Lemon, Lime
Fountain of Youth – Lavender, Vetiver, Ylang Ylang
Love is in the Air – Ylang Ylang, Wild Orange, Lavender, Peppermint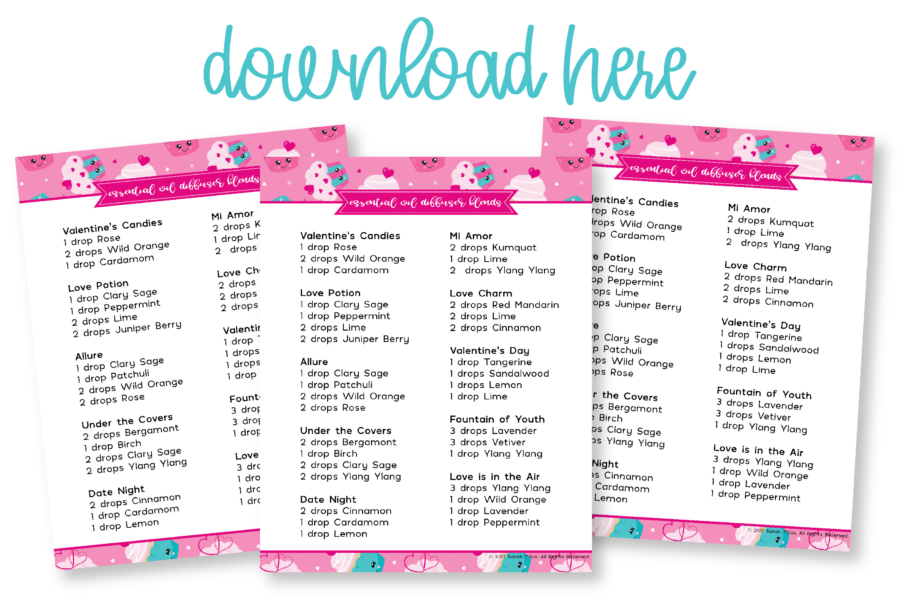 Download the Romantic Diffuser Essential Oil Blends free printable PDF Template here.
Love all things Valentine's Day? Then you will NOT want to miss your chance to get the new 85+ page Valentine Binder.