Who else could use a little motivation in their lives?? If not you personally, I am sure you know someone who could!
I've got the solution for you with these free motivational blue & gold planner sticker printables!
Motivational Free Stickers For Planner Printable Blue Gold Art (SVG/PNG)
Awesome
Brilliant
Excellent
Fabulous
Fantastic
Great Job
Hooray
Perfect
Shine
You Did It!
Would anyone else be okay with hearing these words and others like them on repeat each day?? I know I could!
Some days you just need a little extra encouragement and motivation and these printable blue & gold stickers will do that! The color and design in itself remind me of calmness and confidence in one.
There are tons of ways to use these motivational printable stickers, and the perfect accessory to bring a little more positivity to those around you – which is ultimately what our goal should be every day! 🙂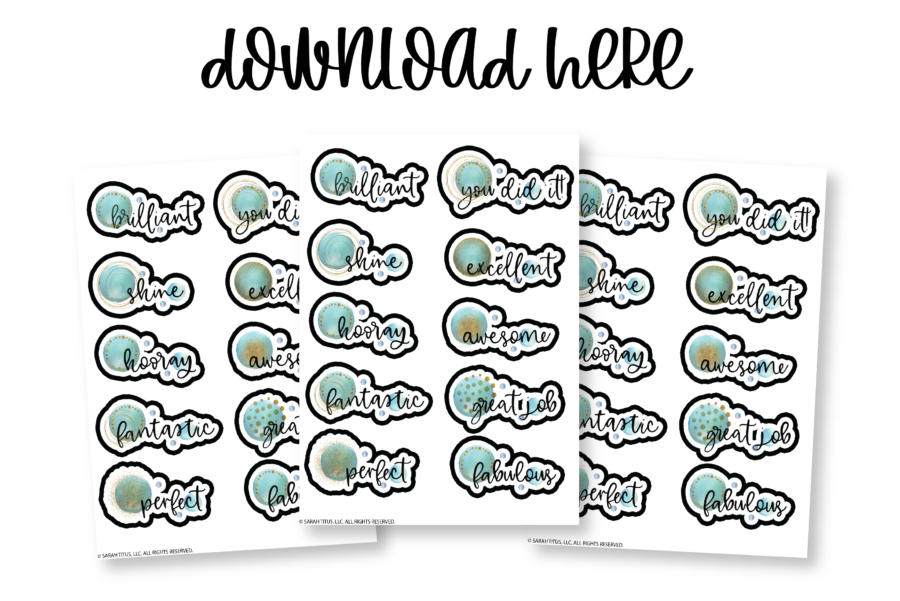 Download the motivational planner stickers printable free here for PNG.
Download the motivational planner stickers printable free here for SVG.
Fun Ways To Use These Planner Stickers Template Printables:
The possibilities are endless with these beautiful blue & gold planner stickers! Here are some suggestions…
Use In Planners When Achieving Goals
What better way to motivate yourself than to see it there in front of you?! Add these to your personal planners to help encourage you on whatever journey you are on.
Use these for eating healthy meals, exercising, having your daily quiet time, paying off debt, etc. Once you reach your specific goal you can commemorate it with one of these beautiful motivational stickers. 🙂
Leave Sweet Notes For Your Kids
As much as we could use some encouragement in our own lives, our kids DEFINITELY need it! With all the social media and things out there, there can be so much negativity thrown at them.
Let's make a change, shall we?
You can stick these little motivational words on their belongings, mirrors, dressers, nightstands, and different places in the house they will see. It's such a simple and easy way to bring them a little joy and a smile. 🙂
Use For Grading Papers
Teachers, these are PERFECT to add to your students' papers when grading them! Whether you are reviewing quizzes, homework assignments or actual papers, these make such a cute and fun statement.
They encourage your students to keep doing a great job plus they are FREE, meaning you don't have to spend a dime. 😉
These planner stickers kits are so beautiful and practical, and I hope you get tons of uses out of them!!
Need help uploading your SVG into Cricut? Click here to see our full tutorial!