Have you ever written little notes and stuck them in your kid's lunchboxes before school?
Maybe sometimes you ran out of things to say or had TOO much you wanted to say!
If you are looking for a little inspiration when writing cute little notes to your kids, grab these super thoughtful monogram colorful art love notes for lunchbox printables!
Monogram Colorful Art Love Notes For Lunchbox Printable
These are so fun for me to create because I love using them with my own kids! Nothing can brighten someone's day more than just a small little reminder that you were thinking of them. 🙂
These specific lunchbox notes were inspired by the alphabet and a bright & fun color scheme. The colors on each of the cards can't help but make you smile as well as the bubbles floating to the top! The pretty "handwritten" font adds that extra touch of personalization!
The best part about these notes… they are SO encouraging and uplifting! There is so much negativity out in this world, and anything to help combat some of that is sure to make a difference. These help you speak LIFE into your kids – which is SO crucial to their well being!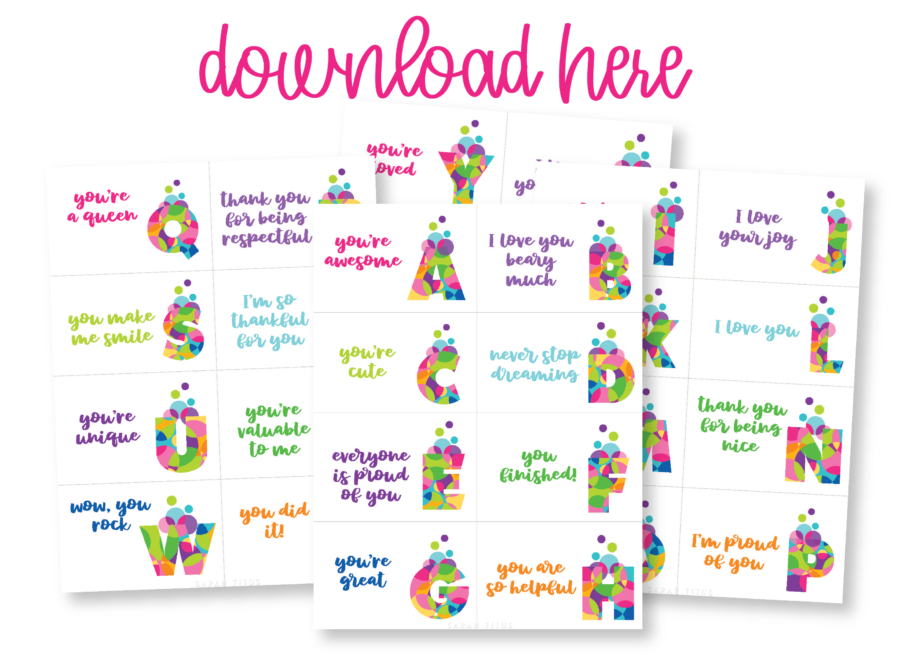 Download the monogram colorful lunch box notes free printable here.
Creative Ways To Use These Lunch Box Notes Ideas:
Here are a few great ideas to use these free printable monogram notes…
Personalize And Add A Love Notes Printable In Kids' Lunchboxes
Of course, placing these in your kids' lunchboxes is great, but how do you decide when and what note to use?? While these are perfect for any day, let me give you some more days you can use these:
Test Days – maybe they have a big math test coming up or a pop quiz they didn't know about!
Presentation Days – I remember how nervous I used to get before a big classroom presentation! Calm their spirit with one of these little notes.
Mondays – our kids can definitely feel the Monday slump too! Give them a little perk up with a note!
You can even personalize these notes by writing different phrases on the back: "Good luck today!" or "Praying for your presentation!" This will further encourage them no matter what they've got going on. 🙂
These notes will definitely brighten their school day, giving them a refreshed and renewed spirit for the rest of the day!
Have An Alphabet Note Scavenger Hunt
Do your kids tend to get bored on weekends sometimes too? Maybe it's a gloomy day outside? This is the PERFECT time to play this fun scavenger hunt game!
Hide these notes (A-Z) all around the house! You can write clues on the back of each card, leading them to the next!
They will not only be encouraged by the phrases on the cards, but the added excitement of the scavenger hunt will build such fun memories for the whole family. 🙂
Use As Gifts Labels and/or Gifts
These are a great addition to gift bags as well! These free printable notes can be added to a baby shower, wedding shower, or birthday party gifts. For these types of gifts, add the note that has the letter of their name or last name. You can even write "TO" and "FROM" on the back, and save some $ buying gift bag labels!
Use them as little gifts too! Our children usually have some sort of state testing at the end of each school year. Why not print off these cards and let the teacher hand one out to each student before the test! You could even tape a small peppermint or piece of candy to each.
These encouraging lunchbox notes are sure to bring a smile to your child's face and brighten their day. 🙂