I love the idea of putting encouraging lunch box notes for kids to find in their lunch boxes or backpacks.
Especially for kindergarteners going to school for the first time and dealing with separation anxiety from their parents.
It's a little touch that says you care, you're thinking of them, like a little gift they get so happy to receive.
Parenting is doing a lot of routine, mundane things over and over. Get them washed for dinner, bathe them, take them to the park, feed them, provide adequate living space for them.
But great parenting is so much more than that. Great parenting is constantly showing your kids you love them, you value them, you respect them.
And, it may seem silly to some, but I think that putting a motivating or inspirational note in a child's lunch box (or even a spouse's) is such a simple way to show them you care. Something that they weren't expecting.
When I was married, sometimes I would tape a note to my husband's steering wheel in his car. He left fairly early in the morning and maybe he never appreciated the things I did, but I know that he had no excuse not to know that I loved him.
It's the same way with your children. Do not give them any excuse or opportunity to ever say they don't feel your love. We need to be constantly filling up their 'love tanks' in ways that they understand. For my kids, they really love getting notes, and respond well to praise, thus the "You are Smart" note. 🙂
Our family is Christian, and so my personal favorite notes are ones with a verse on them, especially for my son. He wants to be a Pastor and gets in trouble at school for saying the word "God" a lot.
I sat down with the principle one time in a rather large meeting and they asked me about it. I told them that they couldn't stop him. He is on fire for Christ and wants to be a Pastor.
I will never, ever discourage him from that. I know one day, he will be kicked out of school for his love of Christ, perhaps taken out by me if I can ever get God to agree that homeschooling is best. 😉
In any event, He loves the Bible and so those notes mean a lot to him. It's getting a little nugget of Truth into his day. Reminding him what's REALLY important.
I hope you enjoy these free printable lunch box notes ideas.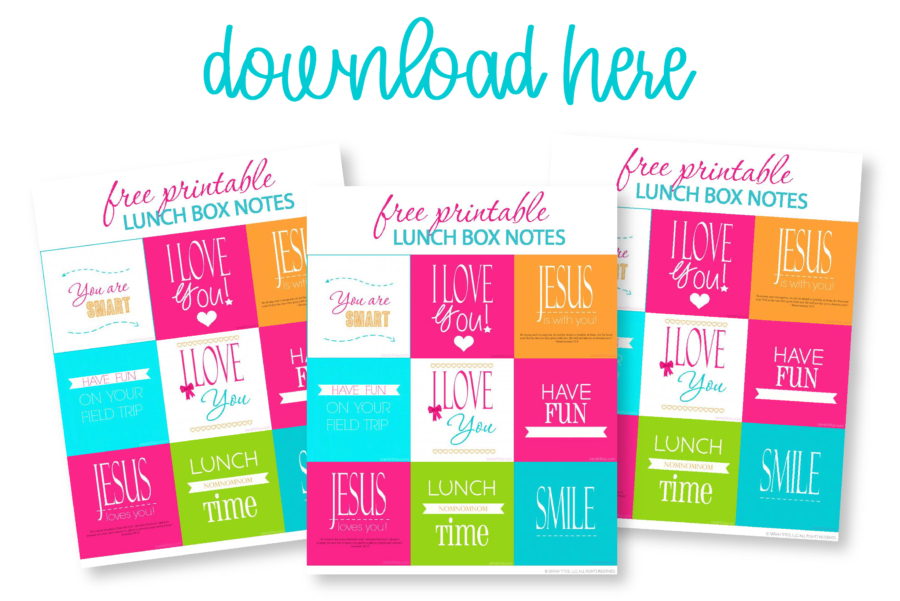 Download the lunch box notes free printables PDF here.
Color Palette Codes:
Hot Pink: HTML# FB2488
Teal: HTML#03CBD4
Orange: HTML#FDA036
Green: HTML#96D515