Short Answer: Yes! Long Answer: Yes indeed. 🙂
Are Cash Back Sites Really Worth Your Time?
Most of what I purchase is online. I don't like to pay tax and find that I can usually get better deals online. It's delivered straight to my door, quick and simple, I don't have to drag my kids to the stores with me. I can shop in the comfort of my own home without braving the elements and saving myself both time and money.
So, I was ecstatic to learn that I could get cash back on the purchases I already make! Of course I had to try it. Tried a couple companies. Didn't like a few of them. One never paid me EVER, even after contacting their customer service department several times. On the contrary, I've been using Ebates for a few years now and really like them in comparison. I highly recommend them to everyone.
They give you a % of your purchases back in credit and pay you every quarter. You can receive a check by mail or direct deposit to your Paypal account.
When do I get paid?
Every 3 months, we send you a cash back payment for purchases posted during the previous quarter based on the schedule below. But if you've earned less than $5.01 cash back, we'll carry over your money to the next check. Bonus Rewards do not count toward the $5.01 minimum. The term "Bonus Rewards" includes monies earned as a Sign-up Reward or Tell-A-Friend Bonus.

Ebates offers several ways to receive payment and is constantly working on ways to pay you faster. Visit My Ebates to view your cash back setting or go to Cash Back Method to change your setting. Note that you must sign-in to change your cash back method.
| | |
| --- | --- |
| Purchases Posted Between | Big Fat Check Sent |
| Jan 1-Mar 31 | May 15 |
| Apr 1-June 30 | Aug 15 |
| July 1-Sept 30 | Nov 15 |
| Oct 1-Dec 31 | Feb 15 |
It's very simple to earn cash back with them. Simply go to the Ebates site, search for the website you want to shop at, click through to the site and that's it. When you place your order, make sure your email address you're using on the website you're purchasing from is the same as the email on your Ebates account. Not every site participates on Ebates. Ebay used to be on there, but they left fairly quickly. 🙁 Even still, there ARE MANY companies on there that do participate and you can earn anywhere between 1% – 15% in cash back on your online purchases!
Here's a screenshot of my latest earnings: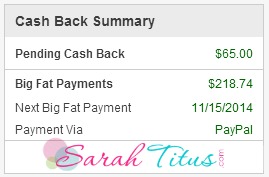 The cash back really does add up quickly and think about it….it's TAX-FREE income! What's not to like? Simply put…you can't go wrong with Ebates, it's the best in my opinion.
This year alone, I have made $137 and my shopping has gone way down since last year. Basically, I just paid my cable bill for free 2 months this year! What could you do with an extra $137/year?
Have you tried any other cash back sites like Ebates? I'd love for you to list any in the comments! 🙂