One of the main questions I get when it comes to organizing is not knowing where to start. Someone will come across a post and see the pretty printables and read the detailed information, but it all seems so incredibly overwhelming.
The truth is that your home didn't become unorganized overnight, and you can't organize it overnight either.
The strategy behind this guide is to work on the main sections of your home and get those under control first. Working room by room, area by area, will help you achieve an organized home in no time…IF you are consistent.
The best home organization products and tools provided in this guide are many of the things that I personally use. As a seriously OBSESSED person of organizing can tell you, if you have a home…a place to put everything you own, you will become organized. Everything must have it's proper place. That's where these cool organizer tools come in.
Organizing Essentials – A Guide to Organizing Everything You Own
The most important things to know when you are organizing are these two rules: use the 6 month rule and be sure to spend 10 minutes every day organizing and your home will become organized in no time. Marie Kondo will be proud! ha
The first area to organize is the bathroom. Since it's such a small space, there is less decluttering to do in this room than in most other rooms, however, it CAN become a catch-all for clutter.
Things to consider when organizing your bathroom:
Where will your makeup go and how will you organize it?
Do you store cleaners underneath your bathroom sink?
Where do you put all the bottles of shampoo's and soaps?
How are you utilizing the drawers in your bathroom?
To organize your makeup, you can use decorative storage like a counter top organizer (like I have), you can use a spinning makeup holder (you can also just use a spinning pencil holder as it can save you money), you can use a large tabletop organizer, or even compartments inside of a drawer or two (I use these). The most popular reader purchase is this two piece makeup organizer with a clock that just got back in stock!
To organize under your bathroom sinks, you can use cabinet pull outs or attach cabinet organizing trays to the door to further organize your space.
Organizing your shampoo's and soaps becomes easy with a shower head organizer. I love mine! It just goes over the shower head and is taking up space on the wall you're not already using. You can use it in bathtubs or showers, anywhere there's a shower head. If you have a bathtub, you can also use tall shelving to store things, and if you need extra support shaving your legs, you can purchase a footrest that attaches to your shower.
If you're looking for a solution to store your toilet paper, under the sink will work, but I hate this idea. If there's ever a leak (and it happens), you're whole toilet paper stock is kaput! In my bathroom, I have a toilet cabinet that works great (it comes unassembled). If the toilet ever floods, the toilet paper is safe and off the ground. They sell the silver metal ones the cheapest at Ross (but here's one for $7.99 at Amazon, which is around the same price at Ross stores).
Related: Organizing Principles Everyone Needs to Know and How to Organize Your Home on a Budget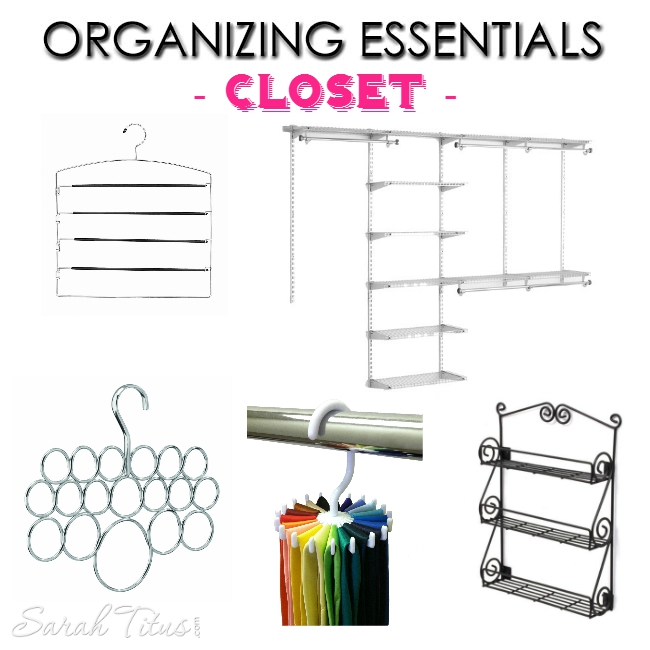 Things to consider when organizing your closet:
The closet is sometimes very difficult to organize because you're not just organizing your OWN stuff, but someone else's too. This is one of the huge perks of being single. 🙂 I have a HUGE walk-in bedroom-sized closet and it's mine…alllllllll mine! LOL But I have shared a closet for 14 years, so I can definitely relate to sharing.
Here's a great tutorial a friend of mine created on How to Fold the Perfect Towel. Organizing your closet and saving space becomes a cinch when you begin folding your towels this way.
Questions to ask yourself when organizing your closet…
Do you have a shelving system already in place in your closet?
Where do you store out-of-season clothing?
How do you store your shoes, belts, scarves, and coats?
Where do you put all your extra bedding?
If you don't already have a shelving system, you'll want to pick one up. They will make ALL the difference in your closet! Here's a Rubbermaid 4-8 foot system on Amazon for $86.24 and here's the 3-6 foot system. You can also find them at your local home improvement stores. At Lowe's it looks like a 4-8 foot system is $129, so it's cheaper on Amazon at this moment.
Storing out-of-season clothing can be tricky. What I used to do when I was married, was to store his out-of-season clothing in his suitcase and mine in my suitcase. The suitcases are just sitting there taking up valuable space, empty while not on vacation. Another thing you can do is put the clothing in a dust-free zipper bag and store them on the top shelf of your closet (you can find jumbo zipper bags cheap at Big Lots as well).
This is also a great way to store extra bedding you're not using (just be sure to get the correct size bag for the job). Here's a bedding bag – not a zipper bag, but holds bedding well. Be sure to save your bedding bags when you purchase bedding as well to save costs. Sometimes if I don't have a bedding bag, I'll use ribbon that I get in the dollar section at Michaels to roll up my blankets in a ball and tie the ribbon around them to keep them secure. The dollar size ribbon at Michaels is literally the exact amount you'll need to tie up a blanket or comforter.
For shoes, I like to use these shoe shelves. They are seriously amazing and hold a lot of shoes, while keeping everything perfectly organized. Sometimes you can find these shelves at yard sales or on Craigslist, but it's really hit or miss. I wouldn't pay over $5 for a used shelf. When you buy it new, it comes with little pegs so you can stack the shelves on top of each other! I really love this feature because it saves space. Two shelves stacked on top of each other is the perfect size to use underneath hanged-up clothes. The clothes won't hit your shelf (unless it's long clothing like dresses or something like that).
One thing that trips up a lot of people is not having enough extra hangers. You can use the regular ones, or if you're trying to save space, I like to use pants hangers where you can hang 5 pairs of pants on one hanger. Same goes with ties; they make tie hangers and for scarfs, they make scarf hangers. I like this scarf hanger because it's heavy duty, but I have also picked up scarf hangers at JoAnn's Fabrics store for around $5. They have them at Tuesday Mornings too, but I don't remember the price off hand. I usually only remember the price at the store that has them the cheapest, which in my case was JoAnn's.
I also like to use lots of cubbies and modular boxes in my shelves. Here's a pack of 12 (I also use one of these same boxes to store my receipts – it's about the size of a shoe box). I found them the cheapest at Fred Meyer for around $1 each. They keep things extra separated, so I know where everything is.
Another great trick is utilizing the wall space in your closet. You can buy a spice rack and put your nail polish in there. Here's the one I purchased on Amazon and it's 58% off right now (DANG, I overpaid a couple years back!). That's what I do and they fit perfectly. You can even buy a jewelry rack to hang on the wall. Here's one that is currently 53% off on Amazon. I went with a wooden one and paid a little extra for it. I really like it. Another place that is great to keep your jewelry is in a mirror. The mirror opens up to store your jewelry and even locks. Here's the one I bought and love it! I've also seen these at Tuesday Morning, but they were banged up and on Amazon, they were new and cheaper, and super simple to put together.
Don't forget under your bed. You can purchase bags or totes that will fit under your bed and you can store clothing, extra bedding, shampoo's and conditioners, etc.
Related: How to Organize Your House with a Pack Rat Spouse and How to Organize Your Closet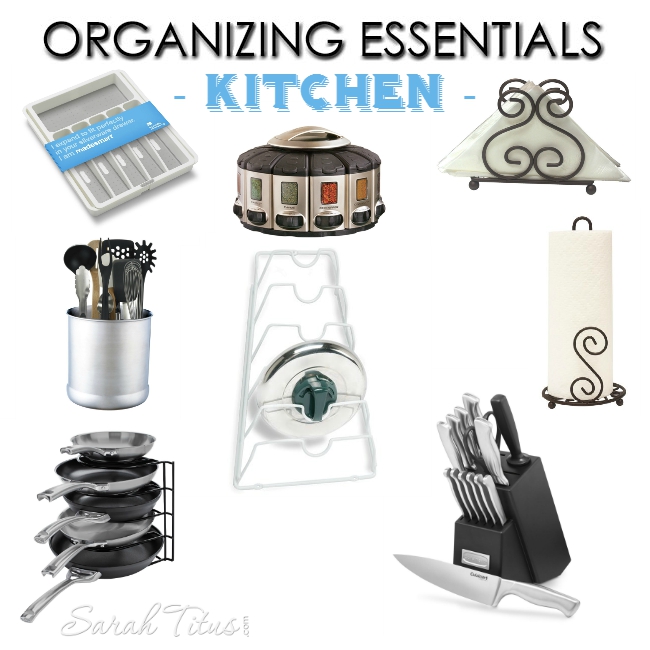 Things to consider when organizing your kitchen:
Organizing your kitchen has to be one of THE most funnest things for me. In fact, I've written an article on the Easy Steps to Organizing Your Kitchen. Step by step, it will show you what to do and how to tackle organizing this room in your home.
Some key things to consider are:
Where is the location of your trash can?
How do you organize your countertops?
Do you have enough cabinet space?
Can you get to your spices quickly and easily?
Do you have items in your kitchen that help you organize (like nestling bowls, etc.)
In my dining room, I have an extra buffet table. Some people like to have hutch's. If you have an extra space in your kitchen or dining room (depending on the layout of your home), this can GREATLY help, giving you added cabinet space immediately. I like to keep my kids dishes in the top and in the bottom, all my supplies for my recipes and food photography. The buffet top serves as even more space or an extra cutting block if you have a butcher block top, or you can even just keep a cutting board on top as well. That would work too. Out of all my cutting boards, this is my favorite (I purchased it in January of 2015 and have loved it ever since).
Another thing to consider creating an organized kitchen is purchasing a track that goes inside your lower cabinet and putting a trash can in there. Sometimes they are underneath the sink, sometimes in a dedicated cabinet. But very helpful for keeping smells in (as you can put a sticky air freshener in there) and having it out of sight.
Pan lids are another space sucker, aren't they?! What you can do, is get a pan lid holder and stack them in there. This way, they are not taking up near as much space and everything is nice and organized. Another idea is using a towel bar holder that matches your kitchen and attaching it to the wall (here's a 24″ Moen brand towel bar I found on Amazon. It's the cheapest towel bar I could find online). Simply slide your pot and pan lids in there and the knob will catch the holder and keep them organized and in place. Here's a cabinet door pan lid holder that would work as well.
We use paper plates in our home sometimes, but even if you just use regular dishes, there's a corner nesting organizer that I have, that I just love. I keep my recipe box on top and my plastic plates on the bottom rack and in the middle rack, the paper plates. This really helps my plates be more organized as I'm storing my things vertically instead of horizontally.
A paper towel holder is also something that is nice to have to keep your paper towels organized (here's the stand-alone one I have and here's one you can attach to the wall or a cabinet). If you use napkins, a nice napkin holder can make clean up a breeze.
One of the things that urks me when I visit my mom's, is that she has her sharp knives in a drawer. That's so easy to cut someone and having a knife block can make a world of difference. Each knife has its own dedicated space in the block and no one can get hurt because the pointed parts are inside the block. The only knife set that I could recommend is Cuisinart as I've tried several other brands and just wasn't impressed. I haven't tried all the brands, but of those I've tried, this is the best brand for knives.
Likewise for your utensils, it's easy enough to grab a spinning utensil holder because they will fit better in a holder than in a drawer (here's a non-spinning stainless steel utensil holder).
For your silverware, you can purchase a silverware tray that will separate your silverware almost anywhere, for super cheap. If you're wanting something to fit in your drawer perfectly, this is the one I have. It is fully adjustable to fit any drawer size. If you happen to be near a Bed, Bath, and Beyond store, you can sign up to receive 20% off coupons in the mail and the tray is $20, thus putting your total at $16 plus tax. On Amazon, it is currently $21.39.
One of the most underutilized places in your kitchen is below the stove. There's a drawer under there and if you clean it, you can store your pots and pans in there. I stack mine in there and then keep the big stock pots in another cabinet. Best of all, that solution costs nothing! However, if you'd like a different kind of solution for your skillets, here's a vertical storage solution.
Let's talk spices….ahhh, my favorite. There are many ways to organize your spices and many different options. One way is to organize them in a drawer with a drawer organizer. Another way is to purchase a spinning spice rack. The one that I have, you can either mount it underneath a cabinet, stack them on top of each other, or place it singularly on the counter top or in a cabinet. I've had this set since November of 2010 and ABSOLUTELY love it!
Another option for organizing your spices is purchasing a layered tier spice holder and placing it inside a cabinet. Of course another option is purchasing a spice rack and hanging it to a wall if you have a wall available, or even just using a turntable lazy susan set up would work as well. Here's a 1 tier lazy susan that I have for other things in my kitchen and here's a 2 tier lazy susan. Lots of options to organize your spices!
Things to consider when organizing your pantry:
Do you have a dedicated pantry? If not, do you utilize your kitchen cabinets for food?
Can you store some of your foods like canned goods outside on shelves in the garage?
Do you have an overflow pantry?
What are the most common things you are always putting in and getting out of your pantry?
Do you keep boxed goods in your pantry?
One of the things that really helps me organize my pantry is keeping all like items with like items. All the canned goods go on one shelf. Chips and boxed ingredients go on another. Condiments and baking goods go on another shelf. At the very bottom is where I keep things like paper towels, paper plates, kitchen trash bags, etc. You can use things like can organizers to organize your canned goods. The boxes take up a little more room than just stacking cans, but look so much nicer, so if you have the room, I'd definitely recommend them.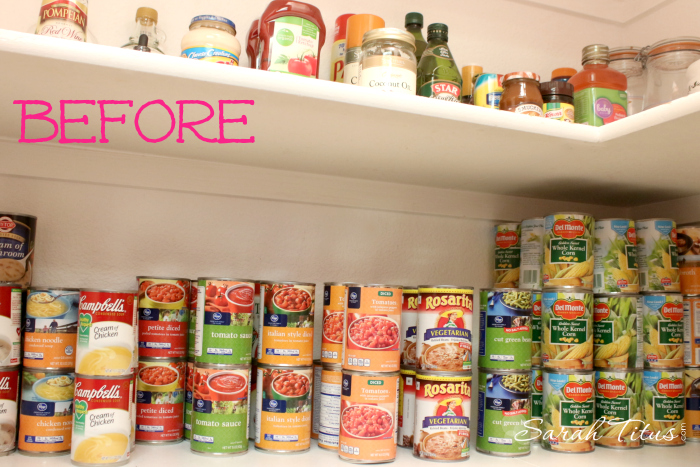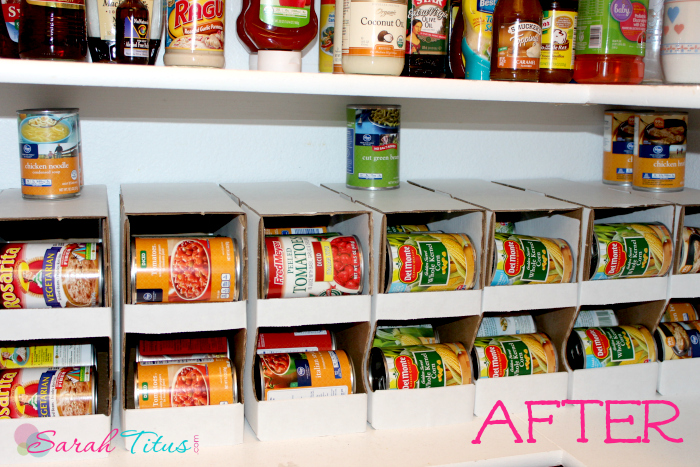 Use tubs. Using tubs can really help organize your pantry as well. I like to keep things like sunflower seeds (I'm a notorious BBQ sunflower seed eater since my baseball days as a kid) and Top Ramen, dry seasoning mixes, etc. in little tubs, so they are not all over the place and can be stacked nicely (I mentioned these tubs earlier in the closet section. Again, here is the 12 pack; I use them for many different rooms for all different kinds of things). I like to use Sterilite 12 quart boxes to organize things like that.
Also, be sure you have a good canister set. I have two of them and use them all. Some I use for my green tea (here's how to make the perfect glass of iced green tea) and others I keep sugar, flour, and so on.
Another thing that really helps organize your pantry is to get turntables. I was able to score two at a yard sale for 50¢ each and boy do they help, especially with the littler things like medicine or spices.
Lastly, you want to make sure you have a trash bag holder. I reuse the plastic grocery bags they give at the stores as garbage bags all throughout my home. They fit nicely in the waste baskets (here's what the waste baskets look like, but they are about $2.50 at your local stores) and keep things nice and tidy. Without properly storing the bags, they can get out of hand.
My mom cuts a hole in a 2-gallon plastic milk bottle and stuffs the bags in there through the hole in the middle. You can also purchase a hanging bag holder, which is what I have. I've also seen people take the clear plastic film off an old tissue box and stuff the plastic bags in there to store them. Here's a friend who made a tissue box holder to store her bags. Whatever works best for you and your space, and I'm definitely a fan of reusing something if you're able to.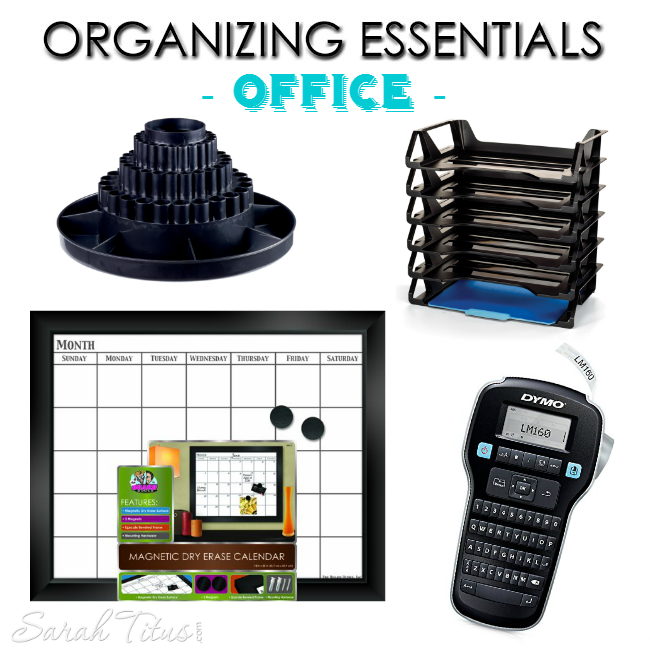 Things to consider when organizing your home office (or computer area):
Do you have a dedicated office space?
Do you have room for a bookshelf to hold your books?
Where do you have your computer — living room or office?
How big is your desk?
How often do you use your computer?
Is your computer desk your current location for a dumping ground of papers?
The office can be such a tricky place to organize because everyone has such a different layout. Ideally, you want to have a computer desk, a filing cabinet, and a bookshelf in order to organize properly.
A computer desk can vary greatly. I chose a desk that has lots of doors and drawers so that I can hide things when I need to (you can see it here). It fully folds up and has doors to cover even the computer monitor. I like that option. Now that I have my own dedicated office, it's not so bad, but I loved the option of closing doors when I didn't have a dedicated office, especially when company would come over.
You also want to have an office chair mat. They are fairly inexpensive, but they help your chair roll around easily. Purchasing a clear office chair mat will help your room look more neat. The cheapest I've found is here at Staples. Of course, if you have hardwood floors, you want to have a special office chair mat designed specifically for hardwood floors. The cheapest one I've found for hardwood floors is here on Amazon.
Another organizing essential for the office is a filing cabinet and hanging file folders. It's easy to put papers in the designated file folder and then once every 6 months or so, go through all those file folders and throw out what you don't need. In the meantime, if you need something, you can look in the specific filing folder and find it fast. Sometimes desks have filing folders built in. The desk I have has 4 of these drawers and they are very helpful.
A few other things you'll want to have to organize your office is:
Binders
Notebook
Pencil tray or spinning pencil holder
Rolodex (here's the one I have; it's currently on sale for $5.24)
Wall calendar (here's the one I use; it's a dry ease board from The Board Dudes –22×18." I've had it since October of 2012 and it still looks brand new!)
Label maker (currently on sale for $16.76 on Amazon)
If you really want to save money on these items, you can turn in your old ink cartridges to Staples once they are empty. You can turn in 10 cartridges a month and they give you $2 per cartridge of store credit at the end. So, this could be up to $20 free every single month, just by recycling something you probably throw away! This really can help, especially around Back 2 School!
Related: How to Organize Your Office For Free and How to Organize Paperwork and How to Declutter Your Desk
Things to consider when organizing your entry way:
Where will you put your kids things….backpacks, shoes, jackets?
Where will you keep your and your spouse's coats?
Where do you keep your keys, wallet, cell phones, etc.
If you want to keep your kids backpacks, shoes, jackets, etc. at the door way, a good hutch is probably your best solution. You can hang the coats up and put the shoes in the bottom trunk.
If you want to keep your keys, wallet, cell phones, etc. by the door, you'll want to have some sort of shelf (here's a mail and key holder that's is a reader favorite) or entry way table. If you do have a table and it's not covered at the base and let's say you have a lamp, you will see the lamp cords. A great way to hide the lamp cord is by using Command hooks on the back of the table. No one can see it and it can hide the cord a lot better than having it exposed.
Favorite places to shop for organization:
Posts on other parts of your home you'll want to organize:
Free printables to help you organize your home:
Implementing these new habits will keep your home organized long term:
Everything must have a home
Put your bills up immediately
If you haven't used it in 6 months, get rid of it (unless it's a seasonal item)
After you grocery shop, put everything away
Don't bring stuff into the house (or garage) you don't need
Put everything up wherever it makes the most sense
Use tubs and baskets to organize
Work as a family to keep your place organized
Create a routine
Have an entry way or organized space at your front door for keys, wallets, phones, etc.
Use one piece of furniture for two uses (a good example is a mirror that opens up to store jewelry).