Have you ever made up your mind that THIS would be the year you'd take on the challenge to read your ENTIRE Bible??
Maybe you tried an app but found it hard to keep track, or just needed a little push. I've got the perfect solution for you, especially if you like to cross off things from a list like me!! 🙂
Now you can easily read through the Bible (and even skip around to keep yourself motivated!) using this helpful cute printable bible reading plan for teens!
Helpful Cute Printable Bible Reading Plan For Teens
I am SO SO excited to share this best reading plan printable with you. This is something very near and dear to my heart – I want to encourage you to dig into scripture by offering something to help make that happen!
Reading through the entire Bible is super important. I've read through the whole Bible three times now in the past 10 years since becoming a Christian and have used these kinds of sheets to do it each and every time. Now, I'm on my fourth time. 🙂
Reading the entire Bible, gives you a great picture, a big picture, of God, His servants and how He works. Every time I read through it, I find new jewels and teachings. Things I didn't pick up the first time or things I forgot and needed a good reminder. Things I wasn't struggling with on my first time, but am struggling with now.
It's always a different thing. But reading through the Bible is like watching a movie. You can't just pick and choose bits and pieces of the movie. It will take things out of context. You can't just decide one day, "Hey, I'll just watch a few minutes of the middle of this movie and know what the whole movie is about." That's not how it works with a movie. That's not how it works with GOD. We must know Him, ALL of Him (as much as we possibly can).
While God's Word IS all applicable, it's best to read it in context and reading it in context is reading large portions of the Bible at one time.
It's so vital to your Christian walk and these printables are so perfect. You can go through it with your teen daughter or younger kids! <3
Not only will this help you keep track of what you've read, but you can follow this premade plan to help break it down. It makes it seems less daunting and more doable!
This printable breaks down each book of the Bible with checkboxes for every 3-4 chapters you read. Super easy to check off as you go and go little by little! 😉
The ADORABLE design takes this from a plain ol' list to a cute decoration to keep in your Bible!
Be sure to print the cute bookmarks as well to help keep your place where you leave off!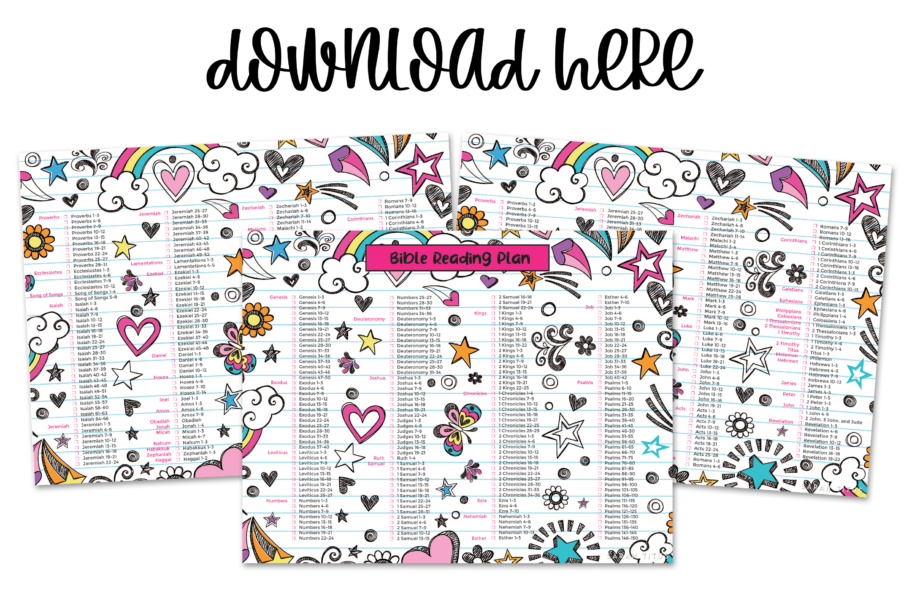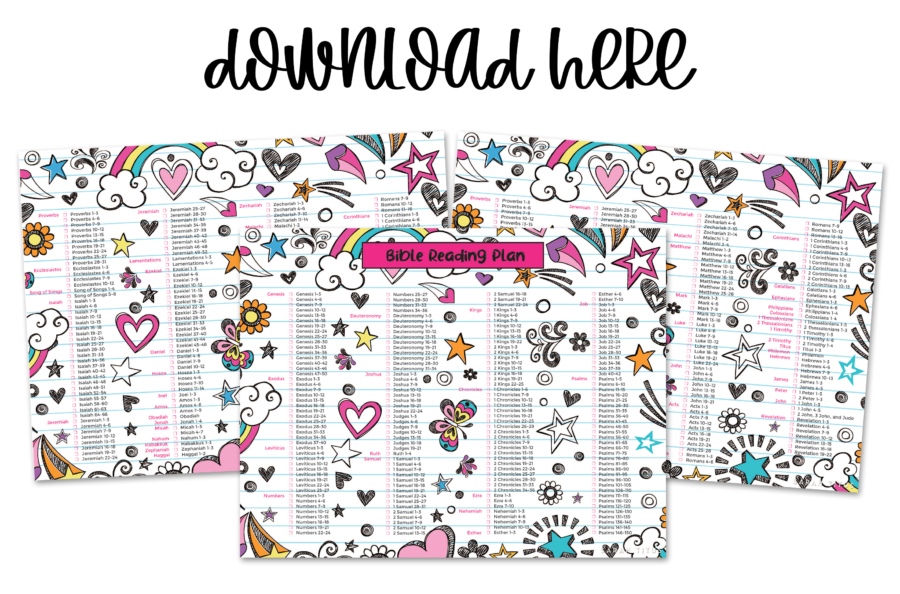 Download the cute printable bible reading plan for teens here.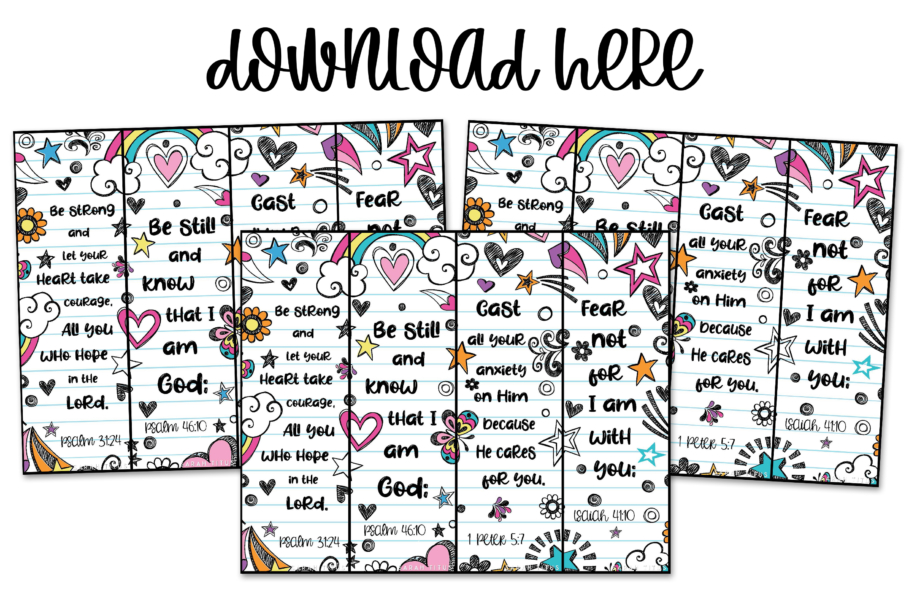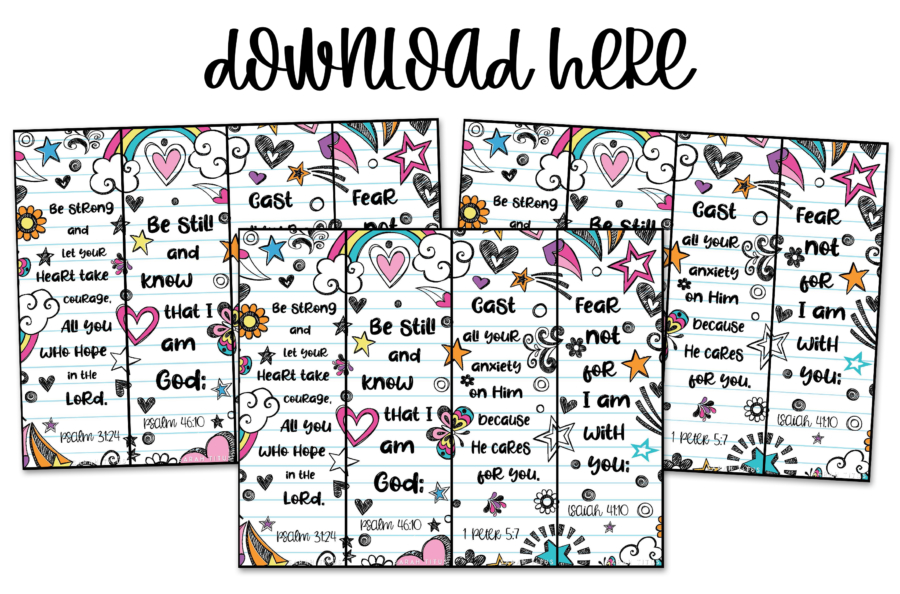 Download the free matching bookmarks printable PDF here.
Unique Ways To Use This Kid Friendly Bible Reading Plan Printable:
These printables will not only bless you but others as well! Check out these ideas on how to use these printables in your daily life…
Create An Accountability Group With Friends and Family
The toughest part of sticking to something is sometimes the lack of accountability. It's easy to get overwhelmed and give up!
Grab some friends (or do this with your family or in couples) and encourage them to go through these Bible study plans with you! Whether they have ever read through the Bible or not, this is the perfect place to start. Use this as a way to grow closer in your friendships and with your family and help encourage each other!
You can even host weekly/monthly groups to check in with each other or read through some passages together! 🙂 Give each friend/family member some bookmarks too as a sweet gift they can use to read along with you.
Hang Up In Different Rooms In Your Home
Just as we are more likely to do things if we are accountable to someone, we are ALSO more likely to do something when it's right there in front of us!
Print out copies and put them on different walls in your home! Hang the printable up the fridge, above your desk, next to your nightstand or on your bedroom mirror. Think of places where you will see it and be reminded!
Keep bookmarks in different Bibles and places too. Put some in your desk, kitchen drawers, nightstand, etc. Maybe you have a home study Bible and one you keep in the car. Put one in each and help keep your place wherever you are on the reading plan!
Give As A Gift To Church Staff or Bible Study
Does your church celebrate Staff appreciation month? These printables would make a great and thoughtful gift for the women on staff at your church!
Or maybe you are attending a youth group or weekly Bible Study group? Sometimes when a Bible Study group ends, it can be easy to drift away from studying God's Word. Give this Bible reading plan + the bookmarks to the ladies in your class to help encourage them post-study as well!
Church leaders: you have permission to share these at your church. 🙂
I pray these gorgeous Bible reading printables help you get into God's Word; let Him speak to your soul! He promises you will be blessed the more you know of Him and His Word! 🙂