Looking for a relaxing new hobby as well as a creative way to grow closer in your relationship with God?
Maybe you are already hand lettering and honing your skills and need more practice sheets.
Wherever you're at in the process, these beautiful, godly hand lettering templates are perfect to have some fun with!!!!
Godly Hand Lettering Templates
Hand lettering is SUCH an amazing hobby and skill to pick up – I absolutely love it! It's one of my favorite things not only to do, but I also really enjoy creating different types of hand lettering ideas for you to try as well!
These godly hand lettering templates not only help you hone in that skill but can be used to pray over and meditate upon each day to help you grow closer to God.
I love to just sit there in a quiet space and color or hand letter while really thinking about God.
For example, the quote, "He is mighty to save." I'll start to let my mind wander about all the times that He has saved me in the past. I'll start to think about the word mighty. How mighty is He? Where have I seen proof of His might in my life or the life of believers around me? And my mind just starts to worship and praise Him in a way that is unique and experiential.
He is worthy to be praised. He is worthy to be thought about. And the more we think about Him and His works, the more we get to know the God we serve. The more it's engrained in our minds and He LOVES it when we worship Him in this way!!! To me this practice, this habit, is vital in my own spiritual life.
You'll be getting 6 pages filled with multiple quotes and Scripture references like…
Give thanks to the Lord for He is good
God is love
I am a child of God
He is mighty to save
I can do all things through Christ who strengthens me
Do not fear for I am with you
In the morning give me Jesus
With God all things are possible
Saved sinner
When you go through deep waters I will be with you
If God is for us who can be against us
She is clothed with strength and dignity
Oh he loves me
When life gives you more than you can stand, kneel
Give thanks to the Lord
It is well with my soul
She is far more than rubies
Nothing is impossible when you have God on your side
His mercies are new every morning
I'm fearfully and wonderfully made
Faith over fear
Be still and know that I am God
Daughters of the King
and more!
Whether you use hand lettering for relaxation, during your quiet time with God, or to practice calligraphy, these scripture hand lettering worksheets are a must-have in your repertoire!
Grab your hand lettering PDF FREE download below, and after that, we'll talk about some other fun and creative ways to use these beautiful hand lettering quotes!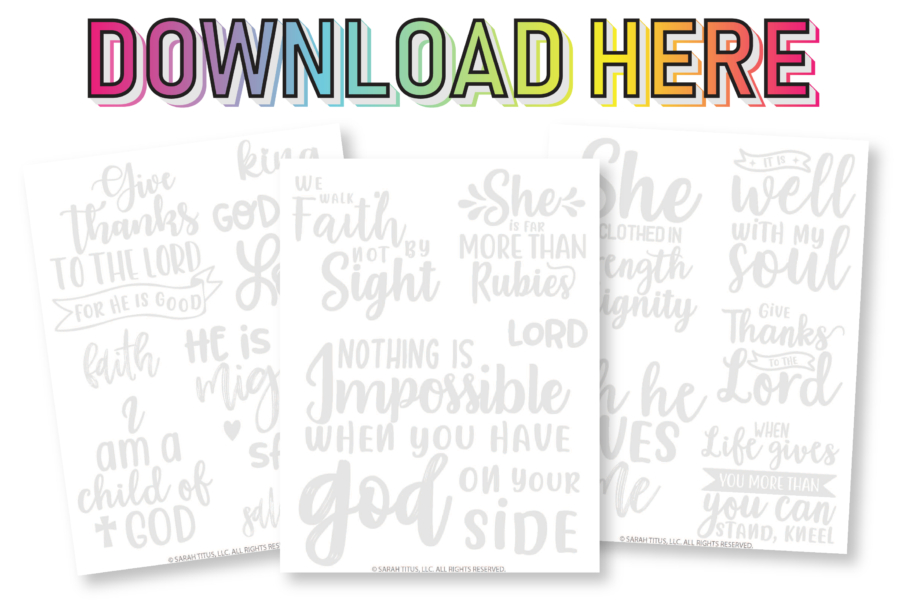 What is Hand Lettering?
Hand lettering is the art of drawing letters in any style. Some people think this is the same as calligraphy but it is slightly different…
Calligraphy is the "art of writing letters with pressure-sensitive tools, usually in a script style"! So hand lettering actually helps you become better at calligraphy because you are practicing writing letters.
Feel free to use these worksheets as calligraphy AND hand lettering practice sheets! It's a great way to learn one or both of these skills and develop a new therapeutic hobby.
What is the main purpose of hand lettering?
Why should you even consider learning hand lettering? There are SO many benefits to learning this skill such as using it for relaxation, unique creations, personal development, a creative outlet, a new hobby to learn with your family/friends, or a great way to connect with God during your quiet time each day.
Let's take a deeper look at some of these suggestions and why they are SO beneficial…
Learn to letter these for greeting cards and gift tags
One of the main benefits of learning hand lettering outside of finding a fun new hobby is to use it to make your own greeting cards and gift tags!
How many times have you seen these beautiful script cards in the store but there are usually a couple of problems…either the price is crazy ridiculous, or it doesn't exactly say what you want it to say, or maybe you would've rather it had a little something more.
So, how AWESOME would it be to not only save money and make these yourself but be able to write whatever you want on them? Amazing, right?!
You can truly customize cards for friends, family, etc., and make your own personalized gift tags for Christmas, birthdays, and more. 🙂
Relaxation/Creative Outlet
Everyone needs some sort of outlet for their creativity, right? If you don't really consider yourself a super creative person, it works as a relaxing way to deal with stressors or other things in your life too. Plus, if you're not creative now, that doesn't mean you can't BECOME creative if you want to.
When I first started blogging, I was NOT creative at all. Today, I run an incredibly successful printables empire on Shopify and people pay me for my creativity. It's a far cry from where I started! I think back to my early days and wow, it's crazy. I just wasn't creative at all! Now, I've grown so much in this area and I'm so PASSIONATE about being creative! It's a part of me now; part of my SOUL!!! 💖
Journaling and hand lettering can be very therapeutic too because it helps us rid of negative thoughts and replace them with these positive ones from the worksheets, therefore giving us that creative or relaxing release. After all, the Bible says to think on things that are TRUE, right, virtuous (Philippians 4:8). So we are obeying God as we are doing this as well!
Create Your Own Products/Items
Like I mentioned earlier, these are great for creating your own personal products or items you want to make. We already talked about gift tags and greeting cards, but you can also make beautiful wall art, homemade cards to show at a craft show, or meditate on them each day when printed on cardstock. You could even print them out and hang them on your desk for a beautiful and simple reminder of your favorite quote.
You can keep these things, OR they would make great gifts to give away to family and friends! Make cards for them, wall art, encouraging notes, or put a packet together of these hand lettering worksheets for them as a thoughtful gift. 🙂
One really cute gift would be to create a printable calendar for a gift. I envision in my head a horizontal calendar and on the right side is your quote and on the left side is the calendar boxes. Can you see it?
Personal Development/Spiritual Growth
Hand lettering is a great thing to add to your daily quiet time with God or as a form of worship!
If we are dealing with some stress or things like I mentioned earlier, first and foremost, bring those things to God and pray and let Him give you His peace. Then, use hand lettering and journaling as ways to meditate on His words. This helps you grow in your relationship with God and all around become more of the person He wants you to be!
I pray that these godly hand lettering PDF worksheets really encourage your heart as well as help you learn a fun new hobby and grow closer to God each and every day, all at the same time!!!! 🥰