Dinosaurs, pirates, polar bears, puzzles…this sounds like every young boy's dream team!
Add in the fact that it's a fun game that can be played over and over and they'll be officially hooked. 🙂
I can't wait til you print out these fun printable puzzle games for boys!
Fun Printable Puzzle Games For Boys To Play
If your kids are into puzzles like mine, these will be perfect for them! Once assembled, the pictures are so FUN and will get their imaginations going. 🙂 The best part is that these puzzles are completely free!
Puzzles are so great, but sometimes hard to take with you! They are usually made from wood or hard plastic, making them not very easy to grab and go! Plus kids lose them easily so you don't want to invest a bunch of money into those types of things. With these worksheet printables, you can print as many as you like (fa free!) and quickly grab them for some kid-friendly fun!
Getting Organized With These Free Printables
First, let's get your personal use jigsaw puzzle game packs assembled! You only need a few things…
1 folder
5 baggies
1 clipboard
Scissors
Markers, crayons, glitter pens, etc
Print out a copy of each puzzle, laminate (optional) and cut into individual pieces. Place each puzzle in a different baggie and label them whatever title they are. Place 1 or all of the baggies along with the clipboard in the folder. You can take as many as you need with you or keep them in the car ready for long car rides or errands!
For an added fun step, let your kids decorate the baggies and folders with the glitter pens and markers!
Don't have the time or resources to laminate? That's totally fine!
These work just fine without and if you need to, you can print out as many as needed! 🙂
Cool themes included:
Underwater
Farm Animals
Pirate Ship
Dinosaurs
Polar Bear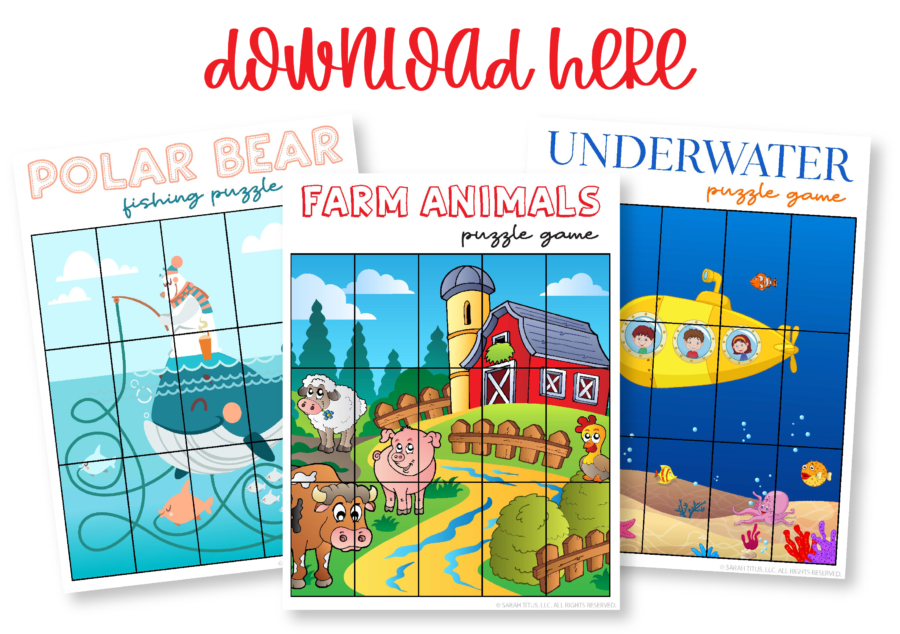 Download the fun printable puzzle games for boys to play here.
Fun Ways To Use These PDF Printables:
There are so many different ways you can use these fun printable puzzle games! Let's look at some ideas…
Bring On Vacations/When Traveling
These make the perfect games to bring with you when traveling – whether you are on a week-long vacation or out of town for the weekend visiting family!
Grab your game folders (you can make one for each child) and let them have a fun game to play on the way and the whole time you are there. SO much easier than bringing the big wooden puzzles or other big games that get so easily lost!
You can even make extra copies of these printables to bring in case you need them. 🙂
Give These Free Online Games Printables As Gifts To Your Kids & Friends
The great thing about printables is that they are SO versatile! They all make such thoughtful (and FUN) gifts to give to others.
These make great birthday or Christmas gifts for your kids' friends! When you have three birthday parties to go to in one month, save some money and give a more personalized gift with these printables puzzles.
You can even give these to your kids as a "just because" gift! Maybe your child hasn't been feeling well or has been struggling with school…brighten their day with this awesome puzzle game pack! Wrap it all up for them to open and you have a great way to bring a smile to their faces. 🙂
Make A Story About Each Puzzle
My favorite use for these jigsaw puzzles online – make a creative game out of it that will get your kids' imaginations flowing!
Once they complete each puzzle, ask them to come up with a story based on the picture. Encourage them with fun ideas and nudges to help them create their own stories!
Maybe Pirate Pete wrecked his ship BUT found a treasure at the bottom of the ocean?? Or perhaps all the farm animals could talk?! 😉 Who knows what fun stories they will come up with!
From dinosaurs to an underwater shipwreck, your kiddos are sure to never run out of fun with these printable puzzles. 🙂