Looking for some super fun SVGs to dress up your crafting, or fun images to add to your collection? Then you will love this double whammie I have for you today!
Check out these FREE cute angel animal images! 🙂
And YES! These stickers are pre-cropped for Goodnotes! 🎉
Free SVG Clip Art – Cute Angel Animal Images
I seriously love creating SVGs! It really challenges my graphic design skills and I love sharing them with you as well as I grow in my abilities! Win-win!!! 💖
Cute little animals are always fun to make and I decided to do this set with a little halo, making them angel animals. You can use these on their own or put them together with some different phrases and sayings!
Here are some fun things you can create and do with these cute angel animal SVGs:
Use your Cricut or Silhouette, and a heat press to put on physical items such as mugs, t-shirts, socks, cards, jars, etc.
Print these files on sticky paper to make stickers for your kids
Give any of the things you make away as gifts for family and friends
Or, if you are using the PNG files, here are a couple of ways you can use them:
Print on card stock and make wall-art, cards, etc.
Print as black and white and let your kids color them in!
You'll be getting both the SVG files and PNG files – this makes it great for using for lots of different things, whether you are printing cute cards for your kids, or heat pressing them on t-shirts. 😊
Overall, there are so many possibilities, and I can't wait to see what you make with them! Enjoy. 🤗
SVGs and PNGs included:
Penguin
Octopus
Exotic Bird
Kitten
Puppy
Koala
Chick Egg
Crab
Panda
Bee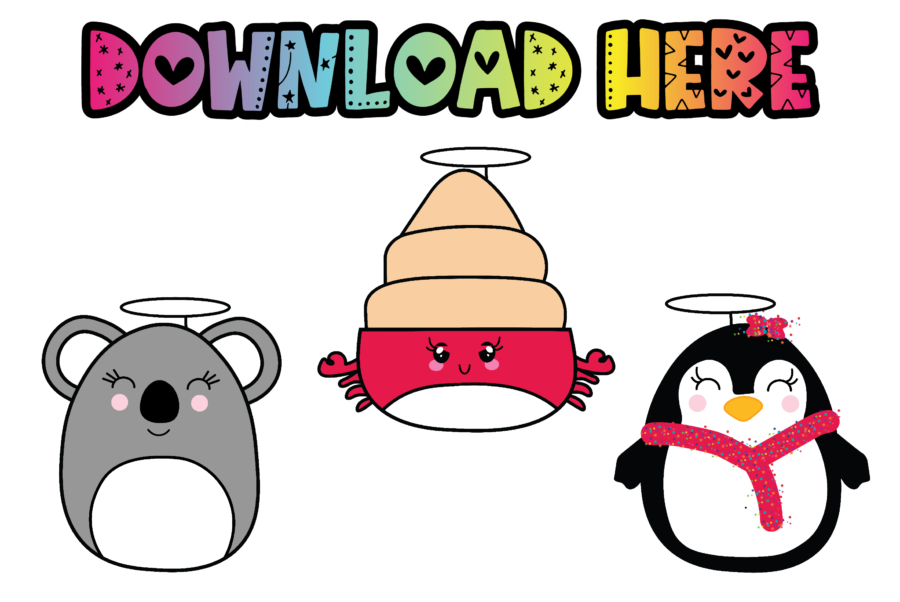 Download the Free SVG Clip Art – Cute Angel Animal Images (SVGs + PNGs) here.
Need help uploading your SVG into Cricut? Click here to see our full tutorial!