Hosting Thanksgiving at your house this year? Just wanna have your home all spiffy for the holiday season?
Either way, you're in luck! These gorgeously designed free printable Thanksgiving wall art signs are PERFECT to bring holiday life to your house decorations this year!
Free Printable Thanksgiving Wall Art
Thanksgiving is one of my favorite holidays. I think it's important to keep a spirit of thankfulness all year long because that's the way Jesus wants us to live. Content no matter our circumstances, always keeping a thankful and joyful heart.
So I wanted to create some beautiful, fall printables for Thanksgiving to use as wall art in your homes! These have fun and cute saying about thanksgiving and fall but can serve as a reminder to remain in that thankful spirit.
There are tons of ways to use these wall art printables as well, outside of hanging them up on your wall. Let's look at a few!
What you can do with these printables….
Think these beautiful Thanksgiving wall art printables can only be framed hung up on the wall?
Think again!
While placing these in frames and decorating your home for fall is an excellent use of these, here are some fun and creative ways you can use these printables to lift your spirits this season!
Use as tabletop decor
Go ahead and grab some frames to place these in once you print, but instead of placing them on the wall, you can use them as tabletop decor.
Instead of putting holes in your wall to hang these up, you can grab frames (black, gold, and dark brown would be very pretty) and place them on your office desk, fireplace mantle, kitchen island… anywhere where you may have a place for some decor.
You can even grab some real or fake pumpkins and a glass jar with fall foliage in it to make a cute fall display. 🙂
Give as gifts friends and family
Think back on some of your most memorable gifts. What comes to mind?
It probably isn't the most expensive, extravagant gift that you are thinking of.
You are probably thinking of gifts that had a lot of love and thought behind them. Gifts from your kids, a handwritten note, something homemade.
Those are the gifts that tend to stick with us, speak to us and remind us of what's important!
So what better way to use these printables than to frame them and give them as gifts to family and friends? You could give them as just because gifts, or print and bring a bunch to your Thanksgiving get-together and give to everyone as a reminder of how thankful you are for them!
Fill your planner with these printables
Have you ever seen those planners at the store that have those cute inserts with motivational quotes and pictures?
Well, for one, they cost a lot, don't they?! So why not make your own customizable planner with some neutral planner pages.
This will save you tons of money because you will only print out the pages you need. You can put these Thanksgiving wall art printables in there as cute fall inserts, especially for for your October and November months. 🙂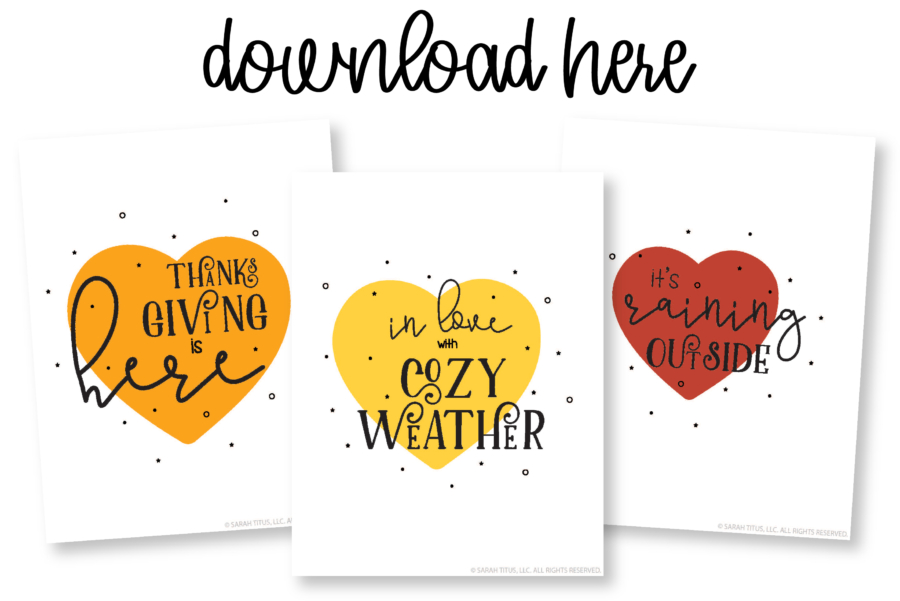 Download the Free Printable Thanksgiving Wall Art Templates here.
Download the Free Printable Thanksgiving SVG Graphics here.
I hope you enjoy these super fun and cozy Thanksgiving wall art printables! Happy fall. 🙂
Need help uploading your SVG into Cricut? Click here to see our full tutorial!