Could you and your family use some daily spiritual encouragement? Then I've got the perfect SVGs for you! They will definitely help remind you and show others your love for the Lord. 🙂
Take a look and be uplifted by these free Christian Scripture Bible Verse Monogram SVGs!
Free Christian Scripture Bible Verse Monogram SVGs
These monogram scripture SVGs have such a classic and beautiful design. They will go with a ton of home decor, make great gifts, and offer encouragement to you and those around you.
The monogram makes it even more personal, which is what it's all about right? Our relationships with God are SO personal because it's just us and Him. I'm so thankful that He uses His word to speak life and encouragement into our lives every day.
This verse, in particular, is so awesome to add to your home or as gifts because it gives a firm stance. "As for ME and MY house, WE will serve the Lord." There is no denying where your priorities are, and you could use that to witness to others as well!
Quote – "AS FOR ME AND MY HOUSE, WE WILL SERVE THE LORD" Joshua 24:15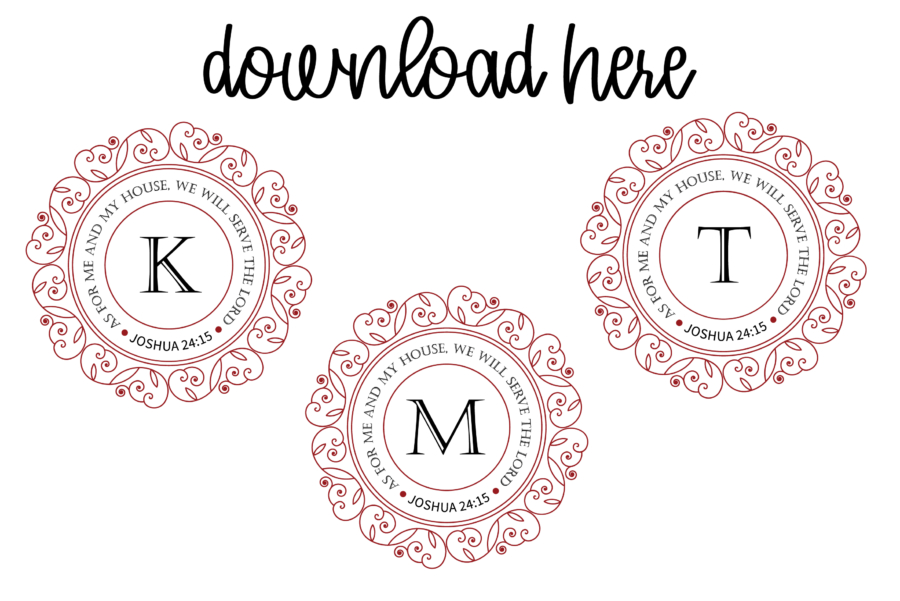 Download the SVGs here.
Download the wall arts here.
Ideas For Using These Bible Verse SVGs:
Do you need some inspiration on how to use these? Here are great ideas for you…
Use Monogram Wall Art As Home Decor
One of my assistants said, "The first thing I am going to do with these is print some, frame them and add them all over my house!!" She LOVED them!!!
You can easily pick your last name initial and hang up in your family room or kitchen, or use first initials depending on what rooms you use them in. Ex: kids' rooms, your office, living room, etc.
Not only will these look beautiful hung up on your wall in frames, but you can use it as tabletop decor too. Place one on your fireplace mantle with some other cute decorations, or your desk, entryway table, and any other surface you have. 🙂
Give Christian Wall Art As Housewarming Gifts
Outside of your house, these make perfect decorations for other people's homes too!
I can see these being a beautiful and thoughtful gift for a housewarming present. They are also free, so you're only bound by your creativity! What a beautiful statement to encourage and inspire your friends with this godly reminder.
Set As Electronic Device Backgrounds
Did you know you can save these to your computer/phone and use them as screensavers??
What an amazing reminder for you to see when you unlock your phone, sit down at your computer or send it to a friend for some encouragement.
These beautiful monogram Bible verse SVGs are sure to help you make a stand for Christ in your homes. God bless!