I honestly don't think you could ever have too many bookmarks, am I right?!
I seem to always misplace mine and then end up finding 3 in one place! 😆
I've got the perfect solution for your bookmark needs!!
Check out these free cute fairies printable bookmarks to color!
Cute Fairies Free Printable Bookmarks To Color
Growing up I loved always loved reading! I really wanted to instill that same passion into my kids too. These super fun bookmarks are a great way to pique kids' interest in books! They'll want to open up their books and see what is inside. 🙂
They'll definitely love seeing these adorable fairy designs and reading the inspirational messages on them! These bookmarks are colorable as well – let them have a blast filling them in with markers, crayons or colored pencils! You can definitely encourage them to pick up a new book to use one in.
Like I mentioned before, bookmarks can be easily lost or misplaced… but have no fear!! These are SO great because you can keep printing as many as you need! You have an endless supply plus a new activity each time you do because your kids will have to color them in. 🙂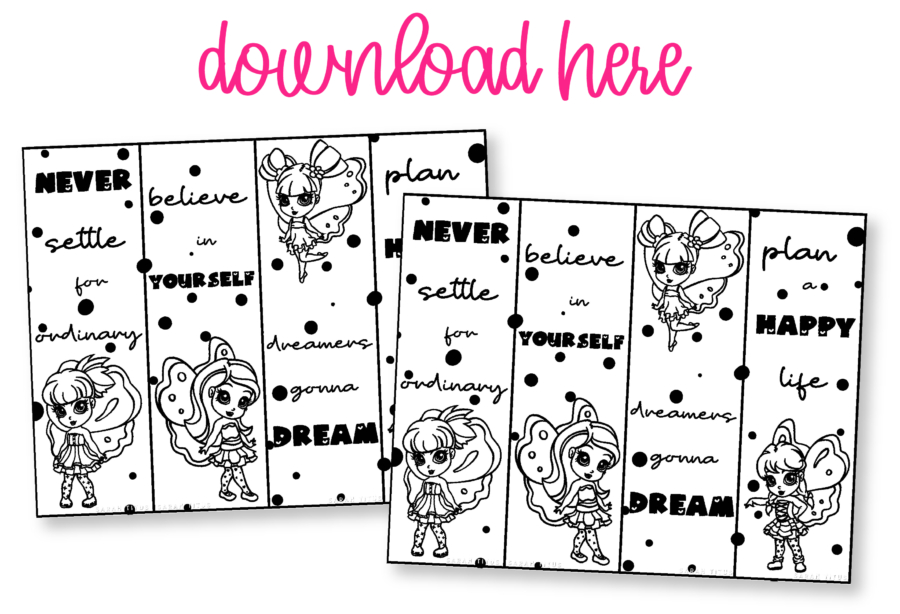 Download the cute fairies free printable bookmarks to color here.
Magical Ways To Use These Fairy Bookmarks:
There are so many fun and cute ways to use these adorable colorable bookmarks! Here are some ideas…
Set Up A Monthly Reading Challenge With These Free Bookmark Templates
Encourage your kids to read more by setting up a monthly reading challenge! Start with whatever you think is manageable for them, maybe 2-3 books a month. Grab these bookmarks, let them color them in and start using them!
I would have them read at least one book they haven't read before and maybe pick one that is their favorite to keep them interested. They can fill their books with these bookmarks and look forward to opening the pages. 🙂
If they keep up with their goal you can maybe treat them to some frozen yogurt or a "movie with mom" every so often!
Bring These Printable Bookmarks For Kids To A Teen Girl Bible Study
These bookmarks are perfect for teen girls as well! You could encourage your daughter to get involved in a young ladies' Bible Study or if your church doesn't have one… you could lead one yourself! These make such cute gifts to give to each young lady in there.
Bring them to your first meeting and let them spend a little time coloring these in. Have them put their favorite Bible verse and names on the back, then take them back home to laminate.
The next time you meet bring them back in and pass them out! 🙂 They can easily keep track of whatever scripture you are studying during this time OR keep their favorite verse bookmarked.
Not only will they have a cute keepsake from their time at the Bible small group, but it'll encourage them to dig into God's Word post-study. 🙂
Give Them As Gifts
These make such wonderful little gifts for your child who loves to read! I always loved getting a bookmark here or there; it's such a small and simple gift, but used so often!
You can give these to them as birthday presents, Christmas presents, put them in their Easter basket, or reward them for getting good grades at school. 🙂 The great thing is you don't even really need a reason – a "just because" gift is great and it's free!
No matter how you use these free fairy printable bookmarks, they are a great way to help inspire a love for reading into your kiddos! 🙂