'Tis the season for…practicing letters skills with Santa!! Your kids are gonna LOVE THIS!
I want to wish you a Merry Christmas and share with you these super fun Christmas inspired printables! Go ahead and let out your holly-est, jolly-est "Ho Ho Ho" and take a look at these cute Christmas coloring alphabet practice sheets!
Cute Christmas Coloring Alphabet Practice Printables Kids Pack
I love this time of year! The festive spirit, the birth of Jesus, cozy fires…I could go on and on. I really enjoy witnessing the sense of giving in people – and I want to celebrate that with you by gifting you these free printables!
I enjoy making these so much, especially the holiday-themed printables. I've got an entire Christmas Binder in my store, believe it or not! 🙂 Something that will help you organize your whole season so you're not rushing around all frantic like. 🙂
These specific printables will make the PERFECT addition to your holiday festivities this season – from gift-giving to Christmas parties, there are TONS of uses for these! The Santa design is so kid-friendly; they will love working their way through these!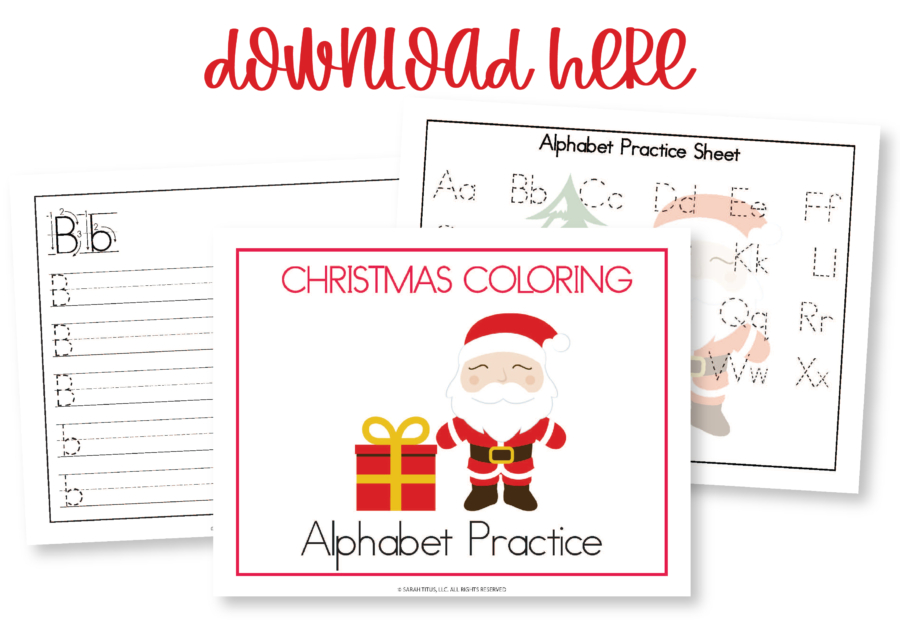 Download the Christmas art cute handwriting practice sheets printable here.
Creative Ways To Use These Handwriting Practice Sheets Printables
Here are some ways you can use these adorable printables to help celebrate the holiday season…
Use These Handwriting Worksheets For Kids To Help Them Write Letters To Family Members
What better way to encourage your kids to practice their writing than to help them craft a handwritten letter to their family and friends!
Maybe your children's grandparents live far away! It's probably safe to say that grandparents LOVE receiving little papers and crafts that their grandkids have made.
You could even have them pick a letter paper, print it out and let them come up with 5 words that start with that letter to describe their favorite things about Christmas (!) OR their favorite things about the person they are writing it too. For example, using the letter "S"…
My Grandma is:
S – Silly
S – Sweet
S – Smart
This makes such a thoughtful gift that can be cherished forever. 🙂 Which brings me to my next point…
Give These Alphabet Handwriting Worksheets As Christmas Gifts
Sometimes the approaching Christmas season can cause minor panic! What am I going to get my kids for Christmas? Nieces, nephews, school friends?
These printables make the PERFECT budget-friendly (they are free) and thoughtful gifts for family and friends! Just print out the pack, take the extra step to laminate, throw in some dry erase markers, and finish by wrapping them up in festive wrapping paper. Such a fun and thoughtful gift that can be used as long as they want!
Help give the gift of memories and fun, rather than more toys or expensive tools and gadgets! Your "mom" friends and teachers in your life will be super happy as well. 😉
Make Christmas Party Binders
Hosting your family Christmas Party this year? Print out some copies and add to your Christmas Binder for all the kiddos! Imagine going on a long trip to see family and the kids are bored. Whip out your binder! You'll only need a few things:
1/2″ to 1″ binders
Plastic sheet protectors
Dry erase markers or colored pencils
Print out multiple sets of these printables (you can use B&W ink to save money) and put the sets together! Use the plastic covers to hold each paper and add the markers/colored pencils to the side pockets.
This is a super fun activity that helps them learn as well! You can even amp it up by having them come up with 2-3 Christmas themed things for each letter of the alphabet on the papers! 🙂
And while you're at it, don't forget the printable Christmas cards. It'll save you some money this season as well! <3
I hope these Christmas handwriting printables add some holiday cheer to your home this season!