It's one thing most expectant mothers can't wait to do; create their baby's beautiful dream nursery. However, if you are on a tight budget, you may feel like you will never be able to get there. It is true that babies need a lot before they are born, but, with a little finesse, you can create an elegant nursery even when you are on a budget. Here are my best tips to do just that.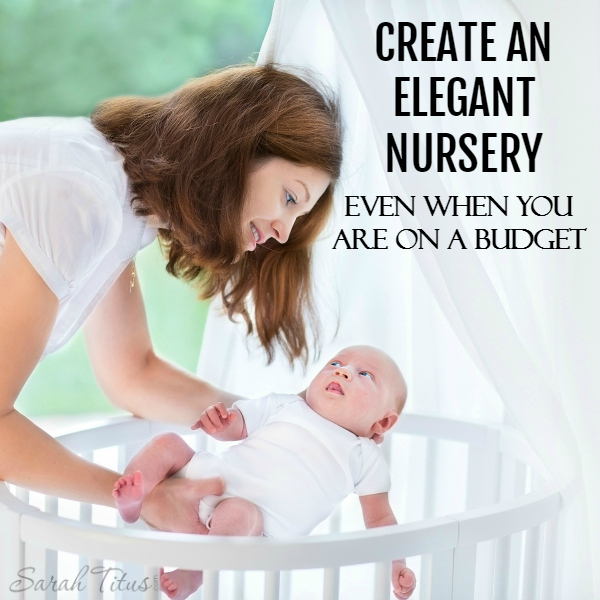 Create an Elegant Nursery Even When You Are on a Budget
Swap with other parents
Do you have friends that have toddlers or older kids? Most of the time, they have baby stuff they want to get rid of. If you are up to it, try organizing a swap with parents of younger kids and you can all create a nursery of your dreams or at least get rid of some stuff you no longer need.
Buy low, sell high
Most new moms want to buy everything new for their first child, but as fast as kids grow, especially in the first year, you will get over that super quick, trust me. If you purchase everything new, when you go to sell it, you'll lose money, but if you buy low and sell for what you paid to more than what you paid (depending on the market), you will not spend much money. This is exactly what I've done since I had kids. I'd score a fantastic deal on that bouncer and sell it when baby grows out of it, for a fair price of $10. Doing this, I was able to afford to give my kids the better things in life, all for a very cheap price. As long as you are selling fairly once your baby grows out of the things, you won't have any trouble moving items quickly.
Don't do a character theme
One way to easily create elegance is to decorate a room in one theme that is stream-lined and simple. Don't go overboard with knick-knacks; don't do a character theme because as the child grows, you'll just have to keep replacing things to continue the theme. Buy things once, that's my motto.
Matchy matchy
One thing that you DO want to do when choosing a theme is match. Match colors, fabrics, and furniture. If the dresser you are purchasing is black in color, you want your changing table and crib to be black as well. Keeping things simple and Creating a universal look will make even the most modest design appear elegant.
Related:
Search online and in-store for used items
Sites like Craigslist usually have cribs*, changing tables, or other nursery items at lower prices than the retail stores. Since baby furniture is only used for a short period of time, these items are often in amazing, like new condition as well. Just make sure that when you find the perfect piece that you do a quick search to make sure it is not recalled and that all the parts work and are there for safety's sake.
*It's been a while since I've purchased baby stuff on Craigslist and I seem to remember it was either illegal in my state or illegal on the Craigslist platform to sell a baby crib, so if you're looking for a crib, be sure to check out the state laws and sites you purchase from as to what is legal when it comes to certain baby furniture. I believe the drop down cribs are a huge no-no now as well, so again, you want to educate yourself with the laws.
You also want to use common sense. If someone is selling 20 tubs of baby formula on Craigslist, it might just be from WIC, because who is really going to go to the store and purchase 20 tubs at a time? Selling formula online that you got from WIC is against their policy and they ruthlessly search Craigslist and other platforms to catch people, so just be wise and use common sense.
Upgrade some used items
If you found a great piece online or at a thrift store, decorate it how you want with paint or other decorative touches. Make sure the paint is non-toxic and do it in a well-ventilated room or outdoors if possible (or get someone else to do it if you are pregnant). You can make that dresser match by just adding a coat of paint!
Skip expensive baby items
Even if you are not on a budget, these items are a waste of money since they will only be used for such a short period of time. Items that you should skip include baby bedding packages, expensive designer mobiles and items that serve no real purpose. Instead, opt for things from second hand stores or buy simple versions of these items. You could always make some of the items as well if you or someone in your family knows how to sew.
DIY decoration
There are so many ways to decorate your baby's nursery that cost very little, yet still have a elegant, timeless design. Find inspiration on the expensive sites like Potter Barn and think of a way to do them yourself. Most things like canvas prints, bunting, and other wall hangings can be done for just a couple dollars. Not very creative? Check out Pinterest for inspiration as well. Wall art is one of the simplest things to create yourself and can save quite a bit.
Decide what you really need and what you can do without
Most people don't need a changing table, for instance. What I did with my kids is I bought a horizontal dresser and strapped a changing table curved pad to the dresser as well as to my child when using it. Since it was a white dresser and the pad and straps were white, you couldn't tell until you got up close and really looked. It not only saved on space, but I didn't have to go out and spend $25 for a used changing table.
Don't buy things that are not really necessary, in order that, you can spend money on things that are.
Not sure what you really need? Here's a full list of things you'll need before baby comes home. Some of these things you may not personally need, and yet you may need others. Just assess your own personal needs, and use this list for a general guideline.
Did I miss anything? How can you save on a nursery? Do you have any other practical ideas to create an elegant nursery even when you are on a budget?