School is in session and I have got the perfect printables to help you get prepared! Get your binders ready and let's gooooooo! 🙂
Take a look at these FREE coloring printable binder covers!
Coloring Printable Binder Covers Free Floral And Ruler Art
I always loved school growing up! The labeled binders, divider tabs, a new backpack, cool pencils and pens…getting organized was my favorite part. 🙂
These free printables are the perfect accessory to your kids' school binders (or your own!) and add a little extra something fun rather than plain school supplies. They can also be colored in, making it even more personal and fun to make!
You'll find over 40 pages in this printable binder covers for school set, as well as a blank one to create your own! Some of them include:
Algebra
Art
Biology
Chemistry
Computer
Dance
Drama
Economics
English
French
Geography
Geometry
German
Government
Health
History
Italian
Japanese
Language Arts
Latin
Math
Music
Reading
Science
Sign Language
Social Studies
Spanish
Spelling
Writing
Every month of the year to use as dividers
Blank one to fill in with whatever you want
The beautiful floral design is so pretty, and the ruler detail really makes these perfect for all of your school needs. 🙂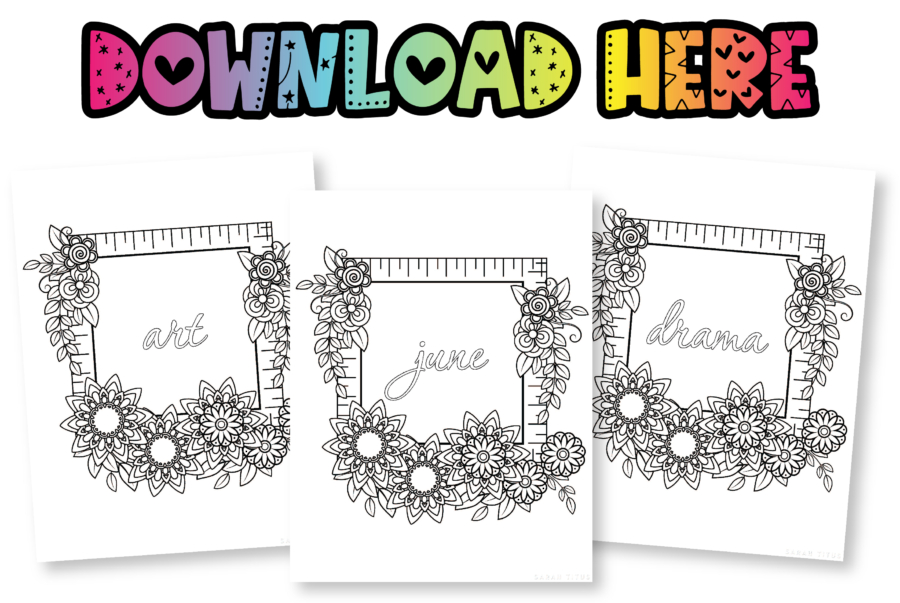 Creative Ways To Use These Printables:
Here are some fun and creative ways to use these binder cover ideas printables!
Use To Organize School Binders
My favorite way probably would be using these to getting those school binders ready! These are perfect to let your kids color in and use them for all their school subject binders.
You could also make one big binder! Use the blank template for the front cover page and the labeled ones as subject dividers inside! It's totally up to you.
You also have so many class options (from Math to Japanese!) so there isn't a subject left out! But just in case you need something different, I also made a blank one for you to add in whatever you need. 😉
Have you decided to go back to school yourself?! First of all, YOU ROCK! Second, these are perfect for you to to get your class things organized as well. 🙂
Use In Classrooms As Binder Covers For Teachers/Homeschool Rooms
These would make such a fun activity for you teachers and homeschool momma's out there!
If you are a teacher, say elementary school, here's a fun idea for your class! Print out as many of whatever subject/subjects you teach and let your class partake in a fun coloring activity!
You can also print our whatever subject you teach, color it in, and frame it up in your classroom as some cute decor.
For homeschooling, you can use this as a fun "Art Class" activity as well, and then frame them and hang them up in your homeschool rooms! It adds a cute decor that was made by your kiddos, making it WAY more special. 🙂
Use As A Fun Coloring Sheet For Kids
Need a fun rainy day activity? Use these binder cover art as fun coloring sheets for your kids! You could even do a little activity with each.
For example, have them color a math sheet and maybe add a couple of small math problems on the back?? Or with the English sheet printable, once they color it encourage them to read a chapter in their favorite book!
Your kids are going to enjoy getting back to school ready with these fun colorable binder cover art printables!