Have you ever wished you could just use coupon codes for real life??
How about "cook dinner," "date night out," "have kids make the table"?? I'm sure some of these sound very appealing!
Well, today I've got some GREAT printable coupons for your whole family to use in everyday life!
Check out these free colorful cute coupon templates for gifts printables!
Colorful Cute Coupon Templates For Gifts Printables
I am so excited to share these free printable coupon templates with you!! These are for the WHOLE family so no one is left out of the fun. 😊
These coupons come in different sets; for kids to parents, parents to kids, and for spouses! They can each be used to create a coupon book template so that you are stocked up and ready to be super thoughtful and helpful!
This is a great way to do things done in a FUN way, and not feel like you are nagging your kids or spouse, and vice versa. 🥰
It's SUPER important to note that these coupons are used in a POSITIVE way.
The coupon holder makes the decision to do something helpful or thoughtful for someone else!
For example, your child may give you one of their coupons that says, "wash the car" meaning they are offering to wash the car for you! Vice versa, if you give your child a coupon that says "sleepover at friends," you are letting them do just that!
These are meant to encourage everyone in the family to do nice things for each other and show your love for your family. For us, we are CONSTANTLY giving each other coupons. I made a coupon set for my son the other day and my daughter makes me coupons for gifts. I love getting them too!
Start encouraging your kids and spouse through these coupons. Get your whole family involved. It's really fun!
I've also included some blank ones for you to fill in for your specific family needs!
Included Coupons For Kids To Parents:
One chore
Make dinner
Set the table
Clean out car
Take care of the pet
Put up the groceries
Dinner clean up
Wash car
Pull the weeds
Make breakfast
Be helpful today
Do chores without complaint
Get along with siblings for 1 day
Give mom 1 hr of alone time
Give dad 1 hr of alone time
Clean room with no complaints
Be kind today
Be polite today
Take out trash
Clean room without asking
Babysit siblings 1 hr
Babysit siblings 2 hrs
Babysit siblings 4 hrs
Be Respectful today
Blank coupons for your own messages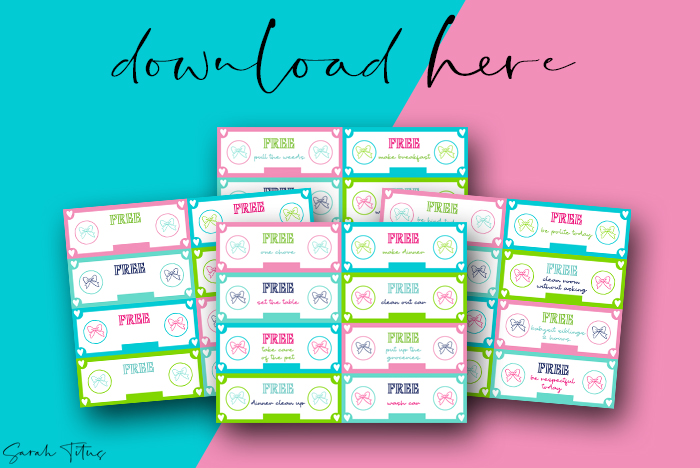 Included Coupons For Parents To Kids:
Movie night
No chore of your choice
Sleepover at friends
Breakfast for dinner
Activity of your choice
24 hrs control of the remote
Choice of dinner
Backyard campout
Game night
Ice cream sundae
30 mins tech time
No chores day
Fun day
30 mins past bedtime
Choice of dessert
Surprise
5 dollars
1 dollar
10 dollars
20 dollars
Special day with mom
Special day with dad
Go to park
Girls spa day
Blank coupons for your own messages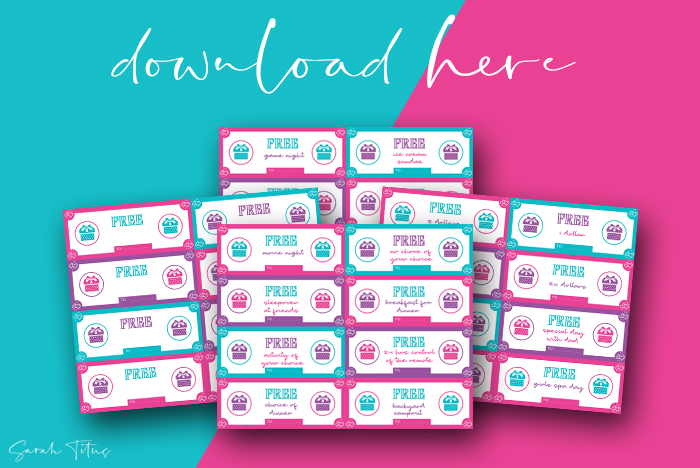 Included Couple Coupons For Spouse:
Back rub
Foot rub
Snuggles
I make dinner
Watch movie without kids
Breakfast in bed
Date night
Dinner date
Massage
Game night
I do the dishes
Weekend getaway
I take care of the kids day
Go shopping with you
One activity of your choice
I'm not mad at you
Wash car
Pray with you
Pull the weeds
Read the Bible with you
One fixing task
One household chore
No visiting the in-laws
24 hrs control of the remote
Blank coupons for your own messages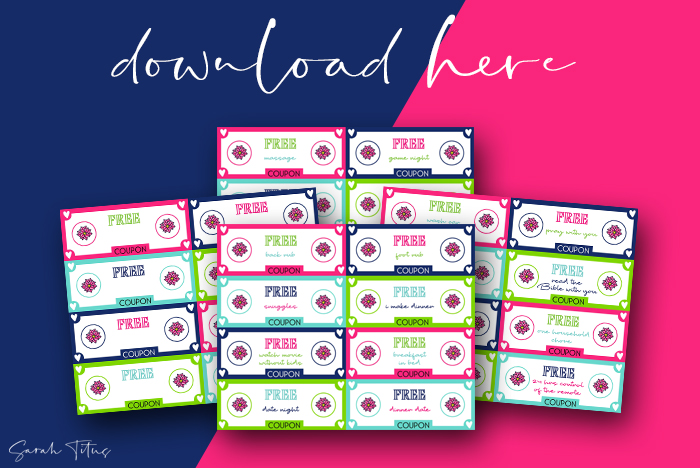 How To Use Each Of These Coupon Sets:
Here are some suggestions for when to use each of these coupon sets and how to use them!
Coupons From Kids To Parents
Your kids can use these when they want to help you out around the house, use during summer and holiday breaks when they are home from school, or just because!
You could get started by offering rewards for using these coupons! Let each coupon they use count as a point, and once they get so many points, they get rewarded with a coupon of yours!
If they get 20 points, you could even offer the "$20" coupon…that will be a hit!!
They will enjoy it so much, and eventually will even want to do these nice things just because and not for the points! 🥰
It's easier to give then to receive. This is true when parents are trying to REDEEM them!
When your child is having a tough time taking back the coupon they gave you, that you are wanting to redeem, you can use those moments to teach them about selfishness and keeping our promises.
You can teach them about how it's good to give and the blessings and benefits from being a giving person, even when it hurts or it's not fun. Learning those things at a young age, is ALWAYS helpful.
These coupons are really aiding helping your children learn a lot of things, over the time span of using and redeeming them! At least, they have for our family. 😊
Coupons From Parents To Kids
I mentioned rewarding them with these fun coupons after completing some of their own, but feel free to use these as fun "no reason" surprises too! Maybe they had a rough day at school, or they have had their feelings hurt by a friend – brighten their day with a "trip to the park" coupon!
Continually encouraging your kids is always something we should strive to do as parents!
This goes way beyond a rewards system too…you are instilling such STRONG values and morals in them, teaching responsibility and showing how important it is to put others before themselves.
Cute Coupon Ideas For Boyfriend, Girlfriend & Spouses
Has anyone ever expected their spouses to read their minds?? Well with these coupons, you won't have to!
Use these coupons when you notice they've had a rough day, or for specific date nights.
The coupons give you TONS of great and easy ideas to show love to each other.
These coupons have definitely changed our household, and I pray they do the same for yours! Enjoy. 😊