Need a fun and easy way to get all your gifts labeled? I've got a super cute and simple solution for you!
Check out these colorful art monogram free gift tag printable templates!
Colorful Art Monogram Free Gift Tag Printables Templates
These bright and colorful monogram gift tags just exude joy! The rainbow-inspired design with the floating bubbles at the top makes them perfect little accessory to add to gifts.
The monogram adds that extra layer of personal touch that you won't get from store bought labels! This set includes A-Z and each tag has a matching color to the rainbow letter design.
These are also FREE, so you can save money and print as many as you need for all your upcoming gift-giving occasions! 😊 Labeling your gifts (and other things too!) will never be easier!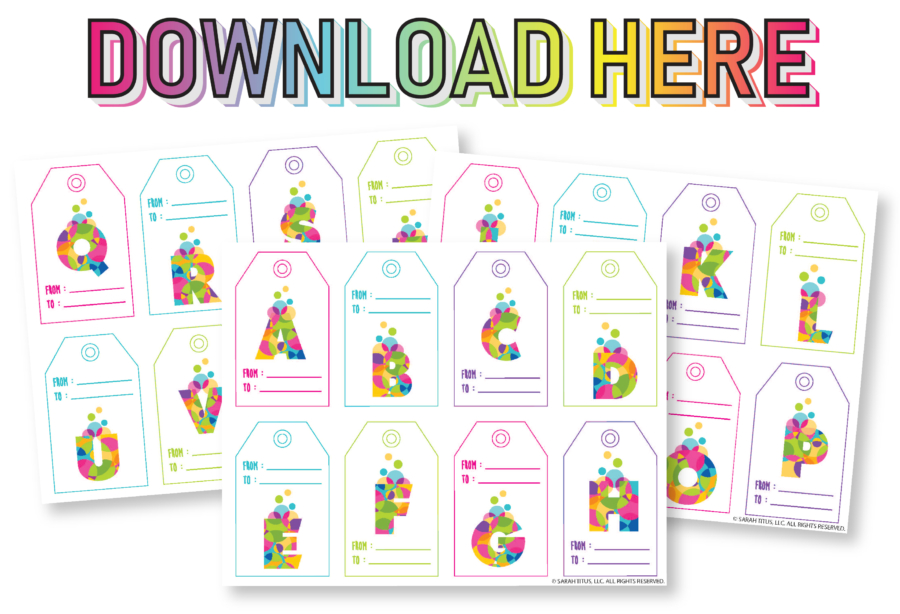 Fun Ways To Use These Gift Tag Template Printables:
There are lots of great ways to use these gift tags! Here are some suggestions…
Use For Gifting
These are great to use for when you need to give a LOT of gifts!
Some examples of when you need to give multiple gifts:
classroom parties
teacher gifts
Sunday school parties
awards ceremonies
kids sports teams
These labels can be used for all of these things! If you know all the kids' names you could even personalize them more, or use the same letter tag for everyone.
You can even use the corresponding letter for whatever type of group it is, ex: label gifts for your kids' soccer team with the letter of their team name.
Personalize Your Kids Gifts
Save some cash on generic gift labels and use these for your kids' birthday presents!
Personalize it with their first initial and match the bag + tissue paper with the bright colors of the label. You could use their favorite color for inspiration. 😊
These can also be used for your kids' Easter baskets, back-to-school gifts, Christmas, etc.
Use These Printable Gift Tags For "Book" Presents
These would be so fun to tape inside a book when giving as a gift to someone else! Place in the front inside cover of whatever book you are giving.
Some examples could be a baby book for a baby shower, marriage book for a wedding shower, or even your child's first Bible!
I hope you LOVE using these bright, fun and free printable tags for all your gift needs!